How to Add Subtitle to a Video Permanently [Top 10 Ways]
"Permanent subtitle" is called open caption, which is burned into the video and cannot be turned on or off by the user. Have you ever met the need of adding subtitles to a video permanently? Such as, adding permanent subtitles for a movie so you can watch it with subtitles on mobile devices, or finding some of the video players on the desktop are not allowed to add an externally closed caption for a video.
If this is your case, you will need a video file, a subtitle file for the same video, and a tool that can add subtitles to the video. In this article, we are going to teach you 10 useful ways to merge subtitles into a video permanently with software, which applies to use on Mac/Windows computers.
Best Way to Add Subtitle to a Video on Windows/Mac (Hot)
Among all the tool available in the market, here I strictly recommend VideoSolo Video Converter Ultimate. The software, which is compatible with macOS and Windows, offers a Subtitle Editor that lets you do all sorts of things with the subtitle file. Moreover, with VideoSolo Video Converter Ultimate, you can download the subtitle file and easily modify it by managing the font size, color, and type, as well as convert the video to more than 300+ video and audio formats. To get started, here is the official download available on Mac/Windows platform.
Here, we will take the Windows version as an example. Mac users don't need to worry, as the steps on the Mac version are almost the same as on Windows, which is very easy.
Step 1. Add the Video File That You Want to Put the Subtitle
Here you have installed this video converter. Now add the source video file that you want to put a subtitle on by clicking "Add Files".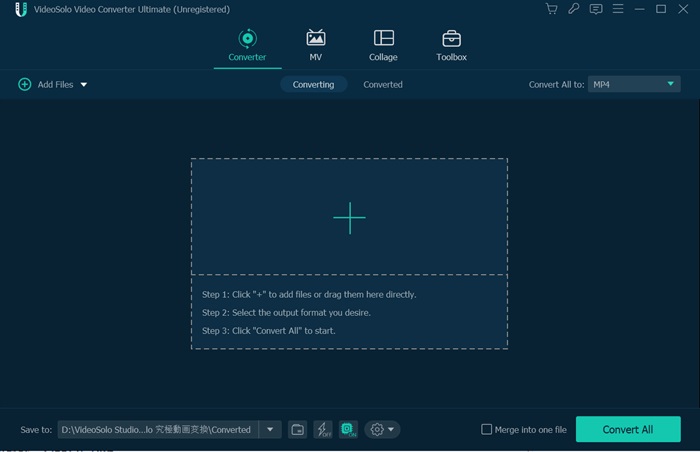 Step 2. Click "+" to Add Subtitle and Preview
Click the drop-down icon on the "Subtitle" section and click the "+" icon. You will go to the "Subtitle" window. Here, you can add an external SRT/SSA/ASS format subtitle. For synchronization, make sure to find a subtitle for the same video you add. You are also able to add multiple subtitles and tick one of them to see whether it's suited for your video in the "Preview" window.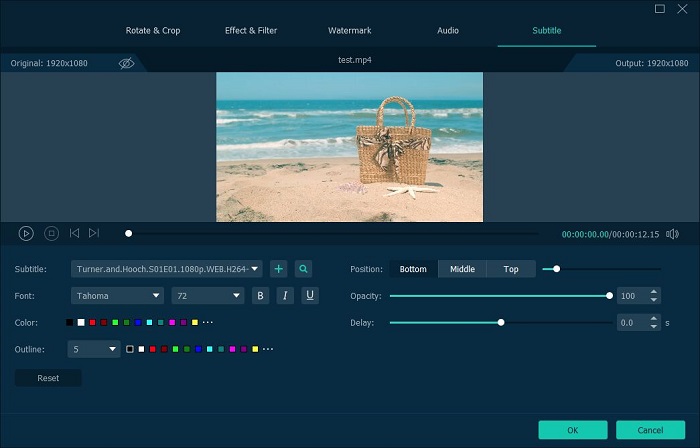 Step 3. Select Profile that Fit Your Device (Optional)
If you are going to view on a specific device, you can hit the drop-down list of "Convert All to" to select the pre-set model.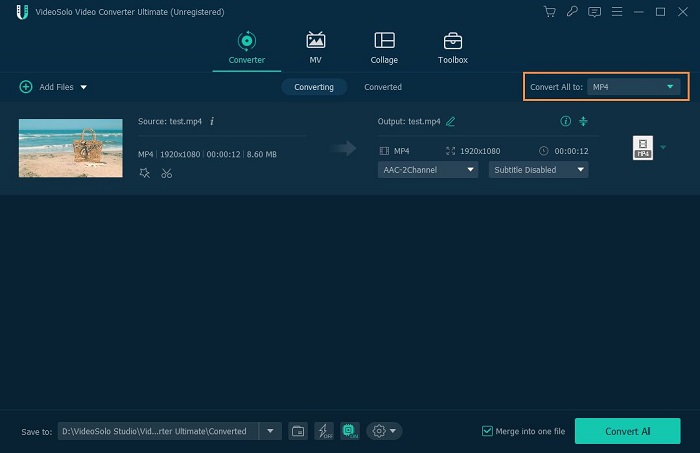 Step 4. Start Conversion of Adding Subtitle into Video
Click the "Convert All" button on the main interface, your video will be delivered with the subtitle encoded permanently. With hardware-acceleration, this conversion process will be very fast.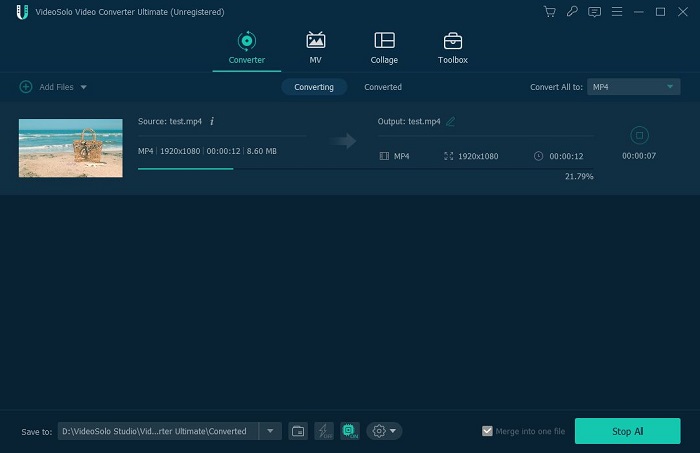 Now you will have hard subtitle as a part of the video to playback on almost all devices. VideoSolo Video Converter Ultimate helps you embed subtitles into films in quite a fast, clean and convenient way. With this program, you can also edit the video using other amazing functions. You may want to add watermarks to the video or enhance video quality through your computer or convert your video into other formats. After all the editing, you can select the video output format from the drop-down list. Click the download button and check it out!
Other 9 Good Ways to Add Subtitles to Videos Permanently
Add Subtitles to YouTube Video Free and Quick
Many people will upload their videos to YouTube. If your video has subtitles and captions, it will enable you to share your films with a broader audience, including deaf and hard-of-hearing viewers and viewers who speak a different language.
In fact, YouTube also offers a quick way to add subtitles to your video through the platform. Here's the detailed process:
Step 1. Sign in to your YouTube Studio.
Step 2. Select Subtitles from the left menu.
Step 3. Find and click the video that you'd like to add subtitles.
Step 4. Click ADD LANGUAGE and select the language of your subtitles. Then select ADD under the Subtitles and select Upload file.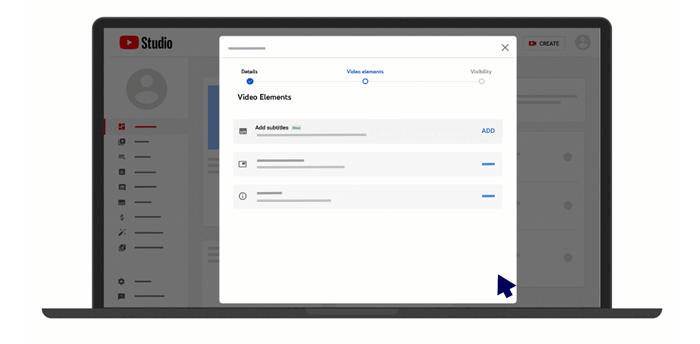 Step 5. Choose With timing or Without timing, then click Continue. Choose your SRT file for this video to upload, after uploading, click Save.
Note:
Subtitles also includes timestamps for each line of text to be shown. Some files additionally provide information about position and style.
For people who don't have the SRT file, don't worry, YouTube also provides an Auto-translate option that uses speech recognition technology to automatically create captions for your videos.
But it should be noted that these automated captions are created by machine learning techniques, the quality may vary. Owing to mispronunciations, accents, dialects, or background noise, automated captions may distort the spoken material. You'd better go through automated captions and correct any sections that haven't been properly transcribed.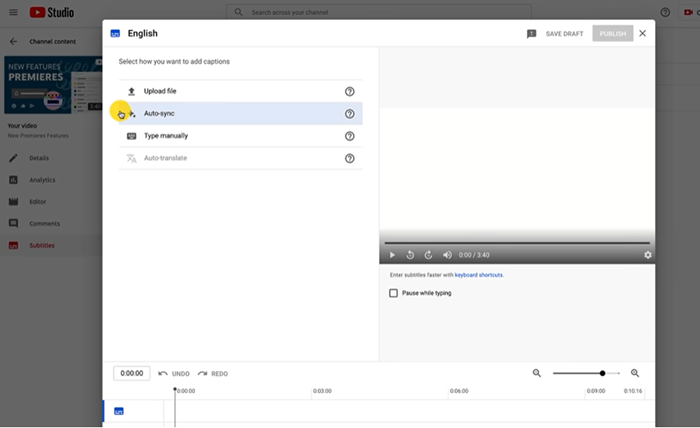 You may also choose to Type manually to enter your captions or subtitles during the playing of the video. Click "+ Caption" to type or paste a transcript of your subtitles. With this option, your subtitle and caption timings will be set automatically. After you finish typing, select PUBLISH.
In this way, you can add subtitles to your YouTube video quickly and conveniently. You can publish the film directly on YouTube, with no need to upload the video with the SRT file.
For people who need to save the video with subtitles or upload it to other platforms, we suggest you use a professional video editing tool like VideoSolo Video Converter Ultimate we mentioned before to add a caption for your video.
Merge SRT File with Video through VLC
Because VLC media player is a very popular media player both for Windows and Mac and supports almost all file types, many people may want to know how to add external subtitles to MP4 using VLC media player. The procedures are as follows.
Step 1. Open your video with the VLC media player, click on File and then Open File to select and upload the video. Or you can drag and drop the video files to the VLC.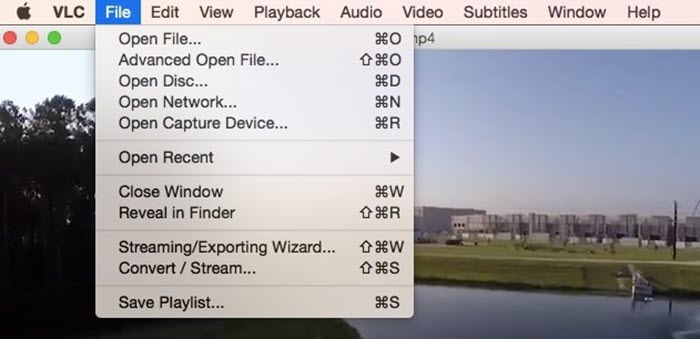 Step 2. Go to the head of the main menu, click on Subtitles, then select Add Subtitles File. Select and Upload the SRT file of your video and load it.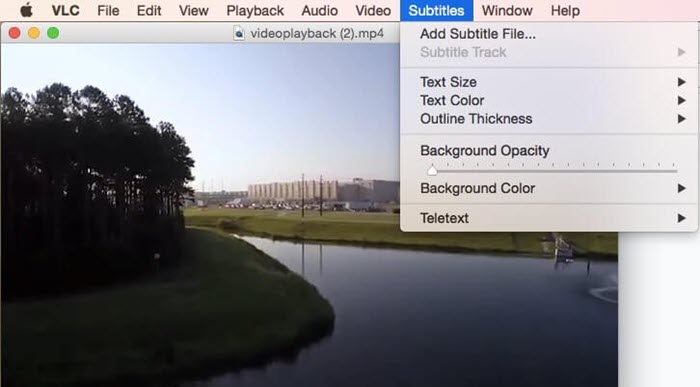 It is quite simple to add subtitles to videos using the VLC media player. The media player works fine, although it is pretty slow when dealing with huge files. Furthermore, using VLC Media Player, you cannot change the timing, typeface, transparency, or other aspects of the subtitles.
Add Subtitles to Video with iMovie
If you are creating a video on your Mac or iPhone that need to add subtitle, captions for narration, or instructions for a tutorial. You can always do this easily with iMovie. Although there are no current official subtitle or caption features, it can still be done by using the Titles option.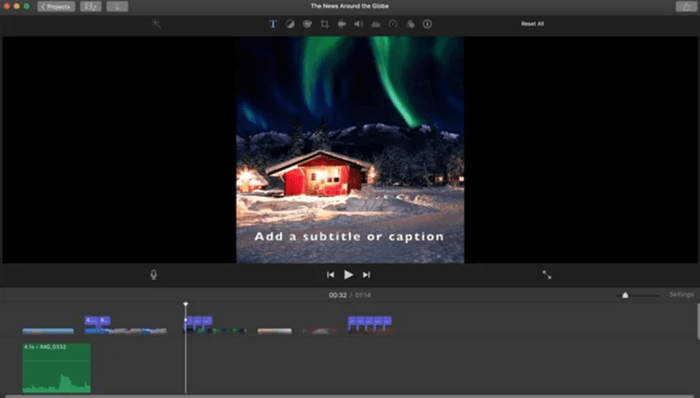 Step 1. Open iMovie and add your video
Import your video into the interface and drag it from the media library to the Timeline.
Step 2. Select your font styles
Click Titles in the Browser at the top. You can see a lot of font styles and formats. choose one that suits your video and drag the title box onto your video.
Step 3. Enter the text for your video
Go to the Viewer and here you can enter the text content to add subtitles to the video. If you need to add more subtitles or captions, follow the same steps above by double-clicking or dragging and dropping a Title onto the clip in the Timeline.
Step 4. Export your iMovie video with subtitles
When your project is ready, you can now export the iMovie Project. To export your iMovie project to a video file, click the Share button in the top right of the application and choose File. You can also go to File > Share > File.
Note:
Somebody may ask, can I upload the SRT files to iMovie? The answer is No, you cannot import an SRT file directly into iMovie. However, you can type or copy the text from the SRT file and paste it into iMovie.
Add Subtitles to Video with Wondershare Uniconverter
Wondershare UniConverter is another choice to add subtitles to your downloaded video without any hassle. It's a simple, full-featured program that runs smoothly on Mac and Windows PC. With it, you can add SRT, TXT, or SSA subtitles to movie formats like MP4, WebM, MTS, FLV, 3GP, and many others. Interestingly, UniConverter allows you to insert brand-new subtitle tracks or upload local subtitle files.
Step 1. Access the UniConverter Subtitle Editor
Launch the software, and click on the Toolbox icon. From there, select Subtitle Editor.
Step 2. Add the movie and create subtitles
Click on the +/Add button to import the movie. Once the file is uploaded, click on New, insert the subtitle content, and adjust the start/end time and position.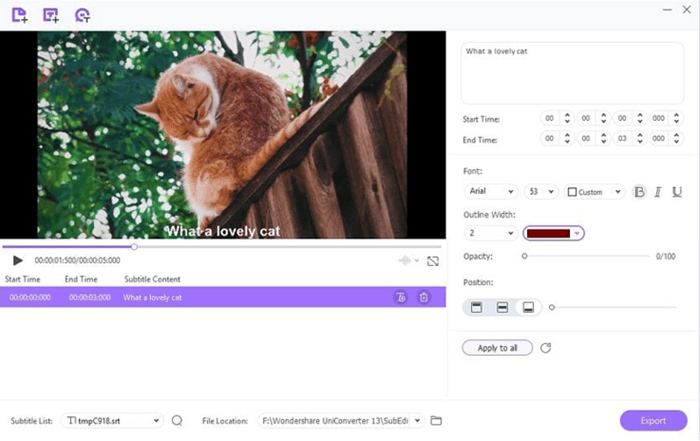 Step 3. Export the video with new subtitles
Finally, select the new File Location for the movie on your desktop and click Export to complete the process.
Add Subtitles to Video with Movavi Video Editor
To add subtitles to a video with Movavi Video Editor Plus is an easy way out. Drawing on the library of more than 20 simple and animated caption styles, you can add an extra dimension to your video by calling attention to the most important elements in your movie or slideshow. It can also spice up your video with titles, filters, and transitions. Adding permanent subtitles to your video is quite easy.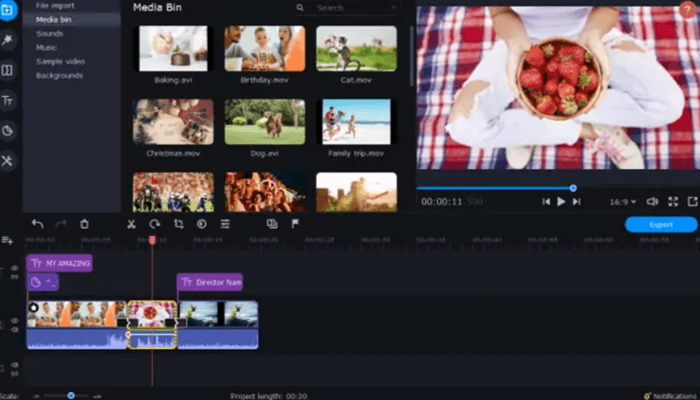 Step 1. Install Movavi Video Editor Plus
When the download is complete, launch the file and follow the instructions to install the subtitle adder.
Step 2. Add your video to the video maker app
Click Add Files on the main panel and locate the video files you want to edit. Those files will be added to the Media Bin automatically. Drag and drop your videos into the Timeline.
Step 3. Add titles to your video
Click the Titles tab on the left to access the list of available simple (basic) or animated (artistic) caption styles to permanently embed as your video subtitles. You can move the subtitles around the Timeline until they're in the desired positions.
Step 4. Save your video
Click Export and select an output format on the Save Video File tab. If you want to play a video on a portable device, select the appropriate tab and use one of the presets. Click Start to save the video.
Add Subtitles to Video with Freemake Video Converter
Freemake is a powerful video subtitle adder. It can create videos with subtitles for any device like PC, TV, iPhone, Android, and iPad. Without manual work, You can add subtitles to a video fast with this tool, and get an SRT file embedded into a movie automatically. Moreover, there is no file size limited in this tool. It can also convert your video over 500+ formats.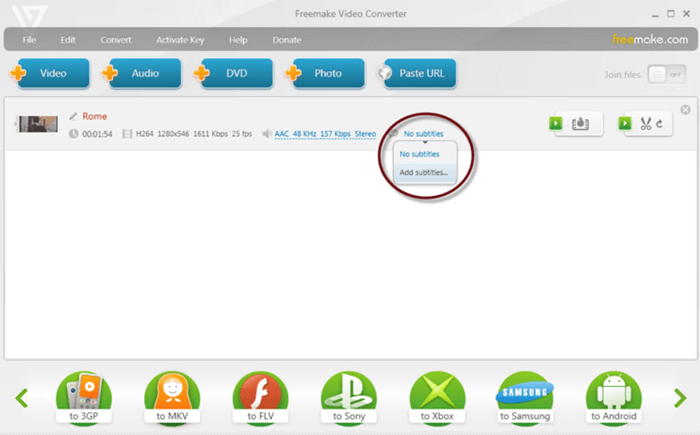 Step 1. Download and install Freemake subtitle adder
This software supports Windows 10, 8, 8.1, Windows 7, and Vista, and contains no ads or third-party apps.
Step 2. Add a video you want to merge with subtitles
Press the "+Video" button to add your movie to the subtitle editor. You can import several videos at once (for example, TV series) and subtitle them one by one.
Step 3. Add subtitle file to your video
Press the "Add subtitles" button, browse, and choose the subtitle file that you want to put into your video. Click on the Scissors button to run Freemake video editor. Here you can preview the video with the embedded subtitles. Use the timeline to check if the subtitles sync with the movie.
Step 4. Add subtitles to your video permanently
When everything is ready, click the "Convert" button to run the embedding process and attach subtitles to your movie. After the process finishes, you may upload the video file to your device or YouTube, share it on social media, & start watching the subtitled movie immediately.
Add Subtitles to Video with Adobe Premiere Pro
Whether you're editing a video for social media or a blockbuster film, Premiere Pro can help you craft your story with tools that just make sense. Import and edit, add effects, and subtitles, and export footage to any destination. It provides professional templates or customizes your own animated graphics and titles. Shift colors to suit your mood. And give your story a unique sound with audio tools and music tracks.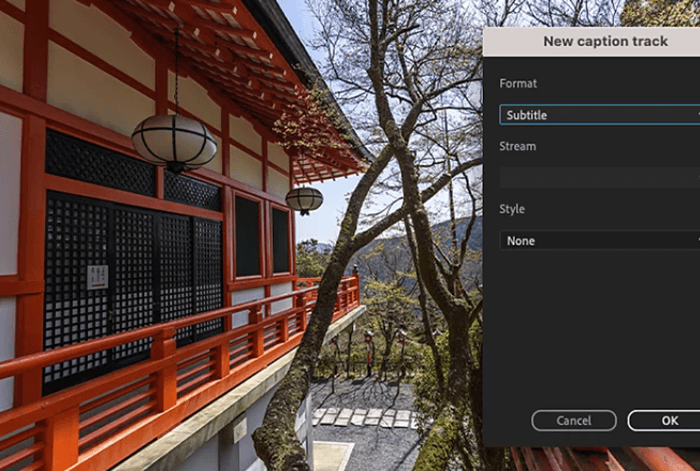 Step 1. Open the Captions workspace and create a new track
Select Window › Workspaces › Captions to open up the Text panel. Then select Create New Caption Track.
Step 2. Choose format and style
Use the Essential Graphics panel to change the font, size, alignment, tracking, leading, faux styles, text box size, color, shadow, and opacity of your captions.
Step 3. Begin your transcription and start typing
Set the play head where you want to start your caption and click the plus (+) icon on the text panel to create a blank caption. Then type in your caption.
Step 4. Export your video with subtitles
Select File › Export › Media, and choose your format. You can choose Burn Captions into Video, which means the captions will be permanently embedded on top of the image.
Add Subtitles to Video with Fastreel
Fastreel is an online tool that lets you easily insert subtitles into a video and edit them to your taste. It works with MOV, MKV, AVI, WMV, and MP4 files of up to 500 MB. It allows you not only to make a video with subtitles, but also to change the text settings: font, size, color, style, and positions. You can save the final video for free with the Fastreel watermark or choose the paid export option to remove the watermark.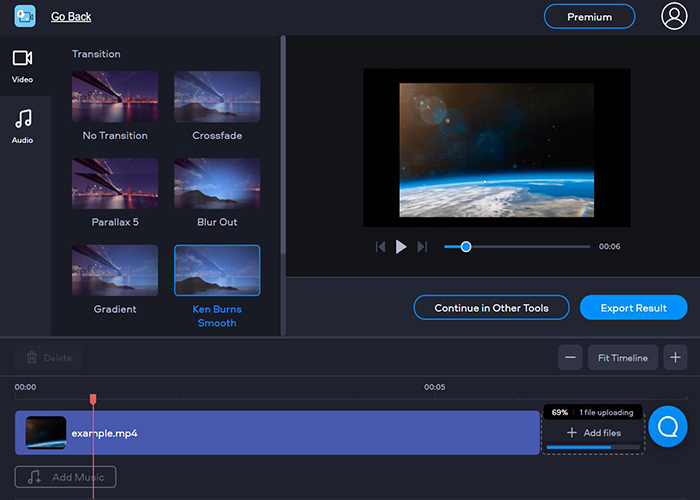 Step 1. Open Fastreel on your browser and add your file in the interface
Upload any MOV, MKV, AVI, WMV, and MP4 files that are under 500 MB in size by clicking on the Add Your File button.
Step 2. Add subtitles to the video
Click Upload SRT to add an SRT file to the video. You can edit each caption and its timing. The Download SRT button lets you save the subtitles file to use later.
Step 3. Save your video with subtitles
If you're satisfied with the result, click the Continue button. You'll see the export window where you can choose the save option that's appropriate for you. The subtitles will be added to the video permanently.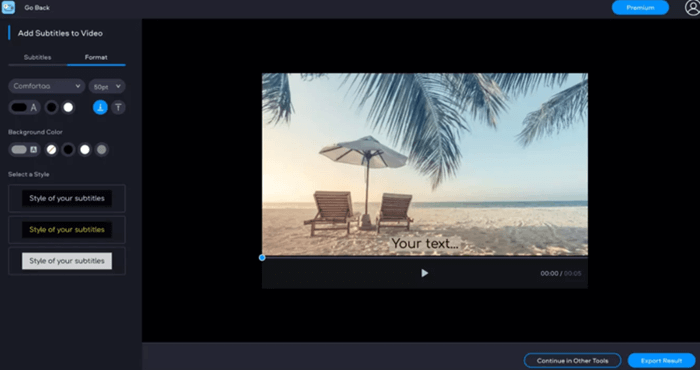 Add Subtitles to Video with Clideo
Clideo is not only a video converter but also a completely free online subtitles adder that you don't need to download any software or app to your device. You can decide how to add subtitles to your video, whether manually or with SRT subtitle files. The subtitle font can also be customized in size, color, and background. No matter what browser you are using, it can work perfectly with devices like Mac, Windows, iPhone, and Android.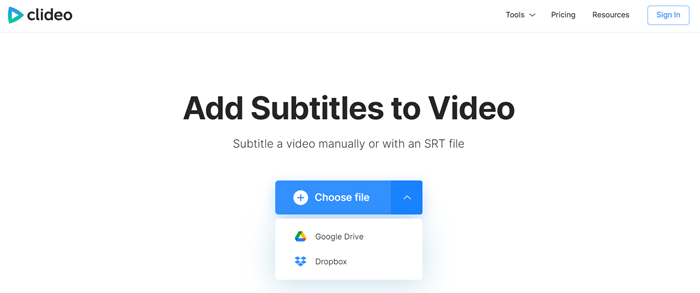 Step 1. Upload a recording or movie
Open Clideo on your browser and add a video on the interface. The tool accepts 500 MB for free.
Step 2. Add and edit subtitles
Click "Add subtitle", write text and set timing. Then, select a font, its color, background, size, and alignment. Change the video format under the player. Save the SRT file with the subtitles if necessary, by clicking on "Download SRT".
Step 3. Export your videos
When all the settings are done, click "Export" to get your videos with subtitles. It will save to your device or upload to Dropbox or Goode Drive.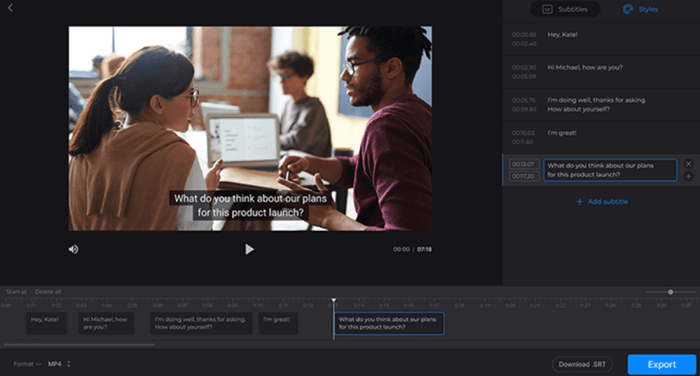 Note:
For free trial users, all the output videos will contain the watermark.
Which is the Best Subtitle Adder [Comparison List]
VideoSolo
YouTube Subtitles Adding Function
VLC Media Player
iMovie
Wondershare Uniconverter
Movavi Video Editor
Freemake Video Converter
Adobe Premiere Pro
Fastreel
Clideo
Easy to Use
√
√
√
√
×
×
×
×
√
√
Efficient and Stable
√
√
√
×
√
√
√
×
×
×
Input SRT file
√
√
√
×
√
√
√
√
√
√
Font Style
√
×
×
√
√
√
×
√
√
√
Removed Watermark
√
√
√
√
√
√
√
√
×
×
Recommendation
★★★★★★
★★★★
★★★
★★★
★★★★★
★★★★★
★★★
★★★★
★★★★★
★★★★★
We have mostly shown you various useful subtitle-adding tools or software and generated their merit and demerit into a form for your reference. You may now use this tutorial to select the approach that is best for you and add subtitles to your videos.
Tools like Adobe Premiere Pro and iMovie are very powerful and professional, but they may be too complicated for a newcomer to use and will cost a lot of time.
And for sure, online tools such as Clideo and Fastreel are quite convenient and quick to add your subtitles. However, these online programs rely on your internet condition which may be very unstable and affect your video quality, and they also have a watermark on your videos in free trial mode.
Therefore, Get VideoSolo Video Converter Ultimate if you need to input/download SRT files, font style altering, video editing, and compress an all-in-one program. It can help you embed subtitles into films in quite a fast, clean and convenient way. Hope you enjoy it, and check it out!
FAQs About Adding Subtitle to A Video
What is the Difference Between Subtitles and Closed Captions?
Captions contain both the conversation and any additional relevant sounds. Closed captioning is often utilized for online streaming. While Video subtitles are translations that are only translated dialogue and do not contain any sound effects. You may switch it on and off at any moment, and you can even use certain programs to pull subtitles from a movie. In any case, they are usually interchangeable.
Where to Download Subtitles for Videos?
Several websites can help download subtitles, here I recommend Inovideo for you, as it can help you to download videos from most of the platforms with subtitles or simply just download the subtitle files for free. Also, you can try to use OpenSubtitles and Moviesubtitles.org, where you can find subtitles for some of the most famous movies and TV shows.
How to Add Subtitles to Videos on iPhone?
Many people like to use their iPhones to film videos. If you wish to share your iPhone films online, you may use iMovie for iOS to add subtitles.
Step 1. Launch iMovie and create a project then add your video clips.
Step 2. Select the footage to which you want to add subtitles.
Step 3. Tap the text icon in the menu and select a text effect to begin typing your speech.
Step 4. Save and export the altered video to the Photos.
But the text options in iMovie for iOS are quite restricted. If you wish to create a visually appealing subtitle design, you should use another video editing software or even a desktop tool like VideoSolo Video Converter Ultimate.