[Top 12] Best Video Compressors for Windows & Mac & Phone in 2022
Under some circumstance, you will need to compress video files:
1.Videos in big size cost too much time and data to send to your friends.
2.No nore space on your device to store big size videos. Some websites or social platforms do not support to upload large video files.
3.Need specific size videos to meet task requirement.
…
Then you will go to Google for seeking a compressor to reduce video size and quickly you find that many of the video compressors compromise too much video quality when reducing file size or they don't meet your requirement. To get rid of these problems, we compiled the best compressors for your computer or phone. To make it clear at a glance, their pros and cons are listed. Keep reading to select one you like!
Perfect Solution - Best Video Compressor for Windows and Mac: VideoSolo
VideoSolo Video Converter Ultimate separates out a "Video Compressor" tool specifically in "Toolbox" which helps you compress video files with few clicks. It ranks NO.1 in my ratings because it's a professional and easy-to-operated video compressor software. It allows users to compress a huge number of both video and audio files in one go, thanks to its batch processing feature. You can adjust the compress ratio or the file size directly to compress the video file size. And it's possible to set the format, resolution and bitrate in the same place. With this incredible eye-grabbing interface, hanging the video resolution for being compatible with the device or platform, or changing it to lower its storage for better transferring and sharing will be piece of cake.
Features:
Provide the preview feature to check if the compressed video quality meets your need.

Have a great balance in video size and video quality after compression.

Support hardware acceleration when compressing the video.

Will not collect or analyze user private file like some of the free online video compressors.

Super-fast compression up to 50X faster
In order to convince you, we tested a 5-minute video with a size of 63.94 MB, converting it from MP4 format to MOV format. Here are the conversion times required to turn hardware acceleration on and off:
| | | | | |
| --- | --- | --- | --- | --- |
| Hardware Acceleration | Duration | Video Format | Video Size | Conversion Time |
| On | 00:05:00 | MP4 to MOV | 63.94 MB | 00:12:18 |
| Off | 00:05:00 | MP4 to MOV | 63.94MB | 00:02:26 |
Verdict:
As you can see in our tests, VideoSolo Video Converter Ultimate achieved a 6X increase in conversion speed with hardware acceleration. It is surprising how good of a tool VideoSolo is despite it being free to download. It is super-fast; The quality of compressed videos is phenomenal and works on almost all devices known to mankind.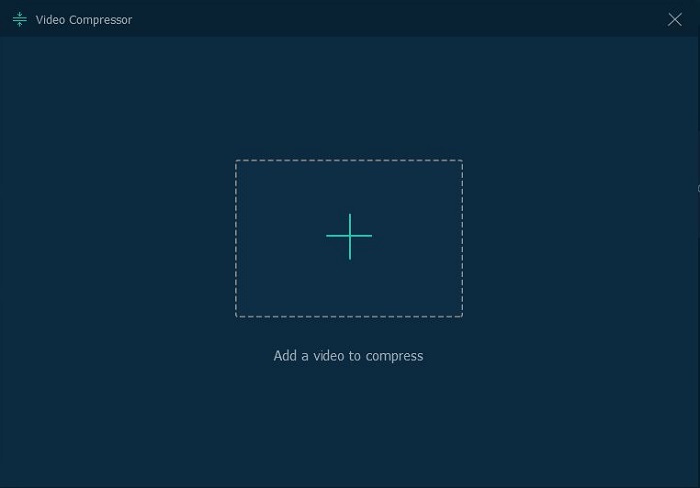 [3 Simple Steps] How to Compress Video with VideoSolo Video Converter Ultimate
This video compressor is really simple to use, it only needs 3 simple steps to finish the target below. Also, you can download the free trial version to follow the steps.
Step 1. Go to "Toolbox" and select the "Video Compressor"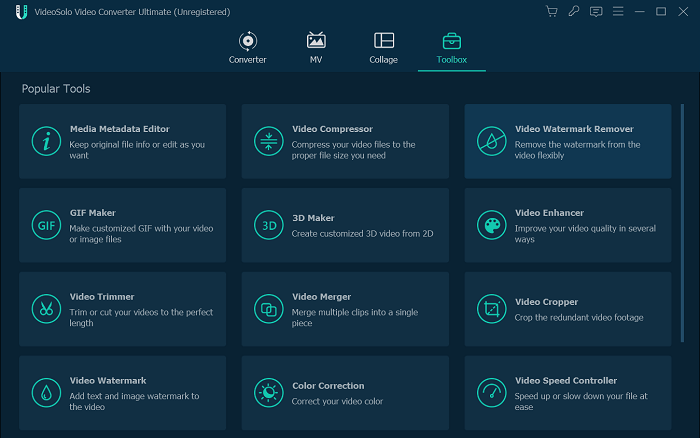 Step 2. Click the "+" icon to add the video file you want to compress.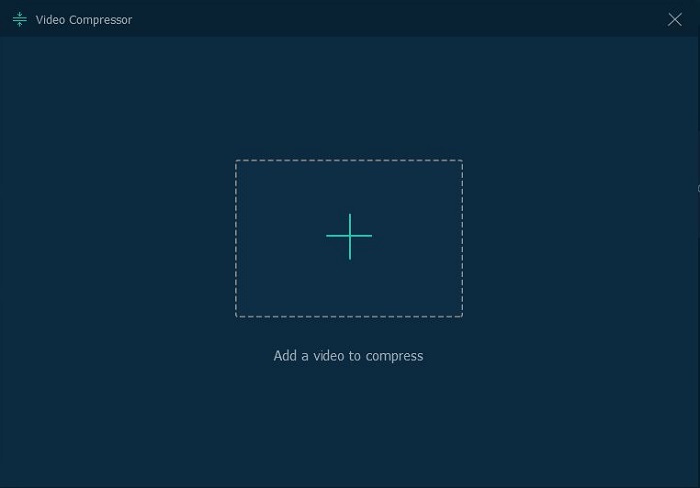 Step 3. After added the file, you can adjust the compress ratio or the file size. Then click on the "Compress" button to start the process.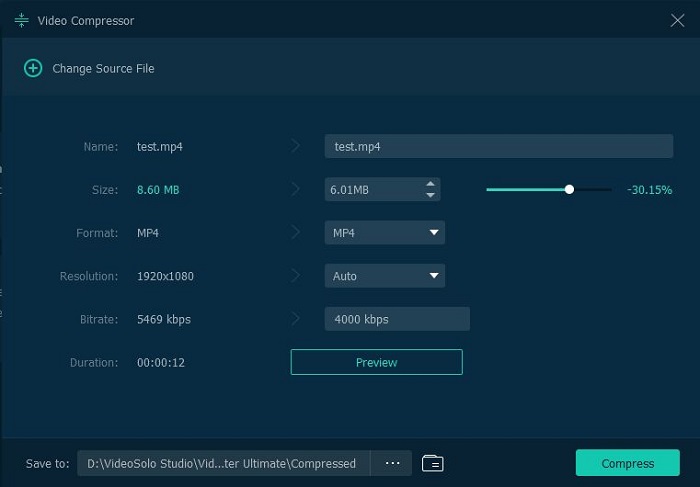 There are some special advantages of VideoSolo Video Converter Ultimate:
1.Provide the preview feature to check if the compressed video quality meets your need.
2.Have a great balance in video size and video quality after compression.
3.Support hardware acceleration when compressing the video.
4.Will not collect or analyze user private file like some of the free online video compressors.
Extra Recommendations - Other 5 Picks for Best Video Compressor Software
Wondershare UniConverter - Available for Both Mac and Windows
UniConverter by Wondershare is one of the best video compression software that can be easily installed on your Windows or Mac system and supports almost all video formats. It's huge array of editing stuff are presented in a clear, intuitive interface that will have you effortlessly downloading and compressing clips in seconds. However, free users have lots of disadvantages compared to paying subscribers, starting with needs to unlock all the functions by subscribing to its subscribers' plans and your video can be compressed only 1/3 of the original video length in free version.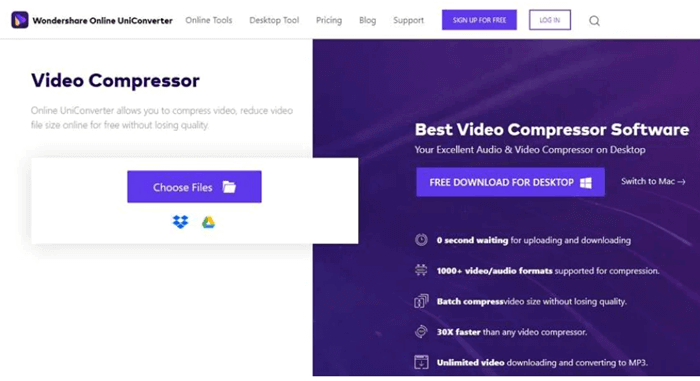 Pros:
Offers basic video editing to enhance videos

150+ output formats supported
Cons:
Free trial with limited features.

1/3 of the original video length can be compressed
Price:
Annual Plan: USD 39.99

Year Plan: USD 55.99

Perpetual Plan: USD 79.99
VideoProc - Builds with an Advanced Video Compression Algorithm
VideoProc is one of the best one-top video compression software to edit, convert, resize, and adjust large or 4K videos, audios, and DVDs easily. Proud of itself on advanced video compression algorithm, compressing a large video size by 90% with merely pixel-level quality difference can be achieved possibly. Moreover, 370 input codecs and 420+ output formats are provided to a wide range of users who in need. VideoProc offers a free version, but it limits you to processing only five-minute long media files, and the compression feature produces with watermarked footage.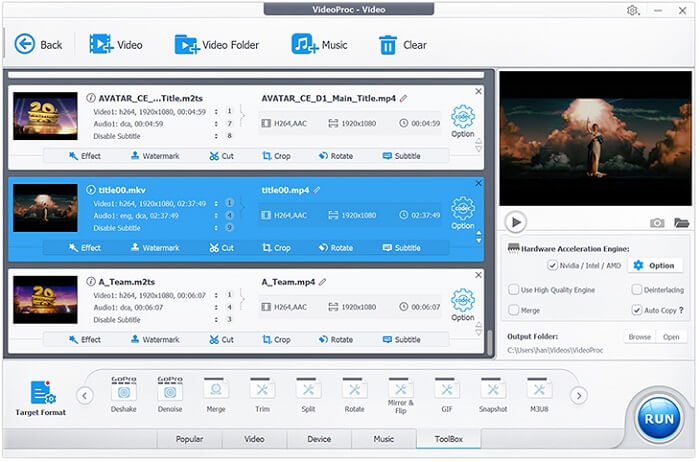 Pros:
Delivers up to 47x real-time faster video conversion/compression speed
Cons:
More advanced features require subscription

A watermark will be added to the video in free version
Price:
Year License: USD 29.95

Lifetime License: USD 37.95

Family License: USD 57.95
Movavi Video Converter - Supports Intel Hardware Acceleration
Movavi Video Converter is another excellent video compressor software. The main window of the interface gives you access to the program's core features. Once the file you want to compress is loaded into the program, you can begin a compression in as little as a single click. Meanwhile, it provides the simple editing functions to enhance the quality of your video and better visual effects to render your creative video clips. With it, you can not only extract the impressive background music from YouTube but also compress it into smaller size effortlessly.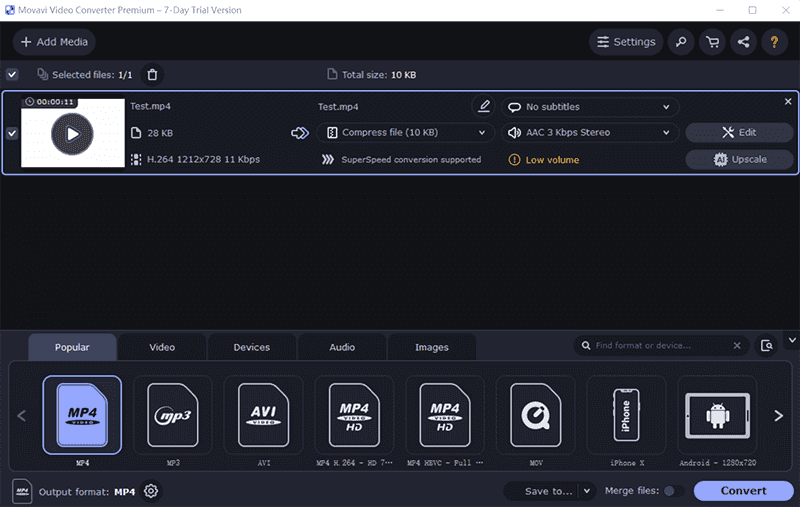 Pros
Supports more than 180 different file formats

Provides basic editing functions

Extract soundtracks from videos.
Cons:
Free version only provides for 7 days

High cost
Price:
Premium Personal: USD 54.95
Freemake Video Converter - Converts Large HD & 4K Videos for Windows
Freemake Video Converter is another Windows-based video compressor I will introduce today. It claims that it can compress videos into 500+ formats and the paid version converts very quickly. You can use its simple cutting tool to make a few small edits, avoiding the need for a separate video edito tool. Besides, Freemake is a semi-free movie transfer tool, but there are significant differences between the free and paid versions. For example, there are some limitations like watermark in the output video and slower compression speed compared to the paid version.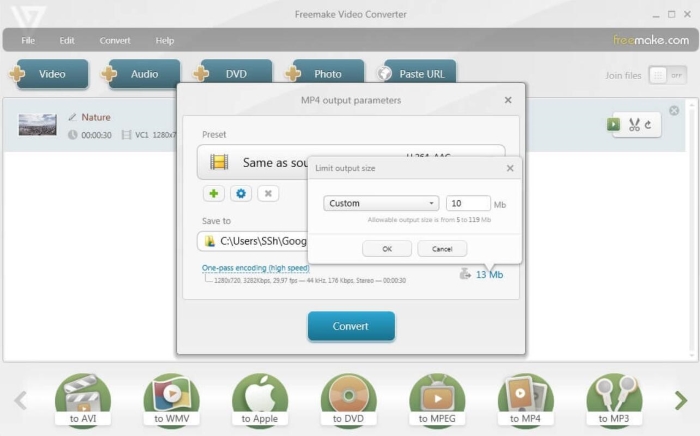 Pros:
Support 500+ formats including most of the popular formats.

Free version to try.
Cons:
H265 codecs are not supported

Windows version only.

Unavoidable to install unrelated software during the installation process

Takes a long time to convert large videos in free trial version
Price:
Weekly License: USD 0.95

Monthly License: USD 59.95
Leawo Video Converter Ultimate- 6X Faster in Conversion/Burning Speed
Powered by GPU-accelerating technology, Leawo Video Converter is a professional video converter software which is capable of compressing video with high quality reserved and in 6X higher speed. Surprisingly, it is more than a video compressor. With this professional converter, you can not only convert and download videos/audios, but also burn videos/photos to DVD, create 3D movies, edit and play media files and so on. One thing should be noted that you'll pay extra if you need to use features that are usually included in paid versions of other software. Despite this drawback, it's still an ideal option if you just need to compress clips.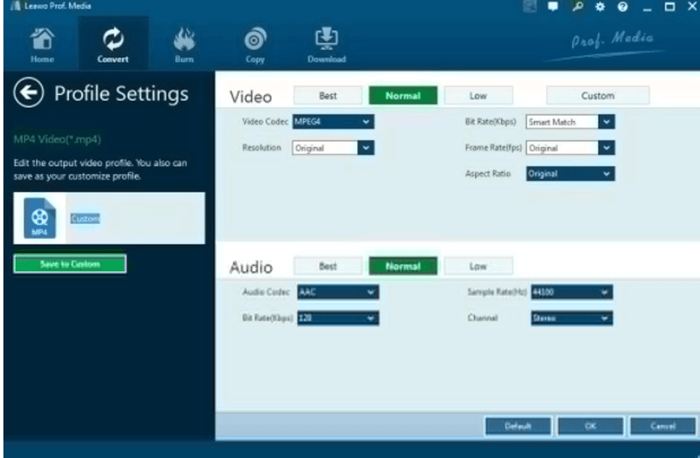 Pros:
180+ formats from one to another provided

6X faster speed
Cons:
Price:
Year License: USD 29.95

Lifetime License: USD 39.95
Verdict:
With the rapid development of the internet, a plethora of video compressor software has come into being. Before you continue reading, you need to be clear that some limitations of these compressors. On account of software's substantial labor and time costs to develop, they usually provide user free trial version and paid version. However, free users have lots of disadvantages compared to paying subscribers. Tiers differ in their file size limit, watermark added, maximum number of simultaneously running conversions, and process priority.
God blessing that you can try VideoSolo Video Converter Ultimate on, since it provides more user-friendly UI and more in-built tools for managing videos at faster. Although VideoSolo Video Converter Ultimate has its paid version, thanks to 5 files per feature for the free version it offered, you are able to use the trial version for free to experience most of the features and see if it fits your needs before paying. With it, you can compress your awesome video for email to share with your friends easily. After trying its a bunch of functions, you might want to invest your time and money since it will give you better returns.
2 Picks for Best Video Compressor Freeware
VLC media player - Advance in Its Features and Suitable for Pros
VLC media player is a very popular video compressor freeware that is widely used worldwide. The freeware is a cross-platform video compressor with buckets of features. However, it's not one for beginners, but this is an undeniably powerful tool that handling the job of compression will be a piece of cake. With this freeware, you are able to compress videos by converting videos to more advanced codec, lowering down video resolution, bit rate, and frame rate all in one window.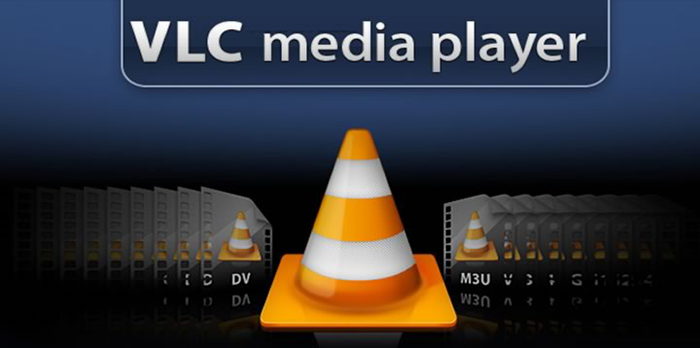 Pros:
Support large videos in almost any formats.

Basic options to adjust codec, bitrate, quality, resolutions
Cons:
Lack of video compression options

Something of a learning curve

Audio and video out of sync
Price: Free
FFmpeg - Compresses Video Size from GBs to MBs Without Losing Much Quality
FFmpeg is a program that you can use to compress video and audio files from GBs to MBs without visually quality loss. Moreover, you can then convert them to different formats. It supports almost all audio/video codecs, including H264, H265, VP8, VP9, AAC, etc., as well as file formats such as MP4, FLV, MKV, TS, MP3, etc. It also allows you to create slideshow videos from multiple images. The FFmpeg project tries to provide the best technically possible solution for developers of applications and end users alike. Therefore, if you are interested in coding, this freeware will be your best way to go.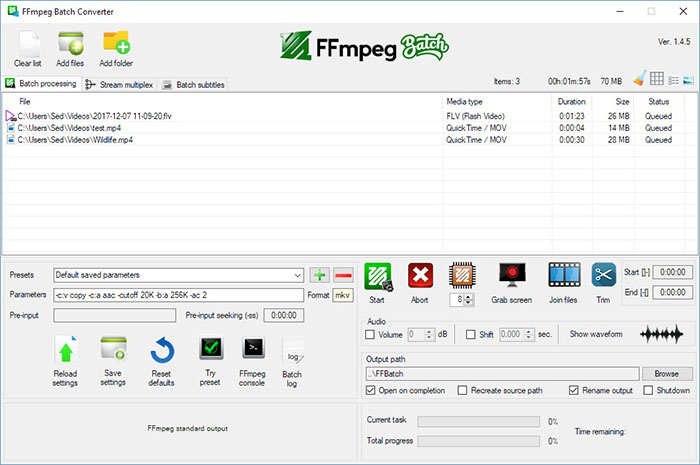 Pros:
Supports multiple video formats and optimized presets.
Cons:
Technical barrier

Unable to convert DVDS
Price: Free
Verdict:
VLC media player and FFmpeg are 2 open-source freeware that I recommended above. Open-source software, also known as free and open-source software (FOSS), is a type of computer software whose source code is available for anyone to use or modify. They have many advantages, from efficiency to free use. However, using open-source software is not always roses and sunshine. You cannot expect the same level of technical support as commercial and closed source options. Furthermore, they may not always be as secure as proprietary applications. Therefore, it is best to stick with commercial and closed-source applications like VideoSolo Video Converter Ultimate with higher levels of support.
2 Picks for Best Online Video Compressor
VideoSmaller - An Online and Intelligent Compressor for Mac/Windows
VideoSmaller has an easy-to-use, bright, and beautiful interface. It offers a free method to compress video online for Mac/Windows. For some of my video files, it can compress to more than 80%. This site claims that the video you upload will be automatically removed after a few hours to keep the user private safe.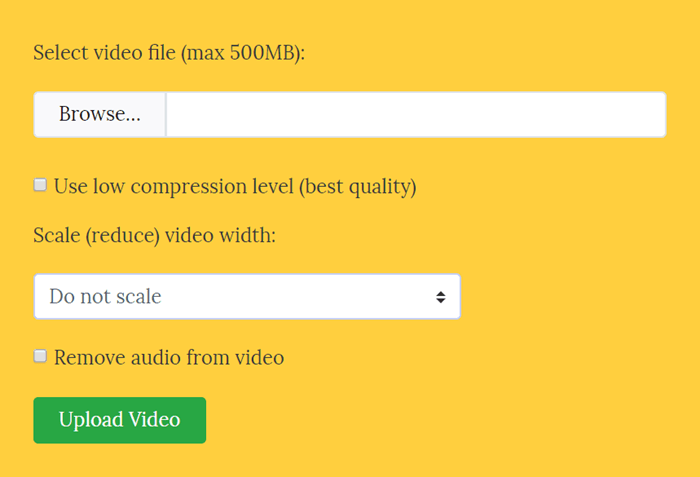 Pros:
Support multiple file formats including MKV, MP4, AVI, MPEG, MOV, etc.

Good privacy protection.
Cons:
Support upload video size reaches to 500MB.

It can be used on a mobile phone to directly compress the video on your phone. However, I cannot download the video I compress on my iPhone.

It can only compress one video at a time.

There are ads on its compression interface.
Price: Free
YouCompress - Easy-to-use Online Video Compressor
YouCompress is an free online video compressor which is designed for beginners in my opinion. It has an intuitive interface and it requires zero configuration. There is no watermark in the output video.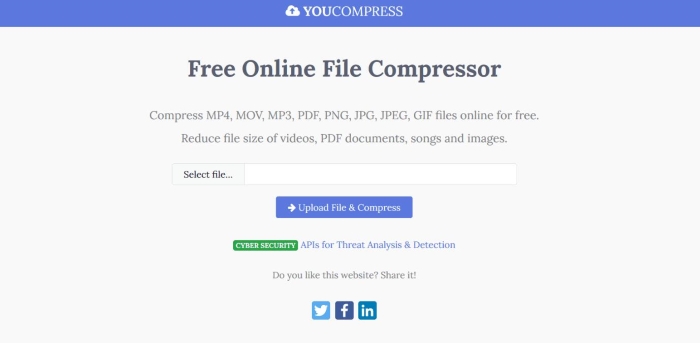 Pros:
Easy-to-use online tool.

No watermark.
Cons
Supported formats - MOV, MP4, AVI only.

No advanced options.
Price: Free
2 Picks for Best Video Compressor for iOS & Android
# Shrink Videos - Powerful iOS Compressor
With high marks (4.7/5) on App Store, Shrink Videos performs well in reducing video file size. It can decrease size by 80% or more which helps you save more space on your iPhone/iPad. It's worth mention that it's such a lightweight program that it only takes up 8.6MB. Shrink Videos support batch compression. But it's not a total free application and there are ads on its interface.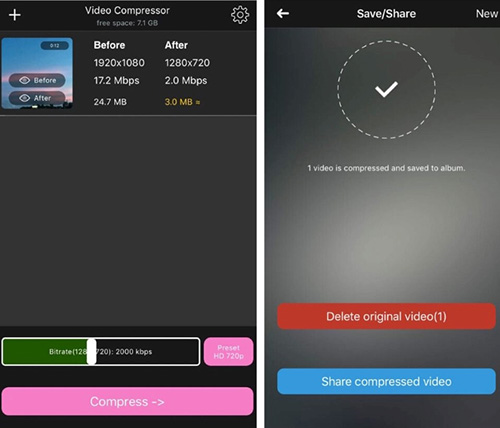 # VidCompact – Useful Android Compressor
Vidcompact is a not just a useful compressor for Android, but a video converter and video trimmer. It claims that it supports almost all devices like Blackberry, Lumia, Samsung Galaxy, Huawei, etc. The most important point is that it can compress video clips of any size with high quality. By the way, it rates 4.5 on Google Play Store. However, if you have not subscribed to the VIP, you cannot import files higher than 1080P for compression.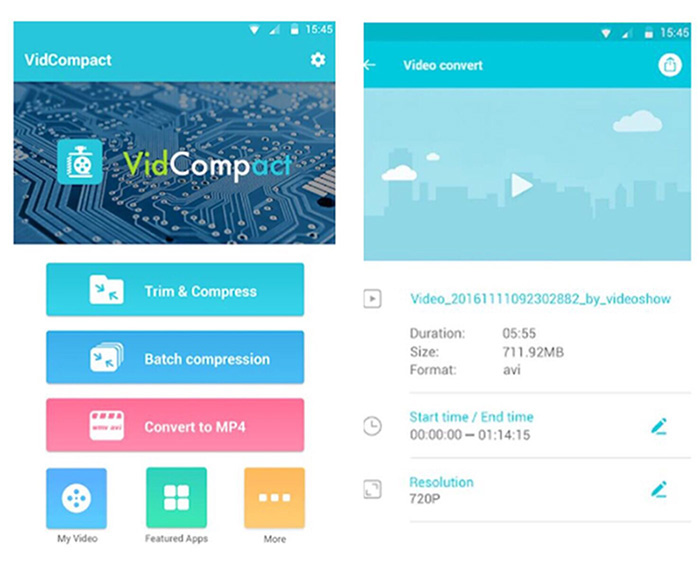 Verdict:
Compared to desktop software, it's very convenient to compress video on mobile phones anytime and anywhere. It is this convenience that has led to the rapid development of mobile applications. But their boundlessness needs to be noted that the maximization video size you can compress is limited and low conversion speed. Moreover, you need to upload your video to your mobile phone and that means your phone might be blocks with redundant video clips to some extent. For these, a desktop video compressor software like VideoSolo Video Converter Ultimate is safer and more convenient and save your time. Thanks to the cutting-edge Blu-Hyper technology that is applied in Ultra-fast Conversion, VideoSolo Video Converter Ultimate - an up-rising star in video compressing, allows users to compress videos speed up to 50X faster than ever, especially in converting 8K/5K/4K/HD videos.
Table Comparison of 4 Kinds of Best Video Compressor
With their own features, these 4 kinds of video compressor each stands out in different situations with their cons and pros. Now let's have a quick overview of the details about their features.
| | | | | | |
| --- | --- | --- | --- | --- | --- |
| Product | No Ads | No Watermark | Video Editing | Compression Speed | Overall Rating |
| VideoSolo | √ | √ | √ | High | 4.9 |
| Freeware | × | √ | √ | Medium | 4.7 |
| Online Tool | × | √ (a few) | × | General | 4.5 |
| Mobile Apps | × | √ | √(a few) | General | 4.5 |
According to the above introduction, have you found the best video compressor to reduce your video file size? You can choose the appropriate one according to your device. In my view, I recommend the most professional and stable software: VideoSolo Video Converter Ultimate. Alternatively, if you have a better suggestion, please tell us by leaving a comment below! Enjoy!