How to Convert AVI to MPEG with Few Simple Steps
Generally speaking, there are three kinds of MPEG video compression standard.
1.MPEG1 is widely used for VCD.
2.MPEG2 is widely used for DVD and Super VCD.
3.MPEG4 is widely used for network transmission, broadcast, and media storage.
For the people who own AVI video and want to play it on VCD, DVD, network, etc., they may need an AVI to MPEG converter, which can meet their corresponding needs. Next, I would like to introduce such a converter and guide you on the conversion of AVI to MPEG below.
Know More about MPEG before Converting AVI to MPEG
MPEG2 VS. MPEG4: All You Want to Know Are Here
MPEG4 vs MP4: What Are the Differences Between MPEG4 and MP4?
Simple Yet Effective Way to Convert AVI to MPEG
# • Best AVI to MPEG Video Converter
As mentioned above, you aspire to convert AVI to MPEG video file, here you may learn one simple yet useful solution to accomplish the task. Among the many video converters, VideoSolo Video Converter Ultimate sets itself apart from the competition by its high output quality and rich target profiles for MPEG video.
You know, MPEG is a very complicated concept. It is an organization that develops standards for video and audio encoding. The MPEG codec MPEG1, MPEG2, MPEG4 can be encapsulated into multiple container formats, such as MPG, VOB, MP4, and TS. You may be perplexed yourself when seeing this and wonder how to choose the output format and codec when you are going to convert AVI to MPEG. With VideoSolo Video Converter Ultimate, you may not have to worry about this much. It will be a good helper for you to convert AVI to MPEG1, MPEG2, MPEG4 with proper container format.
Except for being an AVI to MPEG converter, it is a powerful video/audio converter that can convert media file to or from 300+ formats. The hardware acceleration function of this product can help you finish the conversion process quickly. Also, the video quality has assurance.
# • How to Convert AVI to MPEG File
Firstly, download and launch VideoSolo Video Converter Ultimate on your desktop easily, and then follow the step-by-step guide below. You can get the solution to easily convert AVI to MPEG.
Step 1. Add AVI Video into the AVI to MPEG Converter
Once you open the program, you can view its user-friendly main interface like below. Just click the "Add Files" button, or you can directly drag and drop AVI file(s) to the program. It also allows you to add multiple files to make batch conversion.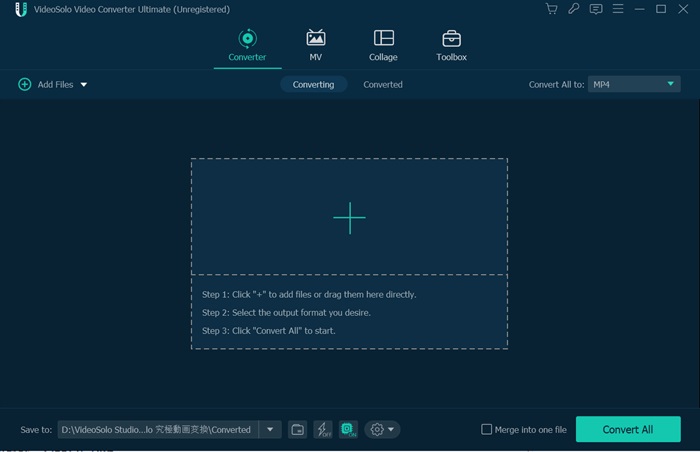 Step 2. Choose the Output MPEG Video Format
To convert AVI to MPEG, you may need to select your target output format in the "Convert All to" pull-down list. Here are three examples.
1.If you want to watch the AVI video on your DVD player via USB, you will need to read the product instruction to see what container formats and codecs are your DVD player supporting. Basically, the DVD player will support MPG encoded in MPEG2. So, you can locate "Video" and find "MPG" in the left column, there are 2 preset profiles available that are optimized for TV.
2.If you want to get a playable DVD disc made from the AVI video, you can search "VOB" in the profile searching bar and choose the "480P DVD Video (encoded in MPEG2)" profile. And then, burn the output VOB video to a blank DVD disc. This can be a bit of a hassle, you can try a better solution: Burn AVI Video to DVD Directly.
3.If you want to convert AVI for storage on your computer, play it on your mobile device or upload it to the social network, you can search your target device on the searching bar which in the "Device" tab, and choose an MP4 format with MPEG4 encoder.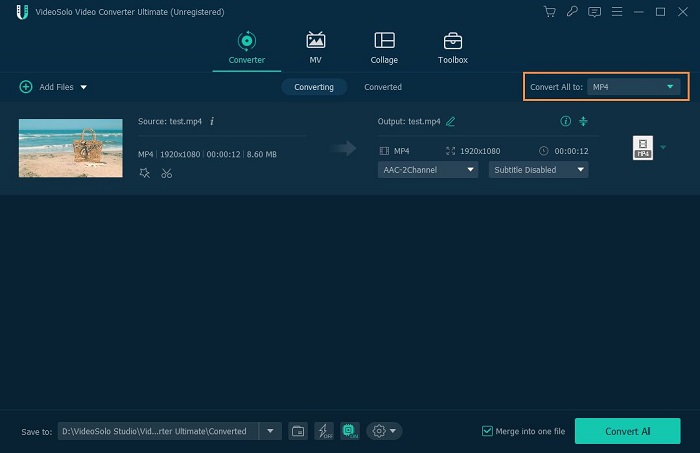 Step 3. Check the Settings for the AVI to MPEG Conversion
You can click on the "Custom Profile" icon at the output profile selection line to check the output settings before converting AVI to MPEG. Make sure the encoder and other parameters can meet your requirements. If not, you can change some parameters and click the "Create New" button to save your settings.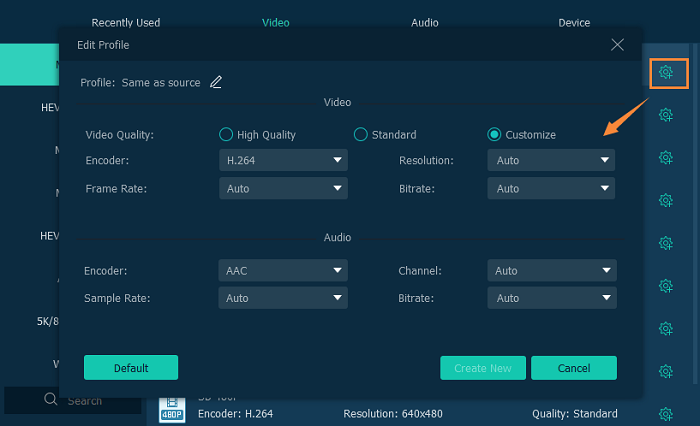 Step 4. Begin to Convert AVI to MPEG
Once all of the necessary output settings are finished, select all the files you want to convert and click the big "Convert All" button at the right bottom to start the conversion process of AVI to MPEG. After completing the task, you are able to find the converted MPEG video in the "Converted" box.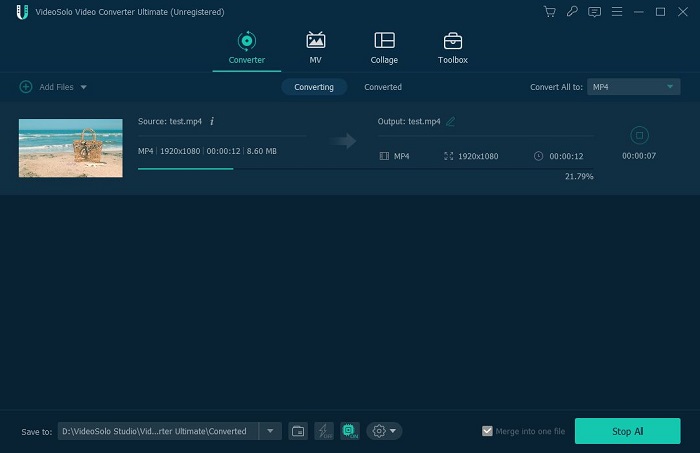 Converting AVI to MPEG may not be as simple as not using VideoSolo Video Converter Ultimate. After you've read the whole text, do you feel it is a super easy yet effective solution that worth to try when converting AVI to MPEG? Just download it and try it now.