[Fast!] How to Rip/Convert Blu-ray to MP4 with High Quality
Although live streaming service is the mainstream, while your shelf is fully piled up Blu-ray discs. Blu-ray disc actually performs excellently in providing ultra-high-quality picture but has the only problem: it's not convenient to be carried out of the home. In this case, you can rip Blu ray to MP4 which means digitizing Blu-rays to MP4 so that you can watch them on any device anywhere. In the following, we will introduce the best Blu-ray to MP4 converter which helps you convert Blu-ray to MP4 with high quality, as well as the solutions to common errors you may meet.
Why Choose MP4 as Blu-ray Ripping Output Format
Ripping Blu-ray to MP4 means you can digitize Blu-rays and make movies more portable. Actually, you can choose video formats like MKV Lossless, AVI, MP4, MOV, etc. as output format. The reasons we recommend MP4 as the Blu-ray ripping output format are as follows:
# a. High Compatibility – Watch Blu-ray at Any Devices
Even you don't have so much understanding of video formats, you must have ever heard of MP4. MP4 is one of the common video file formats used for downloading and streaming videos from the Internet. It's initially created in 2001 and the international standard for audio-visual coding. This is why MP4 is the most compatible video format. Therefore, we recommend you rip Blu-ray to MP4 so that you can watch your favorite Blu-ray discs on any device like your iPhone, Android, iPad, MacBook, Windows.
# b. Video Size and Quality Balance
In general, a Blu-ray disc stores over 2-hour video and multiple audio tracks and it can be up to 50GB capacity. If you want to rip Blu-ray to digital format, MP4 will be a good choice for Blu-ray backup. MP4 well balances video quality and video size. It allows the Blu-ray files to be much smaller in size than other video formats because of the high degree of compression.
Extra Tips:
If you care a lot about video quality and pursue lossless quality, you can choose to rip Blu-ray to MKV Lossless to keep original video quality and preserve all the audio tracks and subtitles. You need to notice that the video file size will be bigger than the one of MP4.
Best Way to Rip/Convert Blu-ray Movies to MP4 with High Quality
To be the best Blu-ray to MP4 converter, it must balance the Blu-ray quality and ripping speed. VideoSolo Blu-ray Ripper (opens new window) is the tool that shows its superiority in ripping Blu-ray to MP4 at super-fast speed with advanced GPU acceleration. What's more, it can remove the DRM protection of the Blu-ray discs. The built-in powerful editing functions enable users to customize their own videos. Users can also freely add audio tracks and subtitles to the Blu-ray video. It's so user-friendly that a beginner can use it to rip Blu-ray on their Mac and Windows without hassle.
Notice:
VideoSolo Blu-ray Ripper can be also used to unlock DVD region code and convert your DVD discs to digital format.
Here we will show you the step-by-step tutorial on how to rip Blu-ray to mp4.
Preparation:
Download and install Blu-ray to mp4 converter on your PC
Connect with smooth Internet
A Blu-ray optical drive
# Step 1. Import Blu-ray Movie Disc
After launching the Blu-ray Ripper on your computer, insert your Blu-ray disc into your external Blu-ray drive and connect with your computer. Then, you need to click on the "Load Blu-ray> Load Blu-ray Disc" button on the program's main interface to browse source Blu-ray movies for loading. Blu-ray folder and BDMV folder (opens new window) are also supported.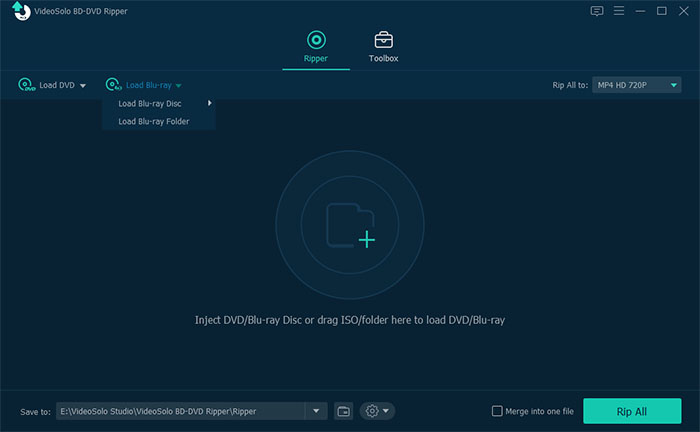 # Step 2. Choose MP4 as the Output Format
Next, click the drop-down menu of "Rip All to" button and go to the "Video" tab. Select the "MP4" format on the left side. Here, you have the options like "Same as source", "4K Video", "HD 1080p" and so on. In general, we recommend you choose "Same as source" as the output format.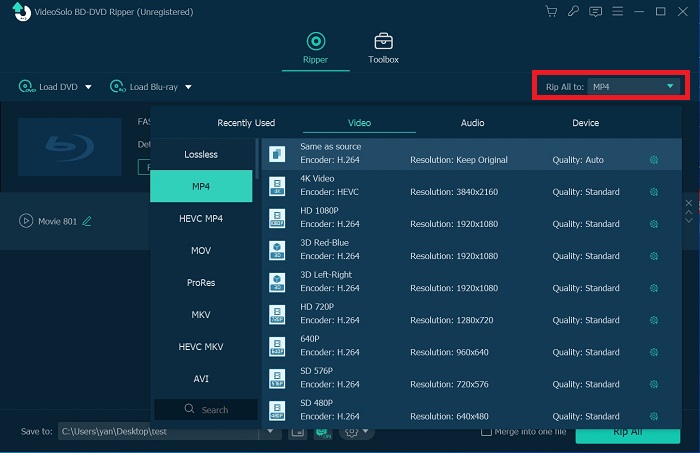 # Step 3. Edit Blu-ray Video (Optional)
If you want to make your Blu-ray video a unique and exclusive one, just click the "star" icon and you can crop, rotate (including rotate 90 clockwise, rotate 90 counterclockwise, horizontal flip and vertical flip), add watermark to the video, or adjust other effects like brightness, contrast, saturation and hue of the video by clicking "Effect". You can also click the "scissors" icon to cut your video file.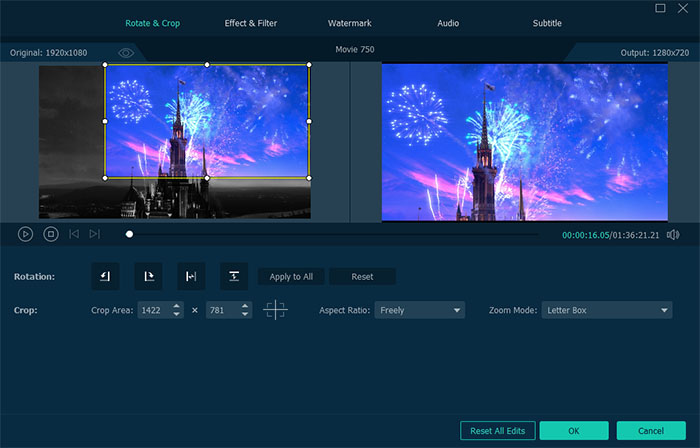 # Step 4. Select Audio Channel and Subtitle
After selecting MP4 as the Blu-ray output format, you can choose the audio track (opens new window)and subtitle (opens new window). Thoughtful as VideoSolo, it also empowers users to add audio tracks and subtitles.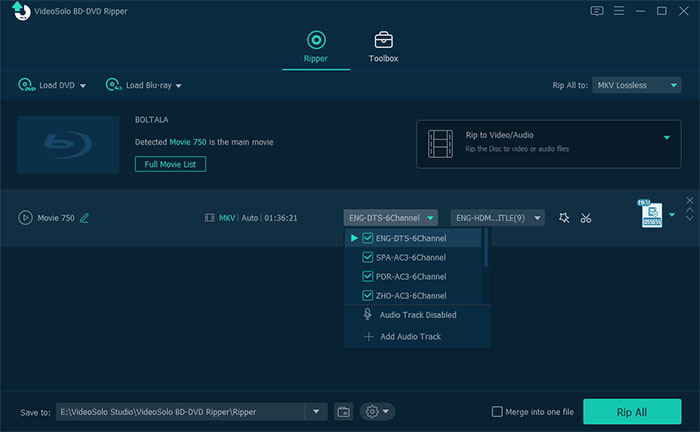 # Step 5. Start Ripping Blu-ray into MP4 Video File
Once you've got all settings completed, you can go ahead and rip Blu-ray to MP4 format. Click the "Rip All" button located in the lower right corner of the interface to start converting Blu-ray to MP4. When it completes, you can click "Open Folder" to find the converted files. Just enjoy them at home or on the go. Have fun!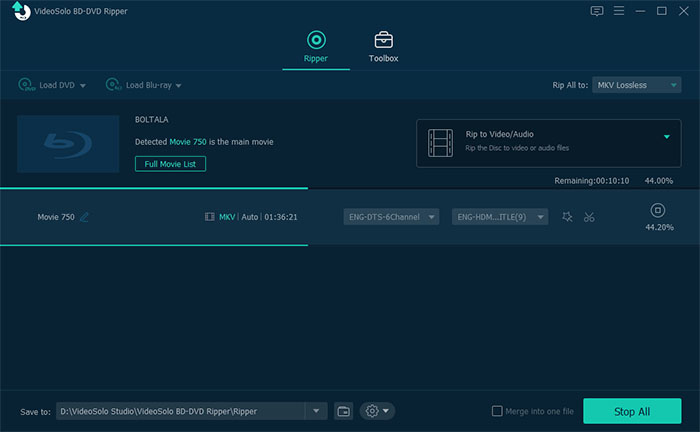 Blu-ray to MP4 Converting Tips – Common Errors You May Meet
You may meet some errors or annoying obstacles during your Blu-ray to MP4 converting. Scroll down and find the solutions here.
# a. Blu-ray Optical Drive
To back up your Blu-ray discs to MP4, you need a Blu-ray optical drive for connecting it with your Windows or Mac. Yes, it's a "Blu-ray" one that can read your Blu-ray discs. A DVD Drive cannot do that.
# b. Huge File Size of Output Blu-ray Video
Even you have chosen MP4, the high degree compression format, the ripped Blu-ray video file may be huge in size. The higher the video quality, the bigger the video file size is. In general, 1.2 to 1.8 BG for a 1.5-2 hours Blu-ray movie (H.264) will give good quality. If you find the size of the ripped video is too big, you can use the video compressor in the "Toolbox" tab in VideoSolo to compress it. Here is the full guide: A Video Compressor Introduction – Make Video File Size Smaller (opens new window).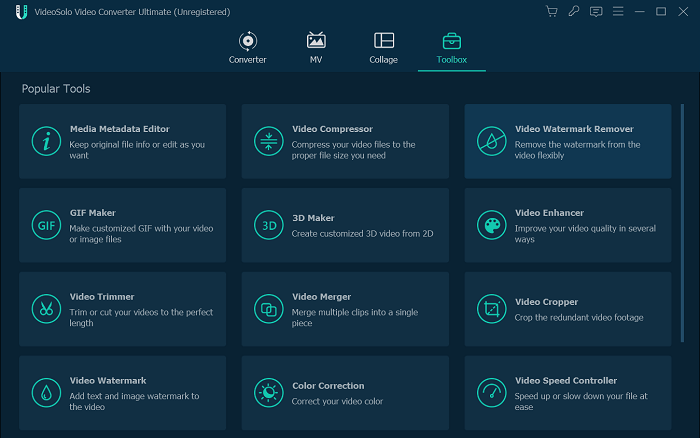 # c. Not So Fast Speed of Ripping Blu-ray to MP4
VideoSolo empowers users to enable GPU acceleration to speed up ripping speed. You can go to "Preference" > "General" > "Enable GPU Acceleration" in the program.
VideoSolo BD-DVD Ripper (opens new window) is the best all-in-one program. With all the latest technologies applied in and strong stability, it is powerful enough to rip Blu-ray movies into the MP4 file or other various formats. It also gives you the ability to freely customize the output video and personalize your video. Why not give it a try?