How to Stream DVD on Plex Media Player - Just Rip DVD for Plex
Do you want to play DVD discs at any time on almost all of your devices, without storing the DVD video on every device that you want to play? Well, Plex is one of the best streaming services to help you do this. You can rip DVD for Plex then store your DVD movie on a computer or NAS server. Then every device that installs Plex Player can play your DVD after login your personal account. Here we will guide you on how to rip DVD for Plex and play "like a DVD" with VideoSolo BD-DVD Ripper.
Select A DVD Ripper for Plex Media Server
Plex cannot read DVD file structure (Video_TS), so the only way to enjoy DVD on Plex is to rip DVD to a regular video format that Plex supported. Finding a DVD Ripper for Plex is not as easy as you think. At this time, some people would consider using HandBrake to Rip DVD. Unfortunately, you may also find that ripping DVD by using HandBrake is problematic itself. For instance, ripping DVDs with HandBrake may break down in the process.
Then, a good DVD Ripper - VideoSolo BD-DVD Ripper can help you avoid such problems. It can bypass the copyright protection and convert almost all your DVD discs to Plex supported format, so you can transfer them to the Plex Media Server for playing.
VideoSolo BD-DVD Ripper is widely recognized as the best DVD to Plex Media Server Ripper so far. Assisted by the powerful program, you could rip DVD disc/DVD files to Plex with a wide variety of video formats like MP4, MOV, AVI and so on. Unlike some other similar programs in the market, the most advanced feature of the software is its fast ripping speed. And the function of ripping DVD could surely enable you to enjoy the latest DVD movies on Plex. All in all, VideoSolo DVD Ripper could make ripping DVD files no longer one time-consuming job.
Just download its free trial version and open the program directly. It opened up a whole new vision of the interface. And then follow the tutorial.
[Step by Step] Convert DVD to Plex Supported Format
Here is the guide for you to convert and rip DVD for Plex easily.
Note:
The Windows version of VideoSolo BD-DVD Ripper released a new version which has big changes compared with the old version. But the new version for Mac is still under the development. That means the interface and the operation of Windows and Mac will be different.
To know the details about the new version, you can read on the article: A New Version for BD-DVD Ripper (Windows) Released! See What Changes
# Step 1. Load DVD Disc to VideoSolo DVD Ripper
Just insert your DVD disc to your computer hard drive. You may view several menus existing at the top bar of the main interface. Click the "Load DVD" button to import the DVD files that you want to convert to Plex.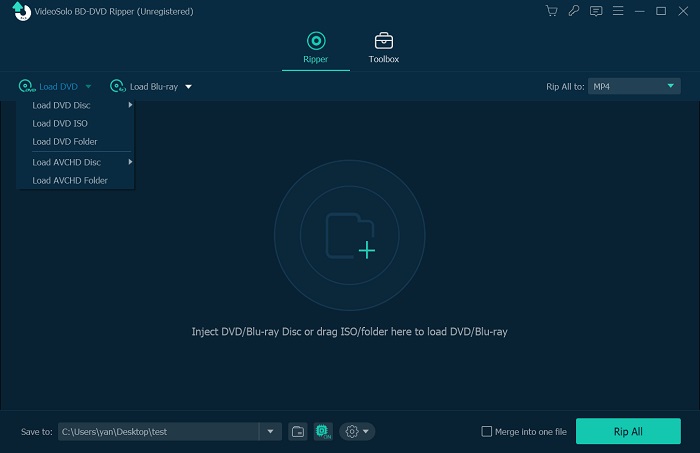 # Step 2. Select the DVD Output Format for Plex
The loaded DVD files with the information in detail could appear in the interface. Just click the "Rip All to" icon, in order to pop up one window where you could choose Plex Media Server compatible video formats like H.264/H.265 MP4, MKV from the drop-down list.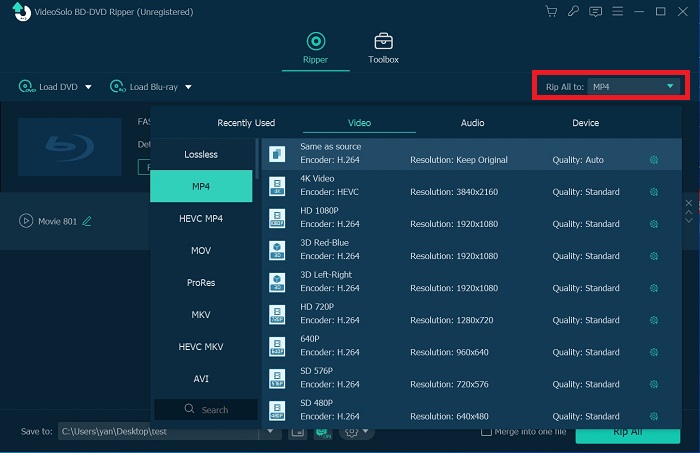 # Step 3. Select Audio Tracks and Select A Subtitle Track
Remember to select all the audio tracks you want and select one of the subtitle tracks. After you upload the DVD, its audio tracks will be selectable in Plex and the subtitle track will embed into the DVD video as a permanent subtitle.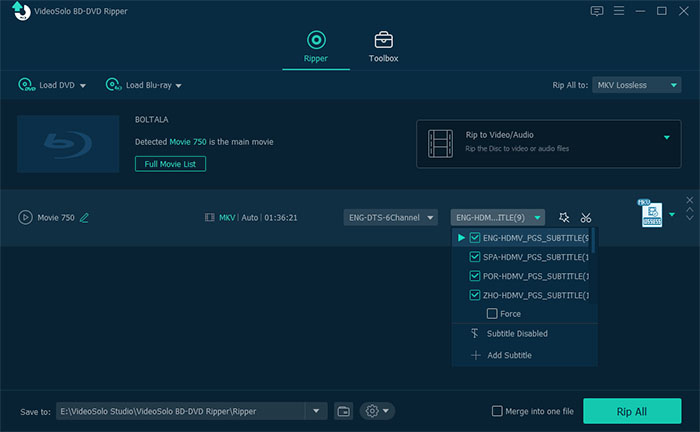 # Step 4. Begin to Rip DVD for Plex
Check the DVD playlists that you want to rip, then click the "Rip All" button on the bottom right corner, and the conversion process for DVD to Plex will start immediately.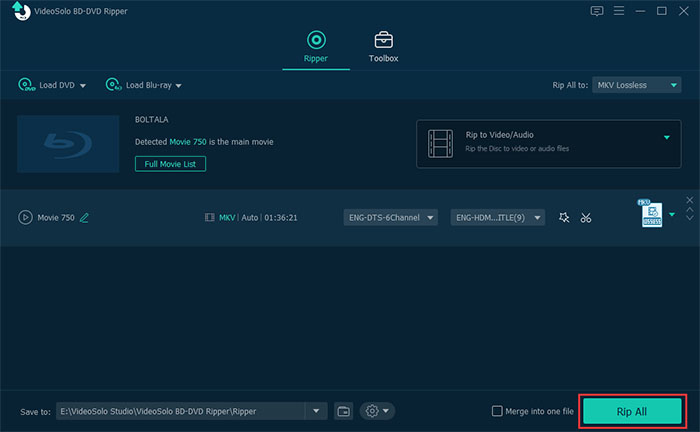 After that, you could get a ripped DVD movie file on the computer hard drive that you've selected before easily. Then you could stream DVD movies to Plex Media Server.
How to Make the DVD Videos Look Like "A Real DVD" in Plex
Q: How to Rip DVD to play "like a DVD"?
This is usually being asked in the Plex Forum. We will guide you on how to install Plex and upload DVD to Plex in detail. But before this, let's focus on how to rename your converted DVD file before uploading to Plex, so it can act like a real DVD in Plex.
Tips:
After you rip DVD to Plex with VideoSolo DVD Ripper and upload DVD to Plex in a right way, the DVD movie in Plex will look like this: it has selectable audio tracks and extras (DVD playlists).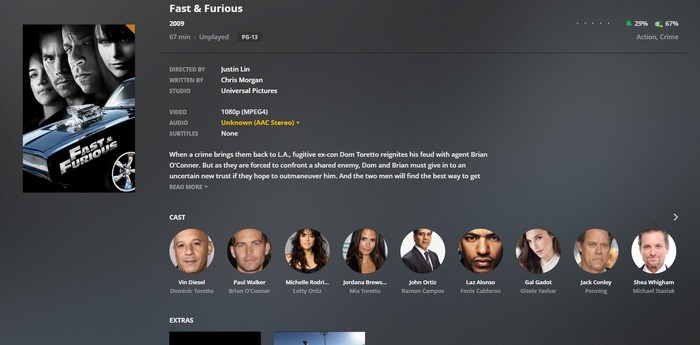 1. Create a folder on your computer name "Movies". In this folder, create a folder name as your DVD name + (release year), such as "Fast and Furious (2009)".
2. Name your main movie as same as the movie folder and name your extras DVD playlists base on the extra type:
-behindthescenes
-deleted
-featurette
-interview
-scene
-short
-trailer
-other
So, the ultimate folder structure can be like this:
/Movies
/Fast and Furious (2009)
Fast and Furious (2009).mp4
Bar Fight-deleted.mp4
Fight-scene.mp4
…
You can also read this if don't feel clear enough:
Plex official- How to separate the Local Media Assets – Movies
Now, let's install Plex and add the whole DVD video folder to Plex!
Step 1. Just download Plex Media Server from Plex official site and install. During the installation, sign in your Plex account on its website.
Note: you should download from "Plex Media Server" but not "Apps & Devices". "App & Devices" is for installing Plex Player.
Step 2. After installation, launch Plex Media Server, then right-click the icon of Plex Media Server and clip on "Open Plex".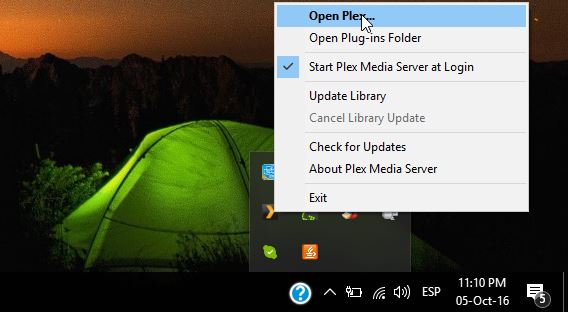 Step 3. Its main interface would appear on the web page. Click on "Movies-Edit-Add folders" to add DVD to Plex.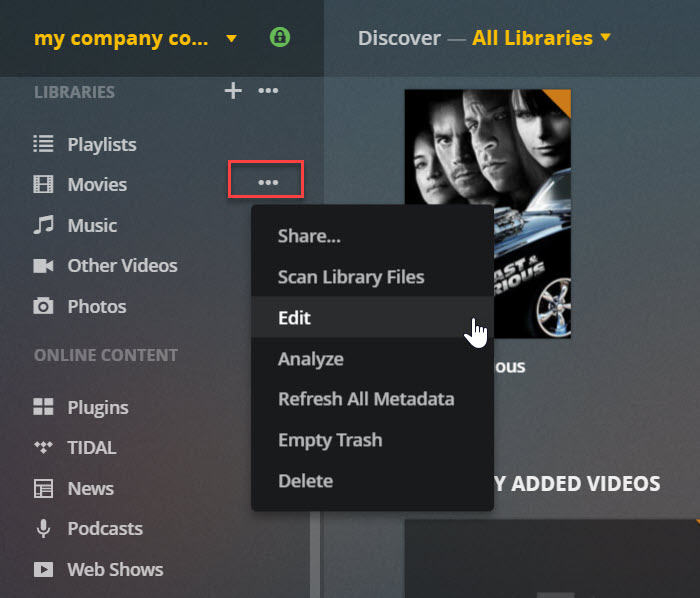 Step 4. Click on "Browse For Media Folder" and choose the whole DVD movies folder "/Movies" and then click the "Add LIBRARY" button. Wait a while, Plex will need some time to load the DVD movie information from its database.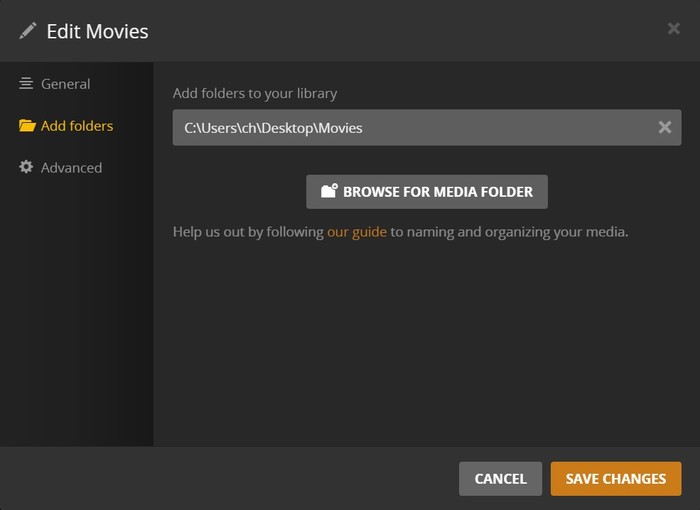 Now, you have finished the process of convert DVD for Plex and upload the DVD movie to Plex. Plex gives you the ability to access all your media files on TV, computer, phones no matter where you are. So, for example, if you have installed Plex Player on your iPhone, you can play DVD with Plex directly without importing the DVD to iPhone.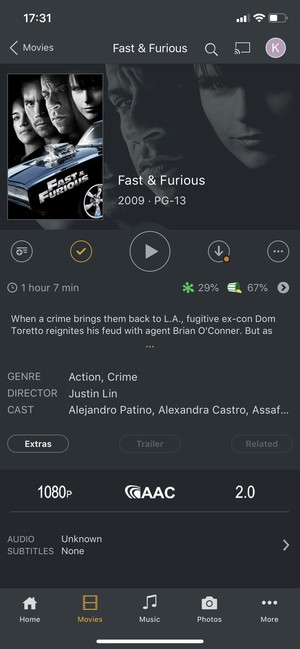 Tips:
if you use your computer as Plex Media Server, the computer must be turned on while you watch a DVD movie on other devices. Because of this, some people will install Plex Media Server on NAS. NAS was designed to run 7*24 hours uninterruptedly.
Lastly, let me take a minute to sum up the main points of the whole text. People try to convert DVD to Plex Media Server since that they want to play DVD files on various devices anytime and anywhere. Many people choose to use HandBrake when they encounter the problem of ripping DVD. Yet they're unable to rip DVD with copy protected and particularly the newest DVDs by using HandBrake. If using an application like VideoSolo BD-DVD Ripper which has the best price versus performance ratio could be economical with time and effort. What's your opinion?