Step-by-Step Guide: How to Convert FLAC to AAC
FLAC is a lossless audio format while AAC is a lossy audio format. Usually, the file size of a lossless audio will be large than a lossy audio due to the different audio quality.
Actually, some of common users can't hear the difference between the lossless FLAC and loss AAC with the lack of good devices. And FLAC audio format isn't compatible with many popular player and devices but AAC does. Therefore, some users would like to convert the FLAC audio to AAC to enjoy with more convenience.
In this guide, we'll going to show you how to finish the lossless FLAC to high-quality AAC conversion.
Since we need to change the audio codec from FLAC to AAC, not all of the audio converter can do this. The one we used here is VideoSolo Video Converter Ultimate. It's a video converter that specially designed for making the video/audio conversion easily. Users only need to import the files and select the output format and then the program will finish the conversion.
It supports the FLAC and AAC audio codec perfectly and will transfer FLAC to AAC without losing audio quality. You can free download the program from the button below.
3 Minutes Read - Guide for Converting FLAC Audio to AAC
# Step 1. Get the FLAC Converter Installed
At first, you have to download and install the VideoSolo Video Converter Ultimate on your computer. Please download the installation package according to your operation system.
# Step 2. Import FLAC Audio
Launch the program after installation. And now you can add the source FLAC file to the program by dragging & dropping the file.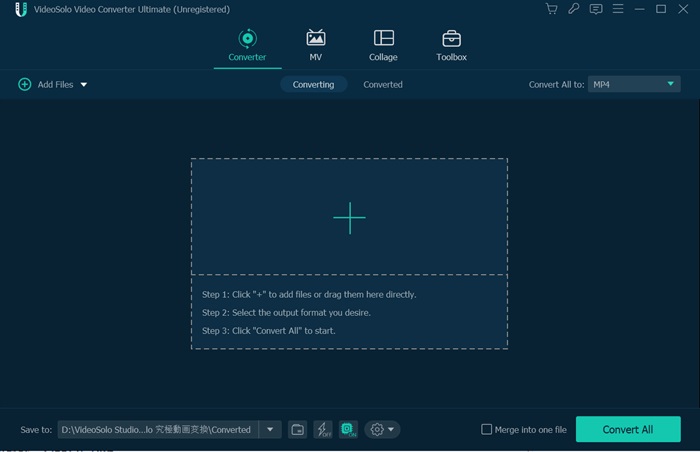 # Step 3. Choose Output AAC Format
Click the "Output Format" to choose the output AAC format. If you input "AAC" in the searching frame or click "General Audio", you can find AAC quicker.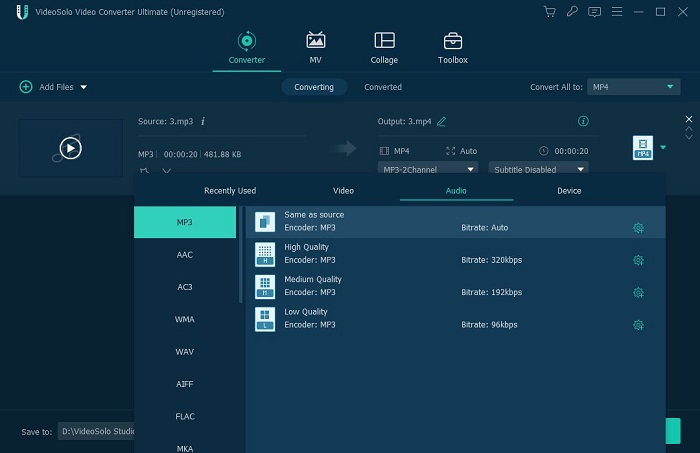 # Step 4. Convert FLAC to AAC
After all the previous works are done, click the button "Convert All" to get the conversion started.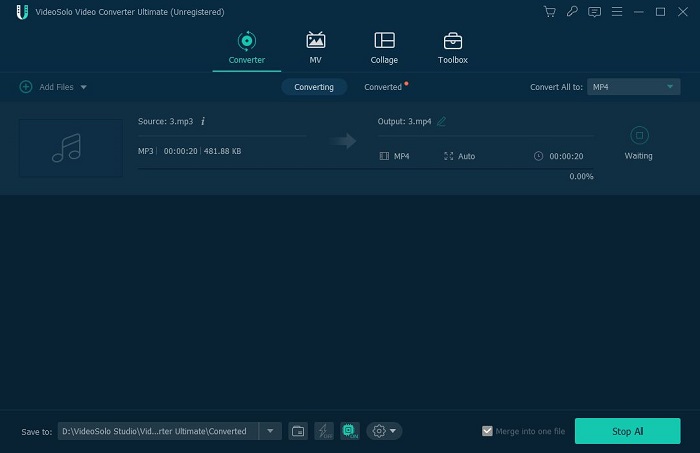 Follow the steps above, and you'll successfully convert the FLAC audio to AAC format.
VideoSolo Video Converter Ultimate has a wide range of support format. If you have any incompatible format problem, it can help you solve almost all of them (Only video/audio files). Don't miss such a good chance to experience the convenience that this program can provide both for your work and daily entertainment.
Extend Reading: Know More about FLAC vs AAC
FLAC:
FLAC (Free Lossless Audio Codec) is famous for its lossless music format, namely the audio quality is the same as the original source. Since it is compressed, it takes up less space. It is also an open and free source. However, FLAC files are not supported by most of popular devices, that is because FLAC files always have very high bit rate and different coding system.
AAC:
AAC (Advanced Audio Coding) was actually created as a superior lossy format. But AAC achieves better sound quality than MP3 at lower bit rate. Usually, a 256kbps AAC sounds better than a 320kbps MP3. Compared to FLAC, AAC will have wider compatibility and less file size.