Best DAV Converter - Convert DAV Files to Common Video Format
A DAV converter can help you easily and quickly convert DAV to other common video formats if you meet troubles in using DAV videos like these:
• I have a DAV file recorded by a CCTV system and can't find a player to play it.
• I can't read and play DAV videos on Windows Media Player and Adobe Flash Media Playback;
• I wanted to edit DAV video but failed.
So are there any proper DAV players can help? In this article, we will first introduce the popular DAV video players. Then, we will recommend a reliable DAV converter to convert DAV to MP3, AVI, MP4, MOV, FLV, etc. Keeping reading to know all helpful solutions!
Do You know about DAV Format?
Speaking of DAV file, most people may know that it is an output format from digital video recorders like DVR365, DVR-1600HP, DSD316 and videos captured by CCTV cameras. And it must be opened or played with special players. Why? This type of format is normally encrypted. So regular media players won't be able to play this video. And video editing software doesn't support this kind of format, either.
In order to play DAV video on your computer, you can download DAV file player, DAV converter or even video capture software. So let's see what DAV file players are recommended below.
Popular Players Supported DAV Files
# No.1 VLC
One of the most powerful and popular players should be VLC. But VLC is not natively supported DAV files until an all-in-one codec pack is installed. Only when VLC works with K-Lite Codec Pack, DAV files will be read successfully. But this method is only available on a computer which runs Windows OS. If you are using a Mac, you have to look for another one to play DAV files.
# No.2 DVR365 Player Software
As DAV is an encrypted format created by a DVR365, so this can be regarded as an original player for DAV. DVR365 Player software is a stand-alone PC player software and special software package. If you want to use DVR365, it is worth checking out the list of updates, because it will make advancements to the software from time to time. But currently, there is no way to play DAV files on Mac computer. It only works on Windows PC.
# No.3 5KPlayer
5KPlayer is a powerful media player which plays DAV files on both Windows 10/8/7 and Mac OS. It can convert DAV file to AVI, MP4, FLV to upload to YouTube, download HD videos from YouTube, Facebook, and 300+ online sites, and stream video music from Mac/PC to Apple TV. One of its biggest problems is Not configurable. So it is not suitable for some users.
How to Convert DAV Files to Common Video Format?
As all the players mentioned above with many inconveniences like cannot playback, NOT for MAC, NOT configurable, etc. Now it's obviously a DAV video converter is your best option.
We would like to recommend VideoSolo Video Converter Ultimate. It can convert DAV to a more compatible video format like AVI, MP4, MOV, WMV etc. With this DAV converter, you can not only get the DAV file played smoothly on your computer/devices but enjoy the same excellent video quality compared to the original. Now let's see the following step-by-step guide of converting DAV to common video format.
Note:
DAV is an uncommon and complicated video format. It is an encrypted file that prevent unauthorized users from playing them. It can be played using the CCTV system that created it.
Due to the particularity of DAV files, sometimes you may fail to import them into the program. You can download and try the free trial version first.
Follow the guide to begin.
# Step 1. Download and install the program
After download, install and run the VideoSolo Video Converter Ultimate.
# Step 2. Select DAV video files
Select the converted DAV files directly to the program. It is very easy to import file. If you have multiple converted DAV files, just drag the folder to the Add Files button.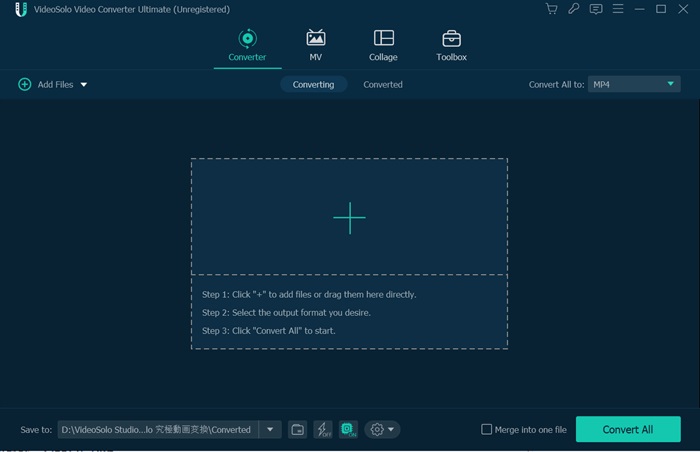 # Step 3. Choose output video format
Convert DAV to common video format, there is an easy way. Click the "Convert All to" button and then you'll see the "Video" tab on the format list, you can choose to convert DAV to MP4, M4V, AVI, etc.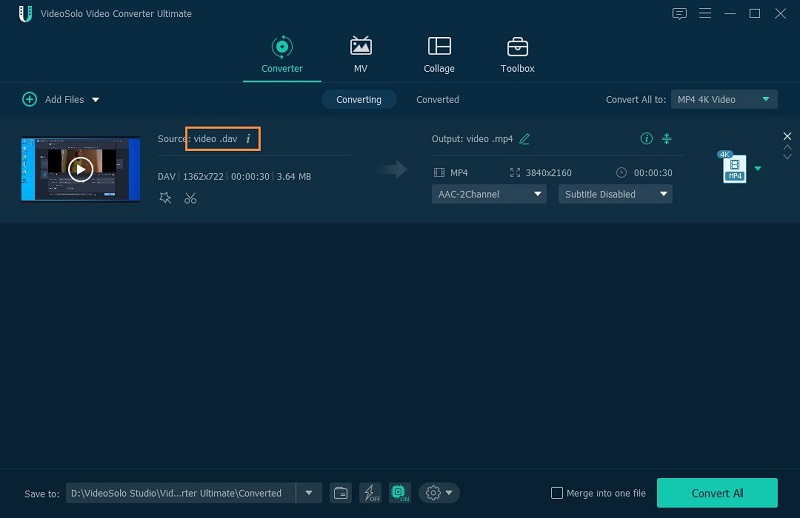 # Step 4. Start to convert
Click the "Convert All" button to start the conversion from the converted DAV file to other video or audio formats. The conversion time is very fast, you can enjoy your video soon.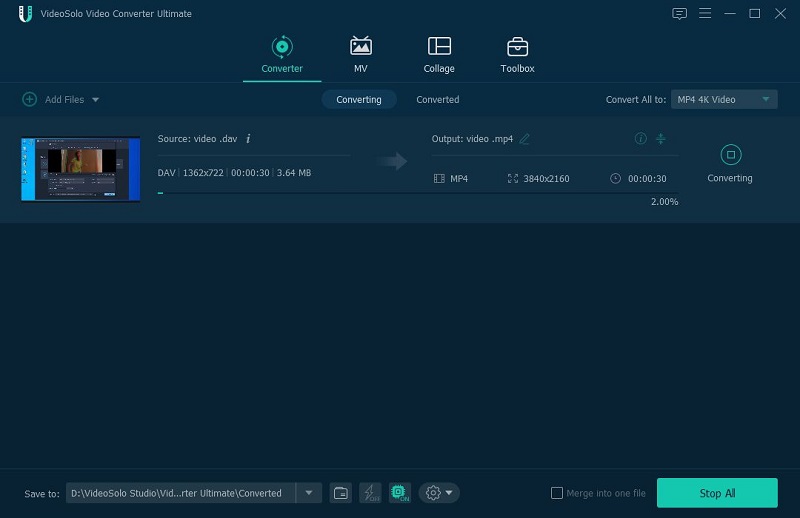 # Step 5. Edit the Video
After the conversion, you can choose to edit the video files, like rotate and crop, add filters and templates. Now, you can even make a special videos by using the beautiful preset MV themes.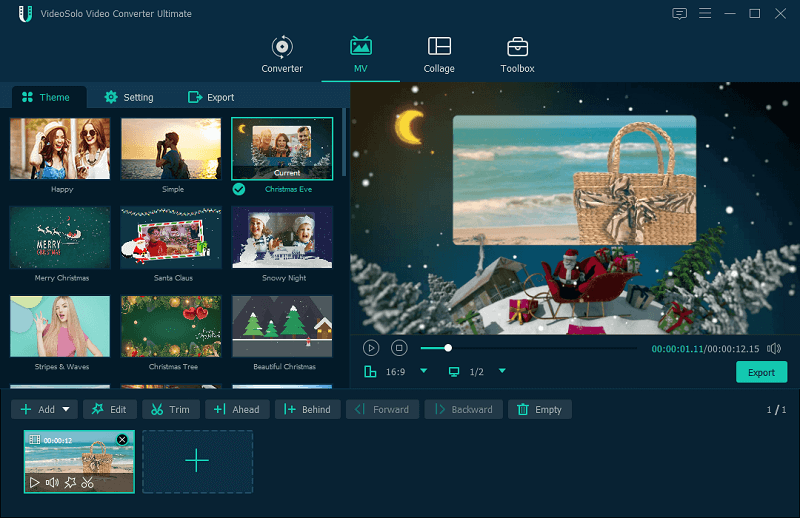 Once the conversion step is finished, the DAV file can be played back on a computer and portable devices like iPhone, iPad, Android and media players like iTunes Windows Media Player and more.
# Alternative Ways to Convert DAV Files Easily
Except for Video Solo Video Converter Ultimate, there are more excellent video converter that can convert DAV files into other formats. Here, we will introduce 3 more alternatives to you.
1. Dahua AVI Convert
It is specially used to convert CCTV footage in DAV format into AVI. It is stable and you don't need to worry about failing to import the .dav files. It is compatible with all Windows versions and it is for free.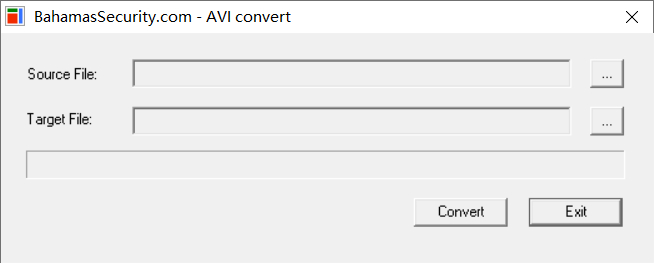 2. Wondershare Uniconverter
Although Dahua AVI Converter is stable, the functions are limited comparing with other video converters like Wondershare Uniconverter. It offers more than 1000 formats and it is available for both Windows and macOS.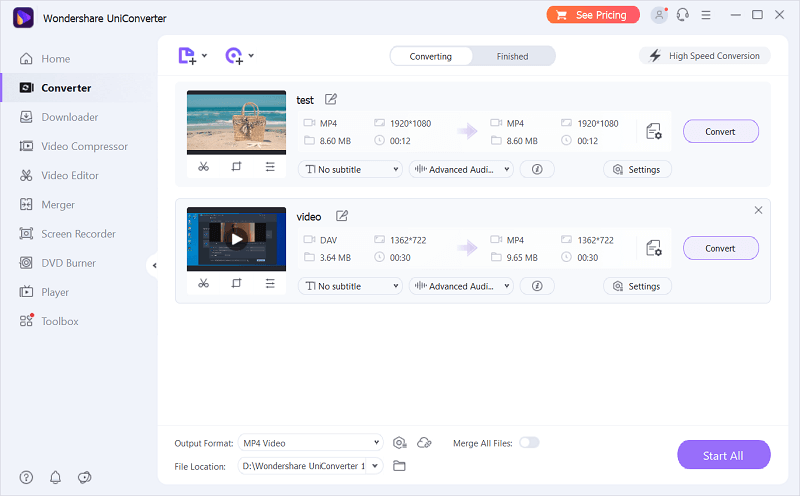 3. Convert-Video-Online
It is a simple and convenient online video converter. You can upload files up to 4 GB in size and has no limit on the number of files. The tool is totally for free and you don't even need to register or sign in.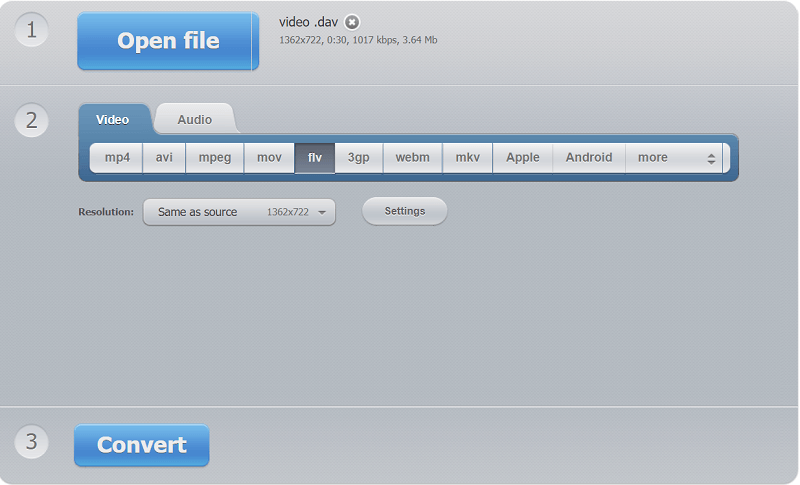 As you know all the steps, why not give this professional yet easy-to-use, stable and safe VideoSolo Video Converter Ultimate a try today?