Facecam Recorder - How to Record the Screen with Your Face
Whenever you see some YouTuber or gamer sharing their screen or gameplay with webcam, will you ever wonder how they make it? If you are considering that, don't worry, this is the right place for you. Create a video with computer screen and webcam activity will be much more effective and impressive, especially in game recording. Luckily, there are lots of reliable facecam recorders that can capture the computer screen and webcam simultaneously. Here below, I will introduce you a best facecam recorder for you to seamlessly record your computer screen with facecam.
Background Information: What is Facecam?
A facecam is a camera that is set up to record only your face and shoulder area, which is pretty standard in recording gameplay. It can record your face in an online video as well as your audio narration. Facecam allows the camera to catch the reactions of the player which is more attractive to the audience.
Facecams can be camcorders or other camera types, but most of them are webcams. Therefore, if you want to record your face while recording a gameplay tutorial, business presentation or online lecture, you need to get a computer with webcam and a useful facecam recorder.
Record the Screen and Your Face with Amazing Facecam Recorder
Speaking of facecam recorder, it is actually a recorder that can capture the computer screen and webcam activity at the same time. Well, VideoSolo Screen Recorder enables you to do that. This program is a powerful screen recording tool that can record any activities on your computer screen, including online videos, gameplay, Skype chat and so on with your real time response. Also, you are available to add your own voice to the video with the audio input from system sound and microphone. You can do some simple edition to the video and output the video with suitable format and high quality.
Let's take the gameplay recording as an example.
# Step 1. Enter into "Video Recorder"
Download the software in our official website, after installing and launching the program in your computer, click "Video Recorder" to enter into the window to record your computer screen.

# Step 2. Select the Recording Area
Now, you can set a suitable recording area to capture the what you need. You can directly adjust the dotted box or change thefigure.

# Step 3. Turn on the Webcam
Now, you can turn on the Webcam and there will be a window popping up. You can zoom out the webcam window and drag it to a right position, and then all your activities will be shown in the video.
Note: Please keep the Webcam window is in the recording area. Otherwise, this program will be not able to capture the Webcam.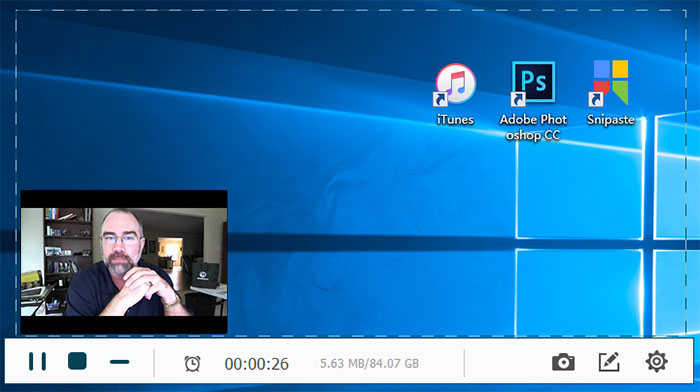 # Step 4. Change Audio Settings
Here, you can enable the "System Sound" and "Microphone" to record your voice to the video. You are allowed to explain what you are doing or just add more technical tips on winning the game. And you can directly turn up or turn down the volume as you like.

# Step 5. Record Your Gameplay Screen
When all settings are done, click on the "REC" button to start recording. During the whole recording process, you can make comments or narrations based on the real situation.
That's how you can record a gameplay video with your face and voice. The above tutorial is applicable to record PowerPoint presentation, gameplay or video tutorial or any other videos that you want to show your computer screen and your reactions to the audience.
Overall, this article provides you the great facecam recorder - VideoSolo Screen Recorder. When it comes to record screencast along with live commentary from your webcam, this software will make your job a lot easier and hassle-free. It is also a good facecam recorder for YouTube user and gamer who are enthusiastic about creating interesting and attractive videos for their audiences and increase followers. Try it yourself, I believe VideoSolo Screen Recorder will bring you success!