How to Fix VLC Not Recording Video on Computer
VLC media player is very popular across the globe due to its powerful functions --- playing files, discs in all kinds of formats. Furthermore, some people may even directly use it to record online videos for convenience sake. But when we use this versatile program to record video, such problems usually arise as "VLC not recording video" or "VLC record button not working", etc. If you do encounter some recording problems with VLC player, please proceed reading. This passage will try to help analyse some of these problems and recommend satisfactory fixes and alternatives.
Reason for VLC Failed to Record Video on Your Computer
One of the common problems shared by many VLC media player users to record videos is like this:
"The reason for such a VLC collapse has nothing to do with your operation but is highly related to a system bug: recording and transcoding are somehow broken in latest builds. Unfortunately, this is a known issue still awaiting for a fix. Even so, it is recommended that you should use an older VLC version (v2.0.8 or 2.1.5) to reduce the incidence of breakdowns." (From VLC users)
Other similar recording problems can try the same workaround of switching versions, for example, when VLC recording somehow stops in the middle of the event when you are watching a stream.
An Alternative Solution to Record Video Easily
There is no doubt that VLC media player is exceptionally an expert on media player, but on other additional features, like recording, there is still room for improvement. So in order to smoothly record screen videos, a more professional alternative is your best choice. In this article, we have already selected one to help you save time and efforts.
VideoSolo Screen Recorder is the best answer. As a professional screen recorder, its get the upper hand in the following aspects compared with VLC media player:
• It is pretty stable during long-hour recording while VLC media player or its Audio Sound crashes from time to time when playing videos.
• It supports recording region of any size, ranging from full screen to a manually-dragged area; whereas, VLC can only record full region.
• It can be a separate video recorder, webcam recorder and audio recorder or a combined screen recorder with webcam and audio.
• It comes with abundant editing features during recording, such as drawing, annotating or screenshots, which are extremely helpful for walk-throughs or game commentary recording.
If your VLC recording does not work well and you feel VideoSolo Screen Recorder is to your taste, you can click here to download it.
Note: there are 2 versions of similar features respectively for Windows users and Mac users. Operational steps are almost identical except on different interface.
# Step 1. Install and Select Video Recorder
After installation, open it and click on the "Video Recorder" button on its main interface.

# Step 2. Main Interface of Video Recorder
Define your recording area by navigating your cursor across the window on which your video is playing, or by selecting region modes on the drop-down menu beside the first button.

# Step 3. Start Recording and Edit During Recording
Click on the "REC" button to initiate recording. Then begin playing your video. During recording, you can add your annotations or draw on the recording. Moreover, you are able to take screenshots as you desire.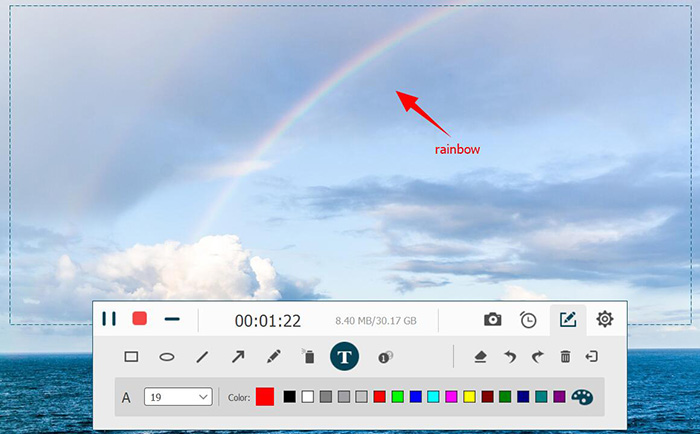 # Step 4. Stop Recording
To end recording, click on the stop button on the toolbar or use your hotkey. Specify the directory and save it.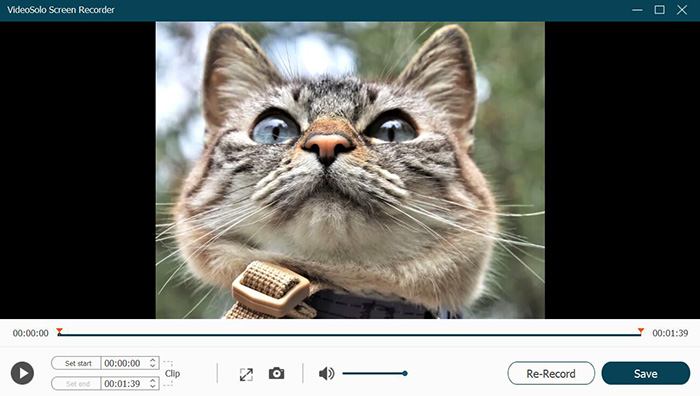 Troubleshoot - Some Issues You May Encounter While Recording Screen with VLC
When using VLC for recording, you are most likely to find some other problems as below:
When you try to extract a clip from an MPEG-2 file with VLC 2.1.0 on windows 7, it turns out the saved file does not record video only audio of MP3 format.
Solution 1: Uninstall and then reinstall VLC to get it to work.
Solution 2: Disable video acceleration before recording by clicking Tools> Preferences> Video> remove the check beside Accelerated video output (Overlay).
After updating VLC to version 3.0.0, to stop recording, pressing the record button won't work and you cannot find any saved file in your VLC record folder.
Solution: Your Windows Defender's "Controlled Folder Access" feature is preventing VLC from saving any new file anywhere. So go check your Windows Defender.
Sometimes when you record a short clip from a DVD and try to keep the subtitles, you may find even though there are subtitles normally showing up during playing, the recorded segment doesn't include the subtitles.
Solution: This is because subtitles are generally on a separate file and are overlaid onto the movie. So one way to solve your problem is to burn the subtitles on the movie before recording.
VLC is indeed a great media player, but also comes with some shortcomings in recording. Hope the above tips for VLC not recording video with audio can be helpful for you. If you want to have more targeted or advanced recording experiences, try VideoSolo Screen Recorder and you will never regret!