How to Record a Webinar (3 Quick Methods and Tips)
Sometime back in the 90s of the last century, when webinars first started, people were happy to use them because it provided an easiest way to connect with anyone around the world in real time. Nowadays, webinars are used for training, selling products, increasing brand awareness and etc. No matter what position or interest you have, it will be beneficial to understand the basics of webinars.
To maximize the value of successful webinar examples and improve your webinar presentation skills, the best method is to record a webinar and review. So here in this article, we'll discuss how to record webinars on different devices and some tips for creating and hosting a successful webinar.
Also, choosing the right webinar recording tools can save much of your time and energy and boost your efficiency. Free screen recording software such as VideoSolo Screen Recorder can be a reliable tool if you have the need to keep the webinar as a local backup for later reference. Your webinar can be recorded in HD picture quality with no lag and no watermark covered.
How to Record a Webinar on Windows 10/8/7
VideoSolo Screen Recorder is a powerful screen recording tool. As one of the best tools to record a webinar, it allows you to easily capture any screen activity such as a live webinar presentation, a gaming video, and even a YouTube Live video and store it for later viewing. The helpful task scheduler and real-time annotation tools enable you to record important moments more flexibly.
Before recording a webinar, install and run VideoSolo Screen Recorder on your Windows 10/8/7 computer. Then start or join a webinar. Below are the simple steps for your information.
Step 1. Select Screen Recording Mode
Click Video Recorder and start your preparation. On the main interface, you could see several screen recording modes including video recorder, audio recorder, game recorder, etc. Video Recorder is available for a live webinar recording here.

Step 2. Customize Your Recording Area
Adjust your recording area and make it suitable for the webinar interface. Below the "REC" icon, we could see an "Advanced Recorder" mode. It provides several useful functions and one of which is "Exclude window and record". It allows you to limit the recording region, preventing non-critical information from being exposed in the recorded region.
Step 3. Adjust Camera, System Sound, Microphone and Other Parameters
If your webinar software supports turn on the camera, you might not need to turn on the camera feature here. However, make sure you have turned on the system sound so that you could record what the webinar is discussing on. And you could turn on the microphone when you need to speak so that you can record your voice simultaneously during the webinar. What's more, if you want to capture any valuable images during the webinar, just Click the "Camera" button at the top right.
Click the "record setting" button and enter the personalized settings page. Here you could select more personalized recording, such as "Beep on start recording", and "Allow to move the recording region when recording". Different video and audio output formats, colors of mouse and hotkeys could be adjusted here.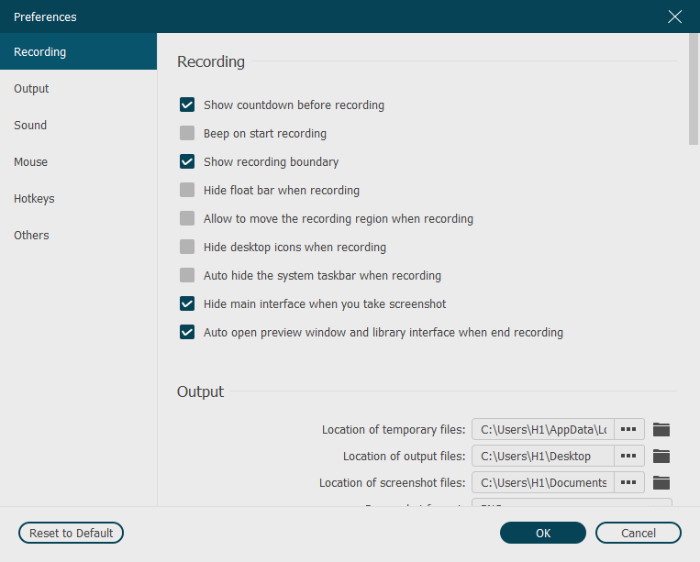 Step 4. Click the "REC" Button and Start Recording
If you do not select the "Exclude window and record" before you start recording, you can also add the selection after the recording starts. And the system sound and microphone sound can be adjusted at any time. It would be very convenient for you to turn off one of them or record both simultaneously.
Step 5. Click "Stop" and Make Needed Editing
After the live webinar comes to an end, you could just click the "Stop" button and have the video easily trimmed. Here you can just crop the unnecessary parts and click "Save" to save it on your disk. And don't worry if you accidentally exit the recording session, VideoSolo will automatically save your recording and remind you of saving the video when you relaunch the software.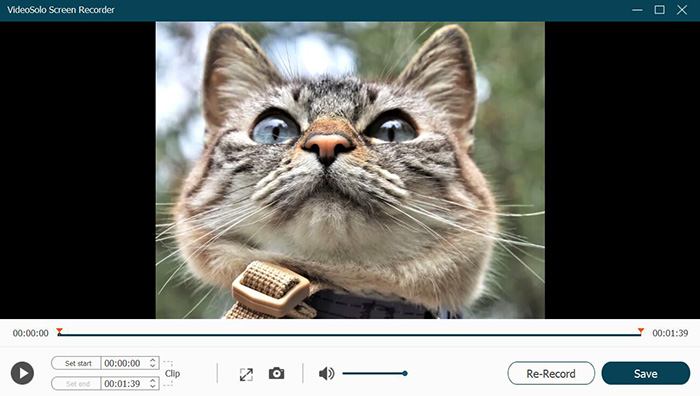 A Bonus Tip: Excellent "Task Schedule" Function!
We all know that plans change all the time. What if you could not catch the webinar on time? The good news is that we get a plan B here for you, which is called "Task Schedule". You could set the exact time and date you would like to start recording webinars. The end time of recording can be set to whenever you want or you can end it manually.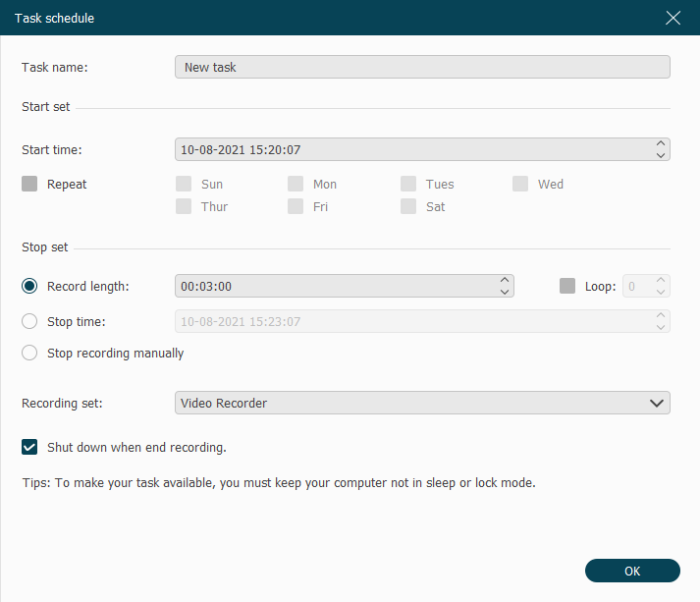 How to Record a Webinar on Mac
Have you ever heard of QuickTime Player? Yes, it's a free and user-friendly screen recording app embedded in your Mac computer. For easy and convenient webinar recordings, it would be your first choice on Mac computer because you don't need to download any other software for screen recording. It also supports to capture the screen and make easy editing. Follow these simple steps and have your live webinar recording right now!
Step 1. Launch QuickTime Player
Click the QuickTime Player icon to launch it (or use the shortcut hotkey Shift-CMD-5).
Step 2. Select New Screen Recording
Click "File" and select "New Screen Recording" to enter webinar recording mode.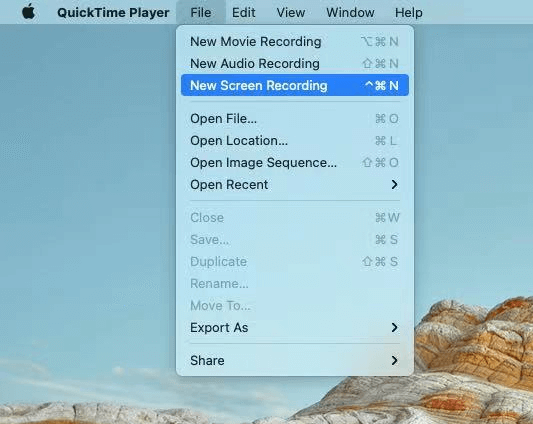 Step 3. Adjust the Recording Region
Customize the region of the recording to make sure it's suitable for webinar window. Before click "Record" and start your online webinar recording, click "Options". Here you could find more personalized options like "Timer" to countdown to record, "Save to" to choose the location you would like to save the recordings, "Microphone" to decide whether you would like to record external microphone or not, etc.

Step 4. Click "Record" Button When All Settings are Done
Click "Record" button when you finish all settings. And click stop button when the webinar is over.
After you click the stop button, the video you just recorded will show up on the screen. Then you could save it on your Mac or have it easily trimmed.
How to Record a Webinar on Mobile
Best Webinar Recording Tool for Android
Want to record what's happening on your Android? DU Recorder is a quick fix for you. It supports screen recording, video call, livestreaming, etc. To record a webinar for free on your android, follow these steps:
Step 1. Launch DU Recorder and Get Ready
Download and launch DU Recorder to check if it's ready to go.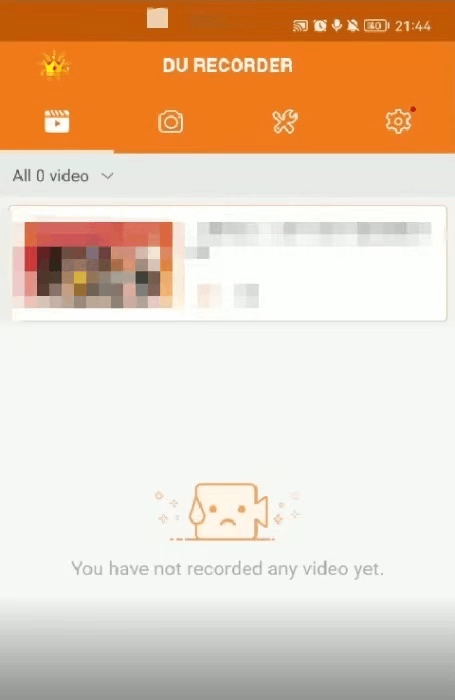 Step 2. Open Control Center to Start Recording
Click the red triangle to start recording. Then you could turn to the webinar interface and DU Recorder is going to recording what's actually going on of your Android. Before that, make sure you've closed any notification not relevant to the webinar in case.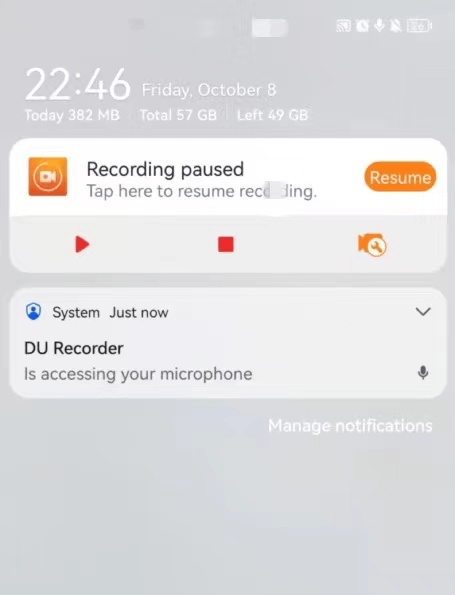 Step 3. Finish the Recording and Make Needed Editing
After the webinar ends, you could open the control center again, click the red square and stop recording. And the video you just recorded will immediately appear on the main interface of DU Recorder. Here you could start editing works instead of saving the video and then editing it. You could trim some unnecessary parts when there is an adjournment on the video, add some background music for future posts, or type some subtitles for you to remember what's the next topic of the webinar. Finally, save the video for any other purpose.
Step 4. Other Tools Built-in
Enter the tool box, you could see many helpful functions. If you want to add some significant images into the webinar video, you could select "Merge Video & Images". Once you find some interesting moment of the video, you could use "Video to GIF" to create fancy GIFs and share them with your friends! For more practical features, just download DU Recorder and have a try!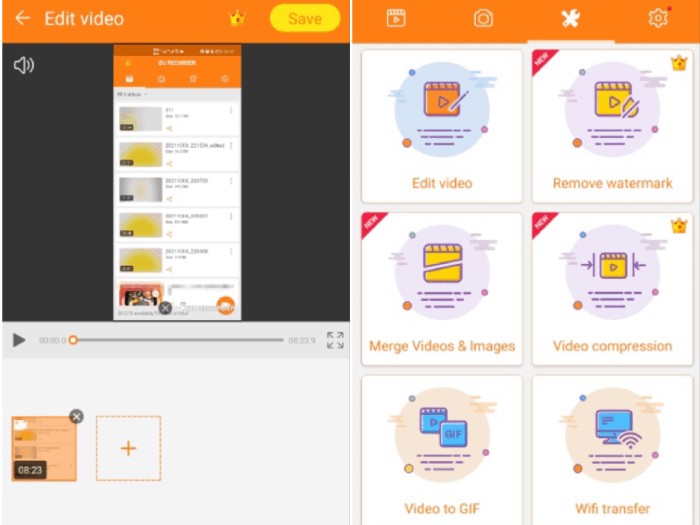 Best Webinar Recording Tool for iPhone/iPad
If you're familiar with iPhone and iPad, you might know that the screen recording tool is built in their IOS system. Today I will introduce how to make webinar recordings in iPhone for example.
Step 1. Add Screen Recording Tool to Control Center
First of all, go to Settings and find Control Center, tap the "Add" icon beside the "Screen Recording" tool. Then you could see this tool show up in your Control Center.
Step 2. Start Recording with Microphone on/off
Before you start recording, you can choose whether to turn on or off the microphone to tap the microphone icon. Then, the recording preparation is done! Tap "Start Recording" and wait for the 3-second countdown.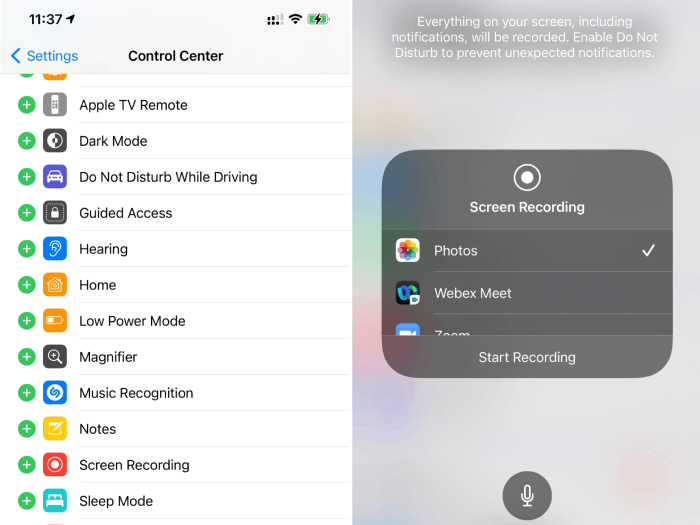 Step 3. Finish the Recording and Edit it
Tap "Stop" when you finish your recording. If you didn't change the save location before, you would find the video you just recorded in your photos. That would also be very convenient for you to record any important content at any time.
Tips for Recording an Interactive Webinar
The importance of webinars cannot be overstated. Above we've learned about several great tools for recording webinars, so how do we make an interactive webinar recording even better? In an interactive webinar, we could be a host or the attendees. To be a qualified host or attendee can be of great assistance to a successful webinar. Here are some tips on how to record a webinar better from both the host's and attendee's perspective.
Before the Webinar
Host: Email the agenda of the webinar to all your attendees (If it's a public webinar with a large number of attendees, just make sure to post the meeting information in advance), including the time and date, the topic of the webinar, in case your attendees miss the webinar.
Attendees: Make sure you know about the agenda, time and date, topic of the webinar. If possible, prepare some key questions you would like to ask or share during the webinar. That would make you more concentrate on the webinar.
About the Recording Devices and Software
Host: As the most important medium of communication between the host and the attendees in this webinar, it is necessary to ensure that all the equipment is running smoothly, and the hardware such as microphone and camera are available before the webinar starts. Find a reliable and stable webinar recording software and check if it could record the sound and images perfectly.
Attendees: The same as host here, you might have to ensure that the equipment is running smoothly, and the hardware such as microphone and camera are available before the webinar starts. Find a reliable and stable webinar recording software and check if it could record the sound and images perfectly.
About the Content of a Webinar
Host: Practice makes perfect. If you're totally a green hand for host's job, you could ask for advice from a senior. They would share a great amount of suggestion with you. Be noted that a host should be the one that is most familiar with the content of the webinar. Prepare some delicate soft music (or other genre that meets the topic of webinar most) during the adjournment.
Attendees: Choose the content that you're interested with most, and prepare some questions you would like to ask. If you are one of the speakers, figure out when you need to speak.
During the Webinar
Host: Make use of webinar software to eliminate/mute unnecessary speech/sound. Study the control panel and do some necessary practices. Encourage attendee to speak and increase interaction with them because distractions are unavoidable during several hours of webinar. If it's a webinar between several people, encourage them to turn on the camera and have eye contact with them which may convey a warm atmosphere.
Attendees: You might need to know about some hotkeys of the webinar software like "mute", "turn on the microphone", etc. to keep up with the host. Ask questions at the right time. Try to recall every time when you attend a meeting.
After the Webinar
Host: To make your webinar recordings more worth sharing, you could cut out some unnecessary parts like a long silence, remove video noise or consider to add some subtitles, music, annotations, etc. Finally, email it to your attendees or post it to YouTube, Facebook or other channels (if necessary).
Attendees: If you would like to save it just for future viewing, you could download it and save it on your personal device. However, if you want to share it with your friends or followers, try get some interesting editing works! Snapshot some brilliant sayings and even turn them into GIFs.
Get Ready for Your Next Webinar
Today, the importance of webinars cannot be over emphasized. The diversified webinars have greatly enriched our work, study and life and we are increasingly inseparable from it. Therefore, recording them for future study or other purposes might pay you back in the near future.
Choosing a proper and fully functional screen recording software would help you record valuable contents at any time. VideoSolo Screen Recorder not only supports recording any on-screen activity without lag or watermark, it also makes it possible to draw, annotate, or take a snapshot on the recording area in real-time. For more well-designed features, download and try out to save your webinar recordings!