How to Screen Record in Minecraft for PC/Mac in Best 10 Ways
Minecraft is a giant sandbox where you can unleash your creativity to the fullest. In this open-world game, you can freely choose the way of gaming and do a lot of things such as building your own house, making weapons, fighting with the enemy mobs, etc. During the gameplay, there must be some wonderful moments that you want to record for reviewing, sharing, or uploading to live-stream platforms like YouTube.
In order to record Minecraft videos, you may need a Minecraft recorder. Among the numerous recording software, we have chosen the best 10 Minecraft screen recorder for you, and you will be able to see a complete guide on how to use them to record Minecraft on PC and Mac without lag.
Related Articles: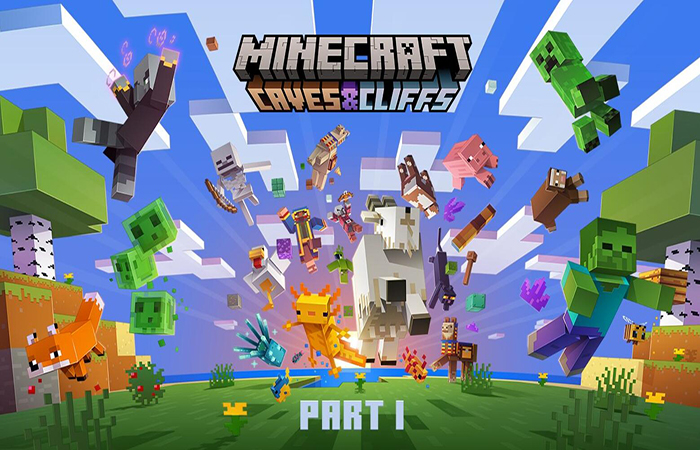 Overview of 10 Best Minecraft Screen Recorders for PC (Table Comparison)
To begin with, before getting to know the 10 best Minecraft screen recorders fully, let's have a quick overview of the feature and performance of them.
| | | | | | | |
| --- | --- | --- | --- | --- | --- | --- |
| Product | Clear Interface | Customize Recording Area | Quality | Webcam | Editing Tool | Overall Score |
| VideoSolo | √ | √ | Lossless | √ | √ | 4.9 |
| Bandicam | √ | √ | High | √ | √ | 4.7 |
| Fraps | √ | × | High | × | × | 4.5 |
| Icecream | √ | √ | High | √ | √ | 4.7 |
| EaseUS | √ | √ | High | √ | √ | 4.6 |
| Wondershare | √ | √ | High | √ | √ | 4.6 |
| Actions | √ | √ | Middle | √ | √ | 4.4 |
| OBS | × | √ | High | √ | √ | 4.5 |
| Quicktime | √ | × | High | √ | × | 4.5 |
| Game Bar | √ | √ | Middle | × | × | 4.4 |
How to Screen Record Minecraft Gameplay in Best Way (Recommended)
VideoSolo Screen Recorder is a no-lag Minecraft recorder that can record Minecraft video and audio in HD quality with no watermark. It supports a video quality at up to 60fps and 10-bit H.265 codec so that the memorable Minecraft gameplay moments can be recorded vividly. As for the output formats, it provides 6 video formats, for instance, MP4, WMV, MOV, F4V, TS, AVI, and GIF, and also 4 audio formats and 5 image formats.
In terms of the recording features, this Minecraft screen recorder empowers users to capture the target window, full screen or specific area without any delay. Not only recording videos with audio, but your webcam activities can also be captured. So, it will also perform excellent in making video tutorial. You are also allowed to take a snapshot during the recording to save the special moments in images.

Pros:
Game recording mode, frame rate and resolution adjustable.

Custom watermark and Webcam mode are available.

Draw, annotate and highlight screen in a real-time.

Capture any areas of your computer screen in HD quality.

Marvelous editing features to help you record better.

Advanced recording features to fit your using habits.
Cons:
Available to record 3 minutes only while experiencing the free trial.
Tip. If you want to record without time limit, you can buy a licence to unlock this function.
How to Screen Record Minecraft with No Lag Using VideoSolo
Now that you have grasp an overall picture about VideoSolo Screen Recorder. VideoSolo works perfectly both in Windows and Mac, click here to see how to record Minecraft with this capture tool in the video tutorail, or you can head to the following part for a more detailed instruction. This part is a step-by-step tutorial on how to record Minecraft gameplay with VideoSolo Screen Recorder.
Step 1. Launch the Minecraft Screen Recorder and Choose "Game Recorder" Feature
After downloading the Minecraft screen recorder, enter into the main interface. To record Minecraft videos with sound or make a Minecraft tutorial with voice over, you need to choose "Game Recorder".

Step 2. Define the Minecraft Gameplay Recording Area
Now the window is showing 4 different modules. Make sure your game is on and click the first one to select the Minecraft window from the pull-down menu.
As the game recording tips indicate, the software can automatically detect your game process and will end recording as you minimize or exit the gameplay window. Moreover, this function also locks the recording window and extracts other windows during the recording. That is to say, even if other programs are processing and give you pushes during the recording, they will not show on in your recorded Minecraft videos.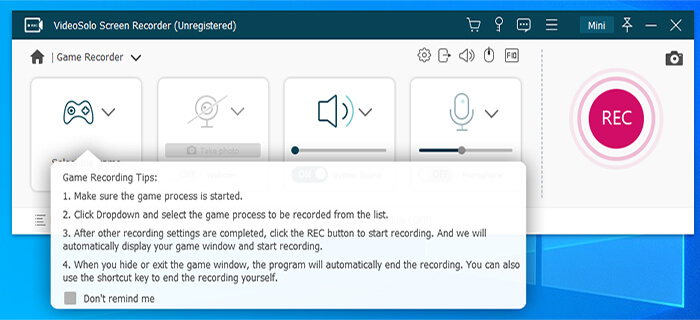 Step 3. Enable/Disable Webcam and Sound and Customize More Settings
Next, it's time to choose the webcam and sound source that you want to include in the Minecraft recording. You can enable or disable the webcam, computer system sound, and microphone to decide whether to use them or not. If you turn them on, remember to customize the settings, for example, volume up or down the input audio.

To make sure recording sound successfully, you can also go to "Preferences" > "Sound" to have a sound check.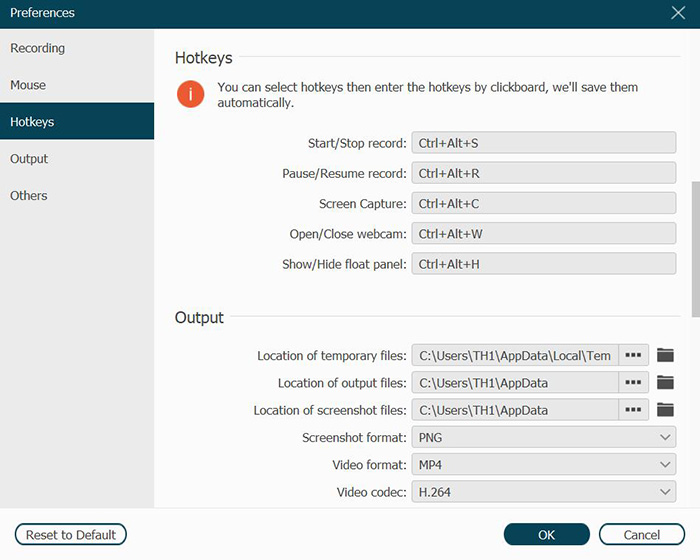 Notice:
If you've set up full screen recording, you had better go to Preferences > Hotkeys to get familiar with the hotkeys.
Step 4. Start to Record Minecraft Video
After setting the gameplay window, webcam, sound and other setting, it's time to begin recording. Just hit the "REC" button on the right side of the recorder in advance and begin showing off your prowess in the Minecraft world.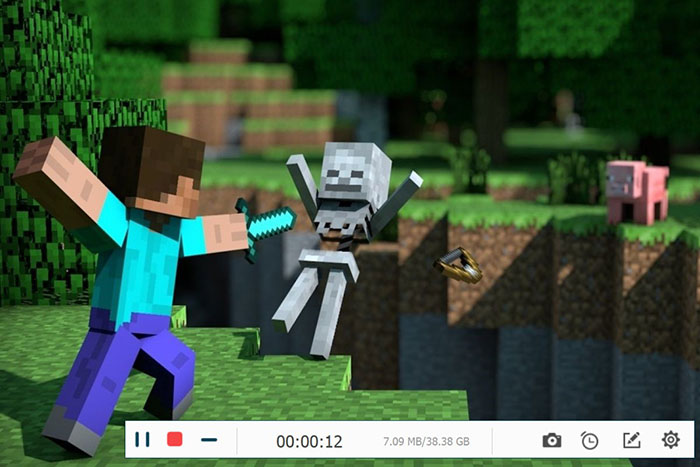 Tips:
1. The bar can be hidden while recording;
2. After the recording is ended, you can preview and clip the video in VideoSolo Screen Recorder before saving.
With this best Minecraft screen recorder, you can handily record Minecraft gameplay with customized screen recording area in high quality. Besides game capture, VideoSolo Screen Recorder also performs well in recording streaming videos and audios, capturing webcam videos, and making video tutorials. With the use of shortcut keys, you can get full control of the Minecraft game recording more easily. While recording, you are even allowed to take snapshots and add labels and so on. Get the VideoSolo tool now and explore the Minecraft world with it!
How to Record in Minecraft with 9 Other Top Screen Recorders
1. Bandicam
One of the recommended software for recording Minecraft videos is Bandicam. It allows you to record your gaming sessions for up to 24 hours at a time while maintaining complete control over the frame rate. In the capture mode, users can make selections for recording particular areas of the screen as well as it can record the whole screen without losing the content quality. It can record games at a resolution of 3,840x2,160 and can handle frame speeds of up to 144fps without issue.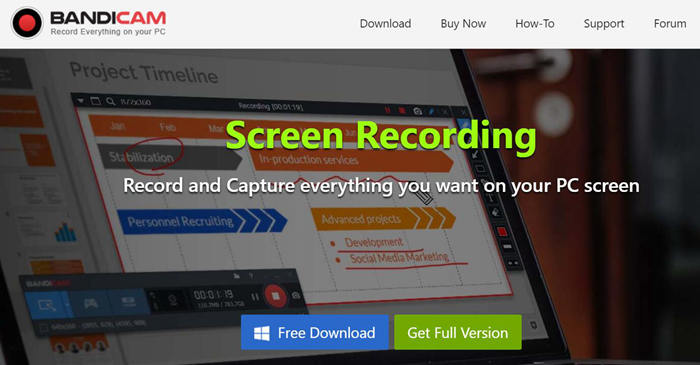 Pros:
Customized recording screen adjustments.

Capture up to 144 frames per second and record in 4K Ultra HD definition

Simultaneous webcam overlay while recording.

Directly upload gameplay video to YouTube.
Cons:
Only available for Windows

10-minute recording limit and watermark in free trial.
Steps to record on Minecraft via Bandicam:
Step1. Run Minecraft on your computer, then launch Bandicam and choose the "Game Recording" mode.
Step2. Use "FPS" tab to adjust the frame rating.
Step3. Click "Record" to begin the recording process (or hit the "F12" on the keyboard).
Step4. Click the "Record" again to stop recording (or hit the "F12" on the keyboard again).
2. Fraps
Fraps is a tool used for recording your Minecraft and taking screenshots of the current display on your screen. The app can run in the background of your computer, leaving you to play games as it records without interrupting your experience. It is a decent choice when it comes to recording game footage; it's easy to use and can track your frame rate as well, you can take a screenshot by binding the action to a hotkey.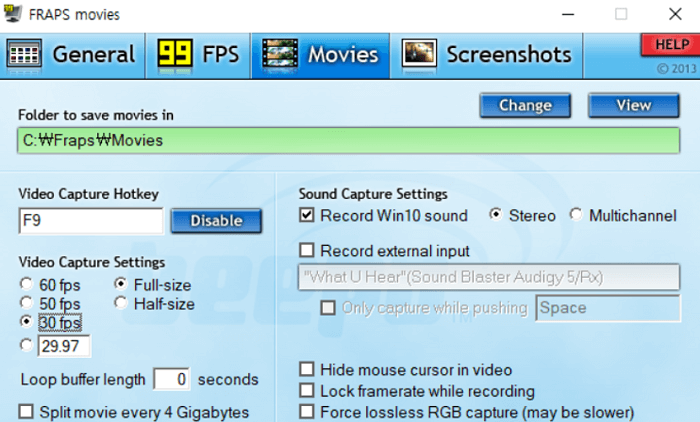 Pros:
Record your gameplay with computer sound and your voice at the same time.

It shows how many Frames Per Second (FPS) you are getting.

Capture audio and video up to 7680x4800 with custom frame rates from 1 to 120 frames per second.

Good configuration settings
Cons:
Only allow take 30-second-long recordings in unregistered version

Recorded footage tends to be large file sizes
Step-by-step guide to record Minecraft with Fraps:
Step1. Download Fraps from its official website and run it.
Step2. Go to the main Fraps window to choose the settings, such as sound, capture size and so on.
Step3. After all the settings are finished, start your game and press your capture hotkey to begin recording.
Step4. If you finish recording your game, press the capture hotkey again to stop.
3. Icecream Screen Recorder
Icecream Screen Recorder has a standalone Game Capture mode to record your Minecraft gameplay. It supports almost all gameplay, including 3D games, and enables you to record them on full screen effortlessly. What's more, if you have a certain brand, you can add your own logo to your videos to ensure your credit is retained wherever your video travels. In addition, you are able to turn on the webcam as well as the system audio so that you can record the video with your face and voice.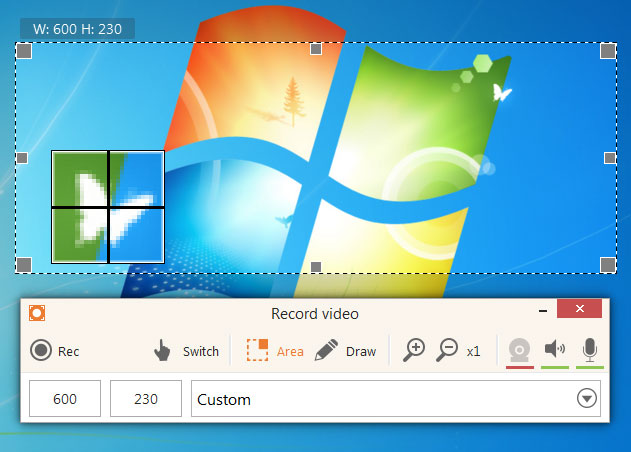 Pros:
Clean and intuitive user interface as well as functionality.

Automatically find the screen area to record

Add your webcam overlay to your recordings

Customize recording area
Cons:
Some of the features are limited to the Windows version

The free version has five minutes recording limit
How to record Minecraft using Icecream Screen Recorder:
Step1. Download Icecream Screen Recorder and then run it.
Step2. Launch Minecraft and click "F6" hotkey button to start recording the game.
Step3. If you finish recording, click the "F6" button again to stop the game capture.
Step4. Tap "Save" button to save the recorded videos on your computer.
4. EaseUS RecExperts
EaseUS RecExperts is a powerful Minecraft screen recorder that has numerous configurable options that you can tweak and ensure your gameplay is recorded exactly the way you want. it supports turning on the GPU hardware acceleration so that you can get a better recording quality and the lowest system resource usage.
Beyond that, this lightweight screen recorder enables you to adjust the output files' quality, format, and bitrate in the setting panel. And it prepares some editing tools for you to use when you finish your game recording, including cutting, trimming, adding opening or closing credits.

Pros:
Schedule recording to start recording automatically

Auto split recordings according to the file size or time

Record video, audio, webcam simultaneously

Offer some basic video and audio editing tools
Cons:
Only paid premium version comes without watermark.

10 minutes recording time limit.
How to record in Minecraft with EaseUS RecExperts:
Step1. Open Minecraft, then launch EaseUS RecExperts and choose "Full Screen" to continue.
Step2. Click "Settings" to adjust the settings according to your needs.
Step3. Pause or stop the recording by using the floating toolbar.
Step4. If your recording is finished, you can click "Save" to save the video to your computer.
5. Wondershare DemoCreator
Wondershare DemoCreator is one of the best Minecraft screen recording tools, not just because you can choose to record a section of the screen or the whole screen, but also because it incorporates webcam and audio into the recording. DemoCreator gives both options of recording screen and editing your clips or videos. And for both of its options, it has introduced hundreds of features that can be used. With a number of features that makes it the ideal solution for the recording of any type of video including gameplay, product reviews, product demos and how-to videos.

Pros:
Record screen and webcam simultaneously.

Offer professional editing tools to prioritize the recorded files.

Effects and annotation tools for your recording.

Free to record and target the recorded file.

The video and audio track will be separated after recording.
Cons:
The exported video has watermark for free version.
The webcam video preview is a little stretchy.
Simple steps to record in Minecraft via Wondershare DemoCreator:
Step1. Firstly, open the game, then download DemoCreator and launch it.
Step2. Before recording, customize the recording settings, such as the sound settings, capture size settings and so on.
Step3. After finishing the settings, click the red "REC" button or press F9 to start recording.
Step4. If you finish recording, tap "End Recording" to end your recording.
6. Action!
With an intuitive and stylish user interface, Aciton! is easy to handle for all users. Using this program, you can grab smooth HD game recording up to 120fps, and stream your gameplay to other devices like to YouTube or Facebook. Plus, it supports recording both microphone audio and webcam, which is helpful for making training gaming videos.
Not only is it great for gamers, but other applications features include Windows full screen or region screen recording, capturing screenshots, saving web player videos and recording music for future playback.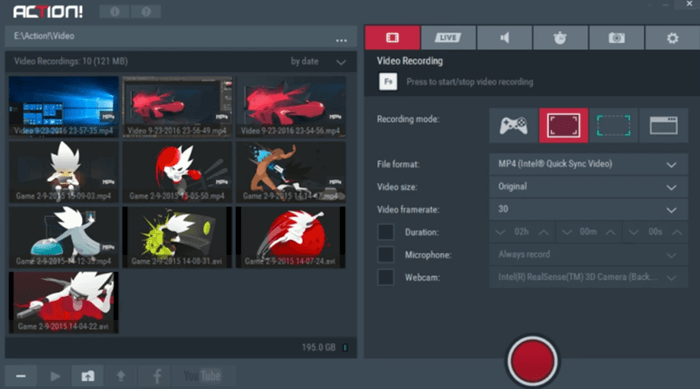 Pros:
60 frames per second allow for high-definition playback

Files can be shared across multiple devices if required

Basic functions such as deleting, sharing, browsing and uploading

Guarantee the best performance with low GPU resources usage
Cons:
Users do not have the ability to customize these frame rates

Higher frame rates will inevitably take up more memory
How to record Minecraft game with Action!
Step1. Download Action Recorder and run the game you want to record.
Step2. Go to "Games and Applications" recording mode and press "F9" hotkey to start recording game. Then the HUD in the upper right corner of your game displays the current game frame rate in blue color.
Step3. If you want to stop recording, you can click "F9" hotkey again.
7. OBS
OBS Studio is a professional open-source screen recording program that works on a variety of devices like Windows, Linux, and Mac, and supports a variety of video formats. If you're looking for a one-stop-shop for all of your gaming recording requirements, this application is sure to provide. OBS Studio allows you to broadcast your game broadcasts to Twitch and YouTube, and it can also be used to create screencasts. It also helps with real-time video and audio capturing through sources like webcams, browser windows, etc.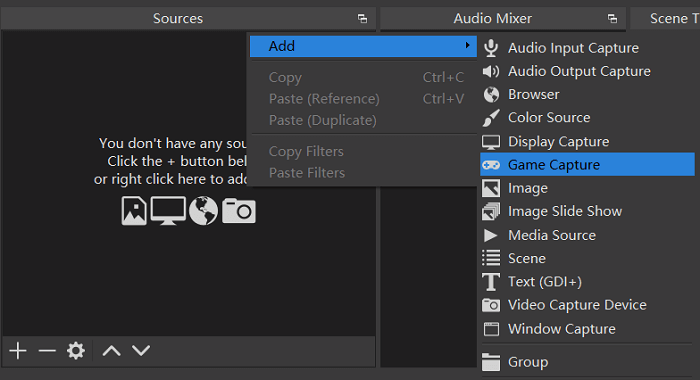 Pros:
No limitation on the length of Videos

The tool is completely free and open-source

Add multiple custom sources for audio and video

Find all your recordings with a single click
Cons:
Difficult to use for beginners

No option to pause game recordings
How to record Minecraft with OBS:
Step1. Open Minecraft and OBS on your computer.
Step2. Click "Record' to begin the recording process.
Step3. You can right click the source area to add text and images to your recordings.
Step4. If you finish recording, click "Record" again to stop the recording process.
8. QuickTime Player
QuickTime is an application developed by Apple that allows users to watch movies and record screencasts on their Mac. You may also produce your Minecraft gameplay videos and audio recordings, as well as do rapid changes. Basic activities such as video flipping and clip splitting are included in edits. Essentially, QuickTime Player comes with all basic tools such as rotation, trimming, and splitting to improve your resultant video when the recording session is over.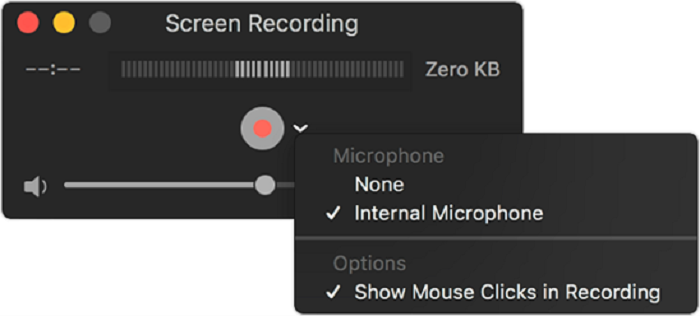 Pros:
Free to use without download software.

Compatible with almost all versions of Mac devices.

Videos can be directly uploaded to social media websites

Basic video editing and live streaming are available
Cons:
Most of the features are only available with the Pro version

It needs third-party codecs to play certain formats.
How to record Minecraft game using QuickTime Player:
Step1. Launch QuickTime on your computer, then click "File" > "New Screen Recording".
Step2. Customize the recording settings by clicking the triangle beside the red button.
Step3. Open the game that you want to record, then start recording by clicking the red circle button.
Step4. If you finish recording, you can click the black button in the menu bar to stop recording.
9. Xbox Game Bar
Xbox Game Bar is a feature that comes built into every Windows 10 operating system, which works with most PC games, and give you instant access to widgets for screen capture and sharing. Windows 10 lets you use the Game bar to record gameplay footage and take screenshots of Windows PC games. To record your Minecraft screen, you only need to press the "Windows Key + G" on your keyboard. You can use it to capture any gameplay you like on a desktop. To use it conveniently, it offers you options to set the hotkeys.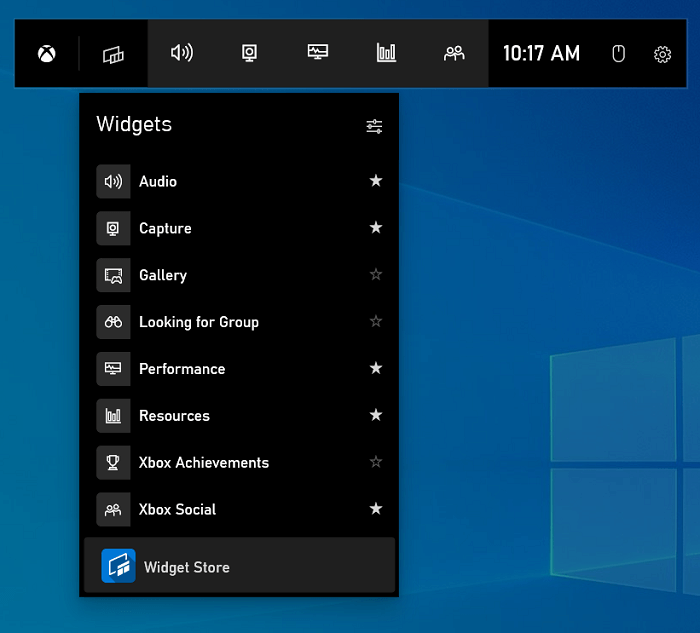 Pros:
Share the gameplay video to social media platforms like YouTube

Capture as well as record your gameplays

Loads of customizable setting options

Integrates with Windows very well
Cons:
Four hours recording time limited

No customized options and webcam are not available
Tutorial of recording on Minecraft with Xbox Game Bar:
Step1. When you are playing the game, press "Windows Key + G" to open the Game Bar, then it will pop up above the game.
Step2. Click "Record" and you can see a timer in your window while it's recording.
Step3. If you finish recording, click the red "Stop" button to stop recording the game (or stop with "Windows Key + Alt + R" hotkeys ).
FAQs About Capturing Minecraft Videos
1. How to set up the fps and output format of my Minecraft video?
Go to "Preferences > Output", and you can see and customize all the output formats. Remember to click "OK" to save the changes after the setting.
By the way, although the software supports HD recording and high fps, the performance may differ according to your PC. We recommend you to always make a test before the official recording.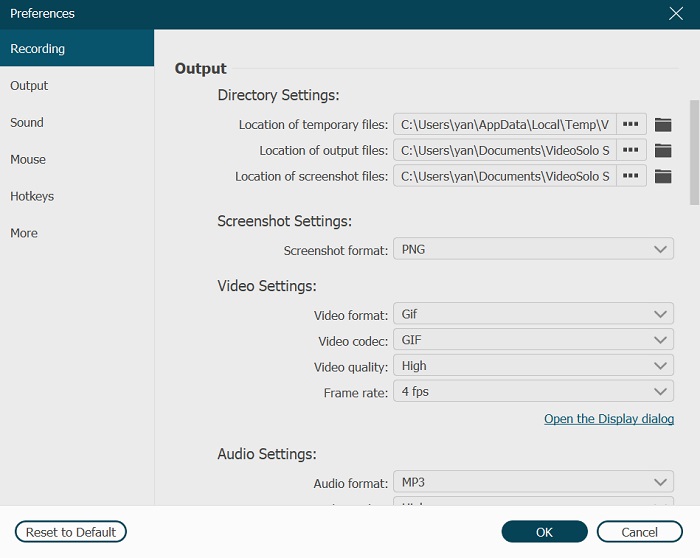 2. It seems the Game Recorder feature has some issues, how to fix? Is there any alternative?
If the Game Recorder feature cannot work normally when recording your Minecraft videos normally, here are some tips for you.
Firstly, try to check the task manager of your computer to see if your PC is overloaded. Because the game can occupy a large proportion of RAM, it had better quit some unnecessary programs to make your computer run smoothly.
Next, try to restart the Minecraft screen recorder or your computer. Usually, a number of problems can be settled by it.
If it still doesn't work well, check your computer hardware or feel free to contact us.
As for recording alternative, other than the Game Recorder function, you can try our Video Recorder function, which is more flexible in game video recording. Head to this page to know more about this function: No Lag Screen Recorder for Windows & Mac.
3. Does Minecraft have a built-in recorder?
Minecraft doesn't offer a built-in recorder for users; thus, you need a recording tool to record your Minecraft videos. You can either choose Xbox game bar by pressing the "Windows Key + G" on your Windows or QuickTime Player in your Mac.
If you want to record Minecraft and games at up to 60fp and export to the resolution full HD, while editing, adding webcam and annotation on your videos. VideoSolo Screen Recorder will be the best option. Using this program, you can capture any popular games like League of Legends and CSGO with no lag effortlessly.