How to Play Blu-ray Disc on Computer
An internal or external CD-ROM drive makes it possible to play any DVD disc on your computer. But, this does not apply to the Blu-ray movie. Even you get a external Blu-ray drive, you still can't play Blu-ray disc on computer because the lack of a PC Blu-ray Player software.
Almost all famous media player have no ability to open Blu-ray disc due to the special Blu-ray codec. Such being the case, how to get the problem solved?
Today, we will show you the solution in detail to help you enjoy Blu-ray movie more convenient. See it in the next part.
[Attention] A Workable Blu-ray Player for Your Computer
One effective problem-solver is VideoSolo Blu-ray Player. As a professional Blu-ray player, the software shows nice competence in playing both commercial Blu-ray and homemade Blu-ray discs, giving you the good news that any form of protection or restriction is no longer an annoyance. In addition, this Blu-ray player can take on the role of a video and DVD player, saving space for installing other media players on your computer. Now you can get a trial version to have a try.
Step by Step to Play Blu-ray Disc on Computer Successfully
In this part, we will show you the whole process to play Blu-ray movie on Windows computer with VideoSolo Blu-ray Player. Mac user can follow How to Play Blu-ray Movie on MacBook Pro.
# Step 1. Launch VideoSolo Blu-ray Player
After installation, double-click on the software icon to launch it. You will enter the main page as below. You can see two remarkable options: "Open File" and "Open Disc".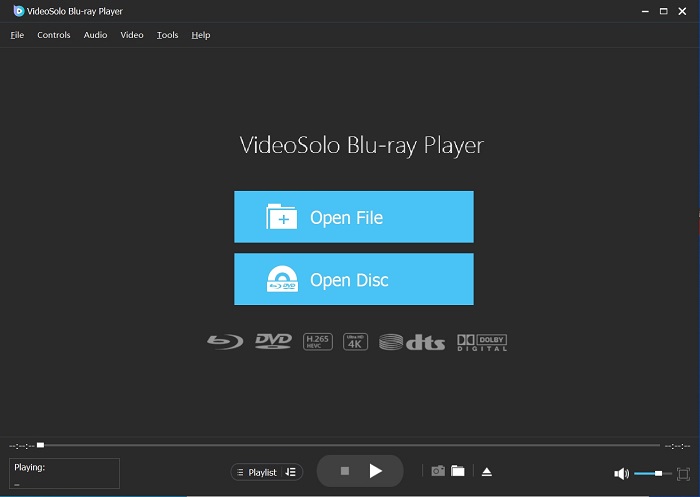 # Step 2. Open Blu-ray Disc
First, insert the Blu-ray disc into the supported drive. Then click "Open Disc" and wait for the disc loading.
# Step 3. Play Blu-ray Disc on Computer
Click "Play Movie", and the player will normally play the Blu-ray videos on your computer screen. You can select the "Chapter", "Audio", "Subtitle", and "Title" as you like. Maybe you notice a watermark showing up in the video image, that's because you are using a free trial version.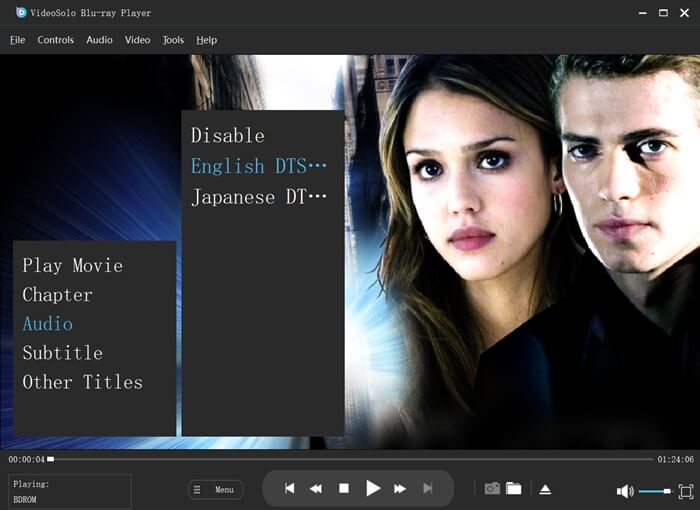 VideoSolo Blu-ray Player is indeed a nice choice to play Blu-ray disc on your computer, whethe it be common or restricted. It's a great pleasure that it can help you out.
Second Way: Rip Blu-ray Movie to Common Video Format
If the above two way still can't meet your needs, you can choose the following way. To a certain degree, ripping Blu-ray disc to digital format is an alternative way to play Blu-ray disc. You can take the following instructions.
Install a Blu-ray Ripper (VideoSolo Blu-ray Ripper is recommended)

Insert the Blu-ray disc to your Blu-ray drive and import the content to program.

Select an output format and then start ripping Blu-ray to your desired format.

Find the converted Blu-ray video and open it with your default media player.
Read More Detailed Guide:
Best Way to Rip/Convert Blu-ray Movies to MP4
Now the playback of Blu-ray disc has carried the day. It's not so difficult to play Blu-ray disc on your computer as there is always a way out. Just have a try!