Xbox One Tip: How to Play Music on Xbox One as BGM
When speaking of playing games, it comes to many kinds of gamers. Some of them may be immersed in game audio and effects, while others would like to listen to music when playing games. If you fall in the latter, you may wonder how you can play music on Xbox One while gaming. To play music on Xbox One, you need to stream music to Xbox One first. In this post, I would like to introduce some tips for you on playing music on Xbox One as background music.
Brief information about Xbox One
Xbox One is a line of eighth generation home video game consoles developed by Microsoft. With its year's development, addition to its extremely fun of game play, Xbox One also supports background music playing. As to play music on Xbox One, you need to download apps supporting background music playing on Xbox One such as Groove, iHeartRaido, Spotify, Pandora, Cast or VLC.
1.First, you need to download an app that supports background audio, such as Pandora or Groove.
2.Take Pandora as an example, launch the app and find a podcast to listen. Use your cursor and select play.
3.When the audio is playing, you can then begin multi-tasking, moving into games and other apps.
Most of the apps are working with the similar steps. With the participation of music app partners, all you need to do is open the app and start playing the tunes you like, and then hit the Home button to navigate to the game or websites you want. That's simple.
How to Play Music on Xbox One as BGM
# Section 1. Stream Music from PC to Play on Xbox One as BGM
Xbox One and Windows 7,8 and 10 play nicely with each other when it comes to streaming music and sharing data. First of all, you need to make sure that Media Streaming on your PC is turned on, and you can find that in Control Panel > Network and Sharing Center > Media Streaming Options. On the other hand, you need to click Settings > Preferences and make sure Play To is check like the image below.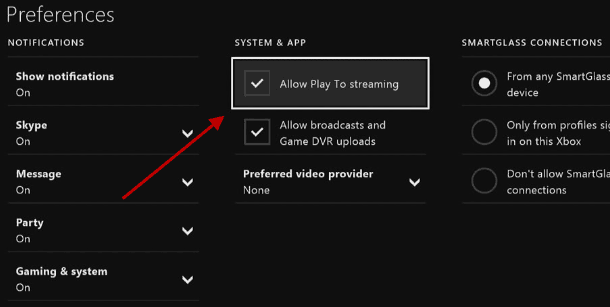 If you have got a new Xbox One, it is necessary for you to download the Xbox Music app.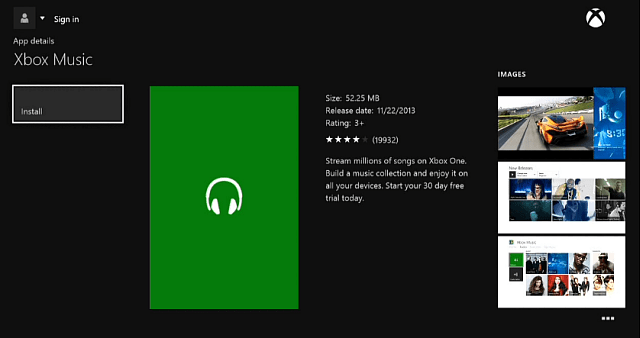 Now, you can find the music you want to play on your PC and right-click the files, then select Play To from the context menu and then Xbox One. Therefore, you can play music on Xbox One as BGM and enjoy your games.
In the process of streaming music to Xbox One, you have to know the format supported by Xbox One. Supported formats include 3GP audio, AAC, ADTS, MP3, WAV, WMA, WMA Pro, WMA Voice. I would like to recommend you the converter, VideoSolo Video Converter Ultimate, to convert one format into another format if the format is not applicable for Xbox One. With this powerful and simple video converter, you can convert more than 300 formats with 6X faster speed to do conversion with zero quality loss.
# Section 2. Stream Music from Phone to Play on Xbox One as BGM
To add background music to Xbox One can provide you with good Xbox experience. Except streaming music from PC, you also want to stream your music in music media of your phone to Xbox One. But how?
In this respect, it gets a little easier. First of all, you need to a Bluetooth audio receiver and a speaker with a 3.5mm auxiliary input. Next, turn on the Bluetooth audio receiver and then insert it into the auxiliary port on your speaker. Then, connect your phone (Android or iSO) with the Bluetooth audio receiver. Here, you can select the music that is stored on your phone.
Xbox One has a lot of options when it comes to background music playback. You can find some tips on how to play music on Xbox One in this article. It is fantastic to enjoy your favorite music in the background while playing games on Xbox One. Do it and enjoy yourself!