Chrome Audio Recorder - How to Record Audio from Browser Easily
There are times when you may want to save audio from web browsers like Chrome, Safari, Firefox or other web browsers to your computer. The audio file can be some catchy or upbeat background music, an interesting interview, an audiobook that are not downloadable, or virtually everything you're watching or listening to from your browser.
Obviously, the most convenient way is to record the browser audio with a professional screen recorder. In the following, we will show you how to use a browser audio recorder to grab audio from any web page. Additionally, we've found great browser extensions that has the ability to capture audio from any tab if you are not inclined to install a desktop program.
Best Browser Audio Recorder for Chrome Audio Capture
The desktop program you can take advantage of is VideoSolo Screen Recorder. It is a powerful desktop Chrome/browser audio recorder that can record all the audio from the browser including live streaming music, live radios, online courses or other audios from Internet. Also, it can capture any screen activities on your computer and record microphone sound easily. When you record audio from Chrome or other browsers, all sound and audio playing on the opened tab can be stably recorded and saved as high-quality MP3, AAC, M4A, and WMA format file.
Besides, to help you have a quicker and smoother recording process, the browser audio recorder even supports hardware acceleration. Therefore, if your computer has a good performance, VideoSolo will provide a satisfying experience. You may read the following guide to learn how to record audio from browser such as Chrome and develop a better understanding of VideoSolo Screen Recorder.
# Step 1. Enable the "Audio Recorder" Option for Recording Audio
VideoSolo is fully compatible with both Windows and Mac computers. Click the download button above to download and launch it. In the main interface, here is suggested to select "Audio Recorder" to record browser audio.
Tips: If you want to record to record the browser audio with picture, you can read this article: [5-Step Guide] How to Record Computer Screen on Windows & Mac.

# Step 2. Adjust the System Sound and Output Settings
• Adjust the system sound. You can adjust system sound in your operating system, or you can toggle on the slide bar directly to change sound volume from the Audio Recorder. Also, start a sound check by clicking the gear icon. The Preference window will be opened. And then, select the Sound tab and open Start sound check. It is advised to turn off other software's audio so that the effect won't affected.
• If you only want to record the web browser sound, but not want to record the sound of yourself and the external environment, just remember to turn off the button of "Microphone".

• The default audio recording format is MP3 which is a very common audio format. But if you want to change, you can click on the gear icon and go to the sound tab. There are WMA, M4A and AAC format optional. If you can't decide on which audio format to choose, you can jump to part 3 to know about their differences.
• The default output quality is "High", you can set up a higher quality recording that meets your requirements. This software also offers a lossless option so as to give you the perfect browser audio recording experience and a high-quality output result.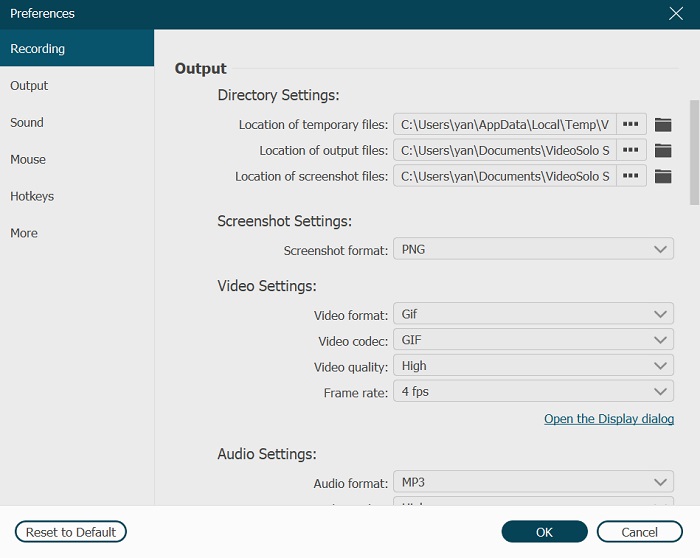 # Step 3. Press "REC" and Mark Down the Hotkey if You Hide the Float Bar
• Press "REC". A pop-up box may appear to remind you that you can use hotkeys to control the record. It is also recommended to mark down your preset hotkeys on a note. And if you have previously set hide float bar while recording but forgot the hotkey to enable the float bar, don't worry, you can still find the program from the system's taskbar. Double-click the icon, or right-click it to show the main interface, the floating bar will come out again.
• Click "OK" in the pop-up box and the audio recording process will be started within three seconds. Then start playing the browser audio you want to record. The volume is also adjustable during recording.
# Step 4. Trim and Save the Browser Audio
After you finishing recording audio on your Chrome browser, you can preview & trim the recording according to your need and then save it to your computer. It is also highlighted that all audio recordings will be automatically saved even if you accidentally exit the recording process. Now you can conveniently listen to your browser's audio recordings on your Mac/Windows computer.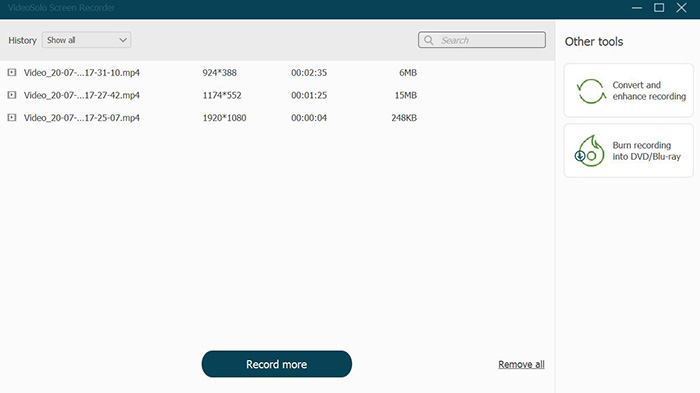 Don't you think utilize this program to record browser audio is very efficient and convenient? It's simple to use but the function is very powerful. And that's exactly what a good browser audio recording program should be like.
Use Browser Extension to Capture Audio on Chrome
If you don't want to download a software, then the Chrome extension - Chrome Audio Capture can help you. The official introduction said that it can capture any audio playing on the current tab. Better still, multiple tabs can be captured simultaneously. Also, you have the option that can mute tabs that are currently being captured. The audio will be saved as either MP3 or WAV audio files. However, you can't record segments that are longer than 20min with this Chrome Audio Capture. When you capture over 20 mins, the file could be silent during playback. The audio quality is not so good compared to other browser audio recorders.
Here's how to record browser audio with Chrome Audio Capture.
Step 1. Go to Chrome Web Store and search "Chrome Audio Capture".
Step 2. Click "Add to Chrome" to download and install this extension on your Chrome.
Step 3. Find and click this extension in the upper right corner of Chrome.
Step 4. Click the "Start Capture" button to start recording your Chrome's sound.
Step 5. When finishing recording, click "Save Capture" to save the recording audio into your computer.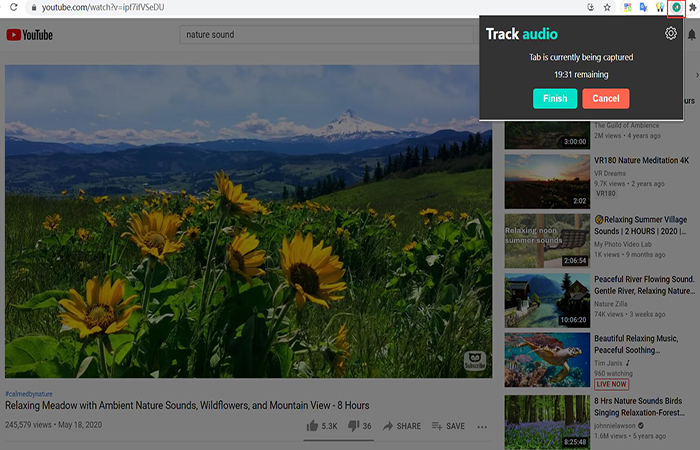 # Best Alternative: Screencastify
Another popular Chrome browser extension to record audio from web pages is Screencastify . The browser extension supports desktop, browser tab, and webcam capture. In addition, the handy Screencastify provides some basic editing features that enables you to trim the start and end of your videos, merge, or cut your recordings.
Its free plan can let users get unlimited recordings and each can be lasted for up to 5 minutes. Therefore, if most of your needs are to record short audio or music from websites, Screencastify can handle easily. The recordings can export as MP4, GIF, or MP3 audio. Videos are no watermark included. Besides, the browser extension can run offline, making it convenient to even record any screen activity or audio on your computer.
The amazing part is that Screencastify can work with Google Drive to boost your productivity. After creating a recording, you can upload the audio or video to Google Drive and create a sharable Drive link.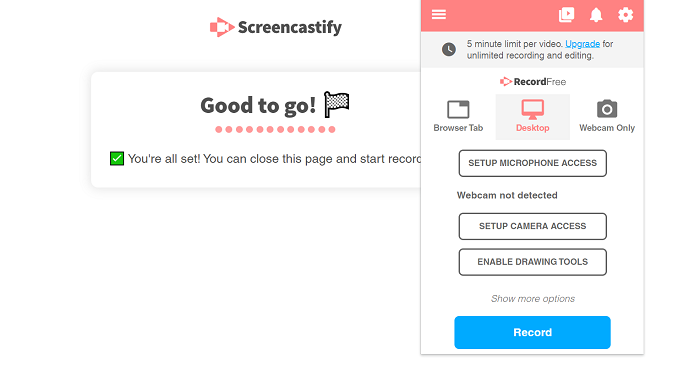 Extra Tips – How to Select the Optimal Audio Format for Output?
When it comes to choose the best audio format for your audio file, there is much left to be discussed. In general, audio formats can be divided into these 3 types: lossy formats, lossless formats and uncompressed formats. To help you get the best quality of your audio recordings, VideoSolo Screen Recorder provides 4 audio formats for users to choose, namely MP3, AAC, M4A, and WMA. They mainly employ lossy compression but are able to deliver decent sound quality. Then, we will clarify these four audio formats here for your reference.
# MP3
MP3, stands for MPEG-1 Audio Layer 3, is the most popular and common audio format. It's compatible in almost all the digital devices. It belongs to the kind of Lossy compression audio format. It means it sacrifices sound quality and audio fidelity for smaller file sizes. But when it's done will, you may not hear the difference.
# AAC
Advanced Audio Coding, also known as MPEG-4 AAC, is a kind of lossy and compressed audio format but sounds generally better than MP3. Usually, a 256kbps AAC sounds better than a 320kbps MP3. It's used for Apple Music streaming, iTunes, YouTube, etc.
# M4A
M4A is a file extension for an audio file encoded with AAC which is a lossy compression. Compared to MP3, M4A has better quality and smaller file size but not so compatible. It is a proprietary file format of Apple.
# WMA
WMA stands for Windows Media Audio. It's a lossless audio format but no longer well-supported by smartphones or tablets. If you want to listen to your browser audio in hi-fidelity, WMA may meet your need.
Basically, we recommend MP3 as the format container when it comes to record music or long interviews from your web browser because it enjoys a widely-used compatibility and creates a smaller file size. But if you care about sound quality, formats such as M4A and AAC are also popular and their compression won't cause much loss in quality. Therefore, details in the audio can be well kept.
All in all, recording browser audio is not a difficult task as long as you get a powerful Chrome audio recorder like VideoSolo Screen Recorder (opens new window). Browser extensions such as Chrome Audio capture are also reliable tools for recording audio from web tabs. Hope this article can really help you!