[Easy & Secure] How to Record Webcam Video on Windows/Mac
In this video streaming era, many vloggers or YouTubers prefer to add webcam footage in videos to increase engagement and show charisma, especially when it comes to sharing gameplay skills, instructional videos, makeup and teaching tutorials. To improve efficiency, a reliable webcam video recorder helps you record webcam video on Windows and Mac easily, no matter record webcam only or record computer screen along with webcam. In this post, we will share you with two ways on how to record webcam video in simple steps.
Tips:
Before introducing Xbox Game Bar, a free screen recorder utility equipped in Windows 10, we want to share our opinions on online screen recorder for Webcam. From the perspective of security and privacy, we don't recommend users record personal video by using an online screen recorder. Instead, you can choose one from the best third-party screen recording software.
Can I use Xbox Game Bar to Record Webcam Video?
Well, get back to the point: how to record webcam video on windows 10? Windows 10 rolls out an in-built screen recorder named Xbox Game Bar which is designed for recording gameplay. You can use it to record video from webcam within several steps. But it's a pity that this screen recorder on Windows 10 has some unavoidable cons:
Itcannot capture some programs such as File Manager, the entire desktop, some applications with protection. It does make some obstacles when you are making your webcam video.

And the recording quality is not so ideal. If you need a high-quality webcam video recorder, you can skip to part two to find another solution.

Game bar can be used on Windows 10 only. If you are a Mac user or other Windows system like Windows7/8, you can skip to part 2 to try another screen recorder.
Here are the simple steps on how to record webcam for free on Windows 10:
Step 1. Open the webcam app and prepare the screen things you need to capture.
Step 2. Press the Windows Key + G on your keyboard to launch the screen recorder on Windows 10.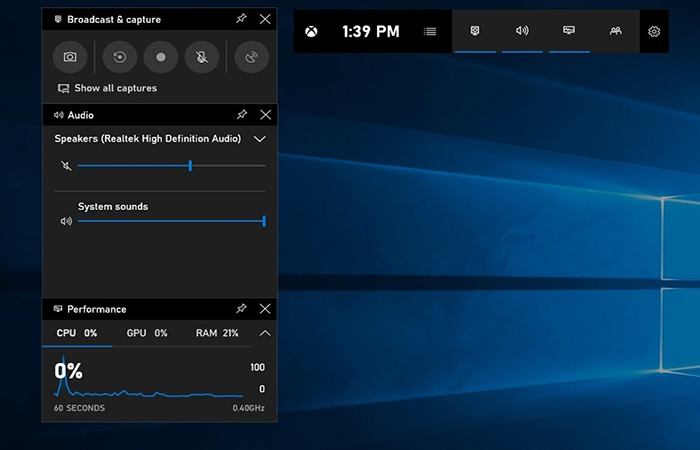 Step 3. Click the recording button on the top left or press Win + Alt + R to begin your webcam video recording.
Step 4. Stop the webcam video recording by clicking the Stop button on the control panel. The recorded webcam video will be saved into MP4 files.
Best Webcam Recorder – Record Webcam Video on Mac/Windows 10
After introducing an amateur webcam video recorder, we will share a professional recorder to help you record webcam video in high quality - VideoSolo Screen Recorder (opens new window).
With it, you can record webcam only or record webcam along with your computer screen to make wonderful gameplay commentary, instructional videos, reaction shots and so on. VideoSolo guarantees high-quality webcam video/audio output and you can set up to 60fps. You can specify your recording area and adjust the camera/capture setting, transparency at will. During your webcam recording, you are free to add annotations to highlight your points, take screenshots and adjust sound effects.
In the following, the tutorial will be divided into two parts to specify how to record webcam only and record webcam video as well as the computer screen.
# 1) Using Webcam Recorder to Record Webcam Only
Sometimes, you just want to record the webcam video only to make a speech or talk. VideoSolo Screen Recorder is so thoughtful that it offers a webcam recorder. Therefore, you don't need to adjust the recording region and start webcam recording in one click.
Step 1. Enter into the Main Interface
Download this webcam recorder from the above button. After installing and launching it, you will find an intuitive interface like this.

Step 2. Launch Webcam Video Recorder
Select "Webcam" onthefourth option.Clickit anditwillpop up the Webcamwindow whereyoucanrecordyourself.

Step 3. Adjust Camera Settings and Sound
The webcam window can be adjusted by dragging its frame. Then, you can adjust webcam settings such as webcam device, resolution, microphone deviceand rotation. You need to notice that the movement of the mouse in the webcam window will be recorded. So if you don't want to record it, don't move the webcam window during the recording.
Then drag the volume bar of the system sound and microphone as per your need. VideoSolo rolls out two new functions "Microphone noise cancellation" and "Microphone enhancement" to output higher audio. You can set it by clicking gear-icon > Sound.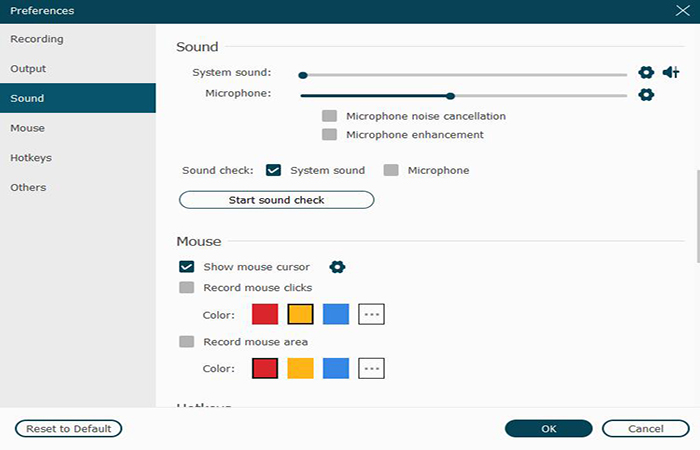 Step 4. Start to Record Webcam Video
When all settings are ready, click "Record" to begin to record yourself. The red icon in the toolbar means ending the recording. Click the stop icon and it will pop up a preview window where you can clip & trim the unwanted part (opens new window) of the webcam video. If you are satisfied with it, just tap on "Save".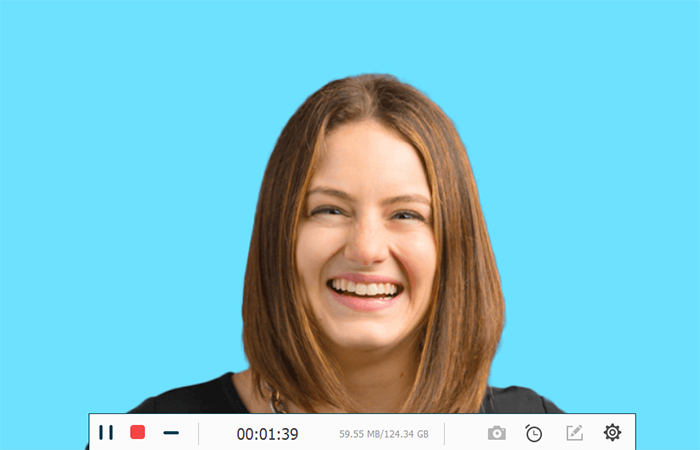 # 2) Record Computer Screen Along with Webcam
When recording gameplay or tutorials, reactions will make the video more brilliant and fascinating. In this case, recording computer screen along with webcam is a good choice. Let's learn how to record computer screen with webcam by VideoSolo Screen Recorder.
Step 1. Define Recording Area and Webcam Size
Click "Video Recorder" on the main interface. You need to turn on both "DISPLAY1" and "Webcam". You will find there is a rectangular frame that is exactly the recording area disassociated from the operational window. Then, custom recording area by dragging its frame. You need to make sure that the recording frame includes the webcam window.
Notice: The size and place of the webcam window can be adjusted freely.

Step 2. Set Parameters of Webcam Video Recording
Now adjust audio settings to meet your needs. You can turn on/off the system sound and microphone as per your need. Click the gear-shaped icon to enter into Preferences. Here, you can start a soundcheck and enable "Microphone noise cancellation" and "Microphone enhancement" to make your webcam recording better.
In the Output tab, you can make your own choice on video/audio format & quality, frame rate, location of your webcam files. If you want to record a gameplay tutorial, you are recommended to choose 60 fps to avoid video lag.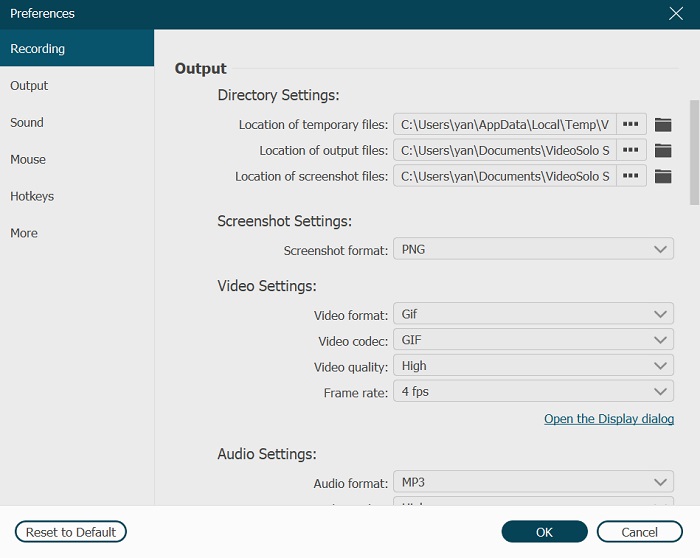 Step 3. Record and Save Webcam Video
Click the red button "REC" to start webcam video recording. During your recording, you can set record length (opens new window) or add annotations to highlight your points. When it comes to an end, click the solid square button in the toolbar or use your Stop hotkey.
You can even share it with your friends via Twitter, YouTube, Facebook, etc. Now, you are comfortably done with webcam capturing.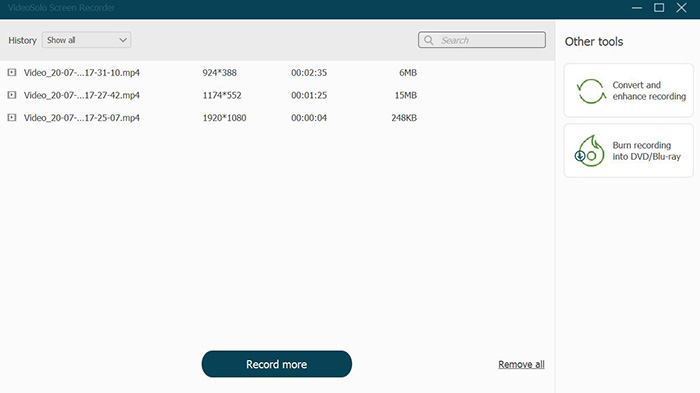 Extra Tips to Make Your Webcam Video Recording Awesome
It's not so easy to create a high-quality video, not only the content quality but the video quality. So in this part, I want to share some useful tips to help you improve webcam video quality easily.
# Built-in Webcam or External Webcam?
In general, your Windows or Mac computer are equipped with a built-in webcam at the top of the screen. But in the latest roll-out computer, it may be embedded in the keyboard for privacy. Its angle may look strange. In this case, you can purchase an external webcam or a digital camcorder by connecting them to your Windows/Mac. Usually, they perform better in video quality and have more choices on recording angle/position.
# Audio Equipment
Like the choice of webcam, you can also choose an external microphone to get better sound quality. Thoughtful as VideoSolo we introduced today, it rolls out "Microphone noise cancellation" and "Microphone enhancement".
# Lightning
Adjust the suitable lightning to your webcam recording. You can record webcam videos in the morning to get gentle light. Or you can use household lamps to make it brighter.
# Editing
Just-right editing will make your webcam video more charming and help viewers connect with you. You can resort to editing tools. Or if you are a beginner, just make simple editing like add background music, add effects, join videos, change the aspect ratio of video (opens new window),and so on.
VideoSolo Screen Recorder (opens new window) makes webcam video recording simple and professional. It supports both Windows and Mac. If you are interested in it, just download it and have a try. Or if you have other recommendation, feel free to share with us!
You May Need:
How to Record A FaceTime Call on Mac (opens new window)
[Guide for Beginners] How to Record a Podcast Easily (opens new window)