4 Easy Steps to Record YouTube Live Stream [Recommended]
YouTube Live, the world's biggest live streaming platform, has attracted so many people from across the globe and of different ages to interact with each other in real time. As a viewer, you can stream an event, learn from an online class, attend a workshop, or participate in a virtual concert. But not all of the YouTube Live sessions happen exactly the time when you are available because obviously, you don't glue your eyes to the screen. Worse, YouTube Live streaming content might disappear or can be deleted by its creator.
Therefore, the ultimate solution is to record a YouTube Live stream, which ensures you do not miss out on any highlighted moments. In this post, you will learn how to capture or record live streaming videos from platforms such as YouTube. Also, you can leverage a professional YouTube Live stream recorder like VideoSolo Screen Recorder that comes with a task scheduler for recording a session that might happen at 3 AM in your time zone. All that said, let's review the option.
Best YouTube Live Recorder to Record YouTube Live Stream – VideoSolo
With all different streaming video capture tools available, VideoSolo Screen Recorder will be our top recommendation for recording YouTube Live videos for both Windows and Mac. If you've never used a screen recorder before, the intuitive user interface of VideoSolo will definitely provide a smooth using experience with its great features.
Key Features
Details
VideoSolo Screen Recorder
Records YouTube Live Steam With
High-Quality Video
up to 60 fps with hardware acceleration
High-Quality Audio
system & microphone sound
Drawn or Text Annotations
and Callouts
in whatever color you like
Multiple Output Formats
WMV, MP4, MOV, F4V, TS, AVI, GIF
Clear Screenshots
before, during, after the recording
Scheduled Tasks
for the one that hasn't started
One Specific Window
to avoid being covered up
by other windows
Video Trimming Function
once you've done the recording
Besides recording live streaming videos, you can also utilize it to record your screen activities, record system sound and microphone sound, and therefore create a demo tutorial with your own watermark fast and easily. All videos recorded will never be covered with an ugly watermark.
How to Record YouTube Live Videos? (Past Live Streams & Real-time Live Streams)
Knowing so many features of VideoSolo Screen Recorder, I will walk you through every step to how to record a YouTube Live Video. Install and launch this software, and let's get it started.
STEP 1. Click "Video Recorder" to Capture YouTube Live Stream
If you want to record the video and audio of a YouTube live stream simultaneously, you should choose "Video Recorder". To record only audio from the YouTube live stream, just click "Audio Recorder". You may also learn more details through this article How to Record Audio from the Internet (Include Streaming Music and Radio).

Tip: If the YouTube Live videos you recorded are mainly gaming live streams, VideoSolo is also built-in with a Game Recorder to empower you to get a high-quality result. Better still, VideoSolo supports recording in 60 FPS to help you get lag-free video.
STEP 2. Select the Recording Area and System Sound
As you proceed to Video Recorder, you may choose to record the full screen, or customize the recording area by selecting a region/window or some fixed dimensions.
After adjusting the recording area, remember to toggle on "System Sound" to set a proper system volume. To avoid unnecessary noise, it is suggested to turn off the microphone unless you may want to narrate while recording a Live stream.

STEP 3. Adjust Output and Hardware Acceleration Settings
Now, go to "Preferences" by clicking the gear-icon on the interface. On the pop-up window, click on the Output tab. Here you can change the location for your output files. Also, you can alter the video output format, video quality, frame rate, audio format and audio quality. The supported output formats include MP4, MOV, WMV, MP3, AAC, and etc.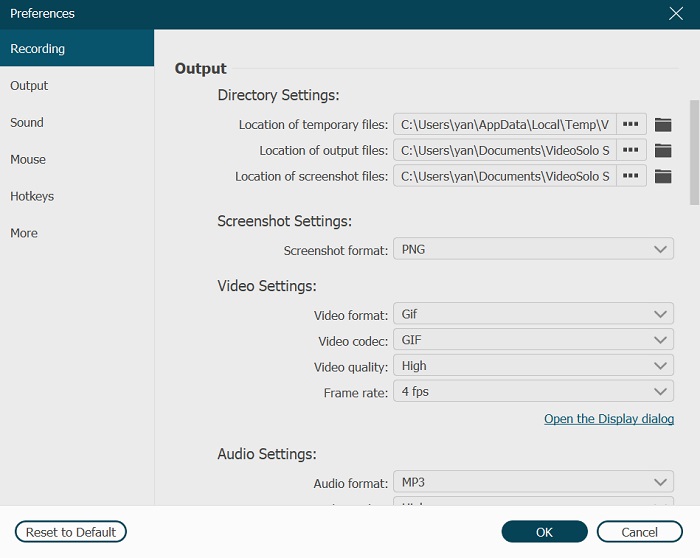 If your computer runs with good performance, you may select 60 FPS for exporting but at the cost of creating a large file since a YouTube live stream can take 2 hours or more. To solve this, try utilizing video compressors to reduce video file size.
However, if your computer is normal, you may select a suitable format or codec method to balance picture quality and video file size. Many people opt for MP4 format in that it shows good compatibility, maintains fine details, and delivers a smaller file. Therefore, we recommend the following exporting settings.
Device
Type
Format
Codec
Quaity
Frame rate
Windows
&
Mac
Video
MP4
H.264
High
24fps (Recommend),30fps, 60fps
Audio
MP3
H.264
High
/
Either way, to take full advantage of the program, don't forget to enable Hardware Acceleration from the Others tab. This will make the recording task done efficiently.
STEP 4. Start Recording YouTube Live Stream
Once you've adjusted the output settings, click on the red "REC" button to begin recording a YouTube live stream. Of course, during the recording process, you will be able to capture the full screen of the YouTube live stream video if you select to hide the floating bar. Also, VideoSolo gives the option to add annotations, add shapes and arrows when capturing your screen. Directly click the Edit icon to open the drawing panels.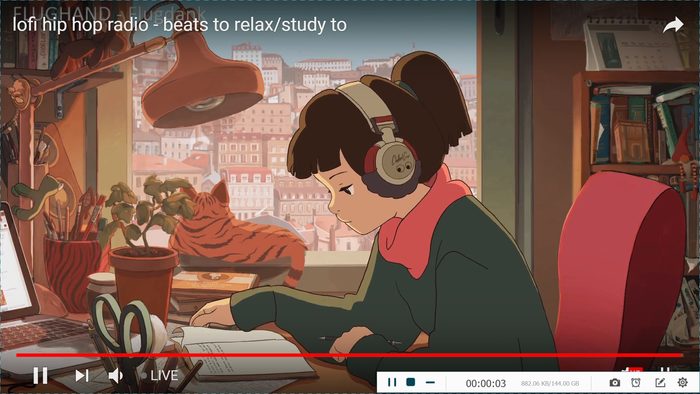 Tips: How to Recover the Recording When It Accidentally Stops?
Don't be worried if you accidentally exit the recording process. VideoSolo Screen Recorder will automatically save a temporary backup when recording. The next time when you launch the program, it will detect the backup and remind you whether to keep the recording.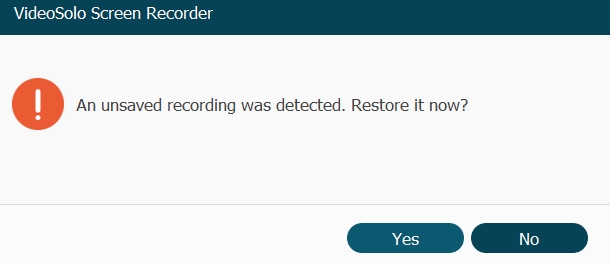 If there is no such reminder, you may go to "Preference" > "Output" > "Location of temporary file" to see whether there are these two files: ScreenCapture.h264 and the Speaker.wav (if you have recorded an audio). When the files stay still, you can contact our support team to help you recover this recording.
How to Record Live Stream Video that Hasn't Started Yet
A YouTube Live stream may happen across different time zones. If you don't want to sit by the computer to wait until it ends, the task scheduler designed in VideoSolo can be especially convenient. Basically, it is a powerful automatic video recording feature that enables every user to flexibly record videos they want.
Normally, YouTube will show the beginning time of a live stream. Therefore, you can click "Task Schedule" (which is shown as a Clock icon) to set in advance. But this function is only launched in the Windows version.

Here's how to use this function to record YouTube live streams automatically.
Step 1. Enter into the main interface of VideoSolo Screen Recorder and you can find "Task Schedule" is on the bottom column.
Step 2. On the pop-up window, press on "Add new task" to add your live streaming recording task.
Step 3. Set its start time and stop time. Please note that you should adjust the recording settings before you create the task.
Step 4. After that, click "OK" to save your operation. To make your task available, and ensure it will be recorded successfully, remember not to keep your computer in sleep or lock mode. For a detailed guide on using this function, you may read this article: How to Use Task Scheduler of VideoSolo Screen Recorder (Windows).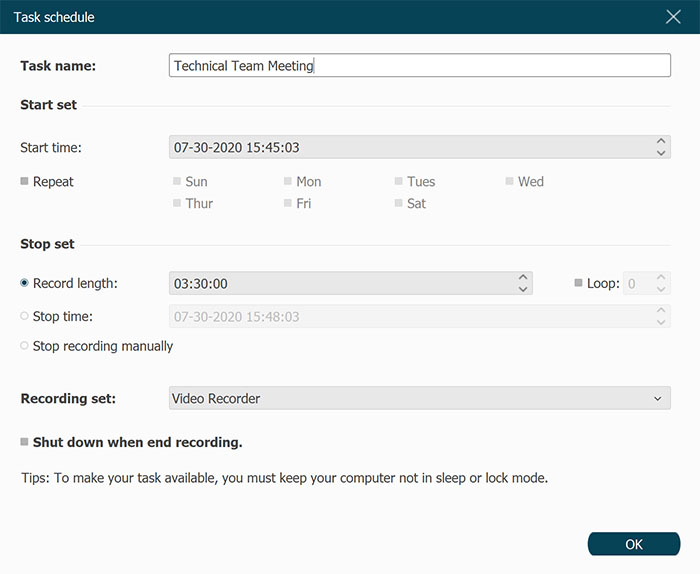 When time is up, the program will automatically start recording, making it also convenient to record live radio or sports shows.
Can You Record a Live Stream on Android Phones or iPhones?
Very similar to recording a live streaming video on a computer, you can also record a YouTube Live stream on Android or iPhone. Commonly, Android smartphones running Android 11 and up or iPhone with iOS or later feature a built-in screen recording tool that enables you to record screen activity and even a YouTube Live stream.
How to Capture YouTube Live Stream on iPhone
To open the built-in screen recorder, you can swipe down from the top of your screen and find the screen record icon from the control center. Tap the Record button and wait for the countdown to begin. When you stop the recording, the screen recording can be found in your phone's Photos app.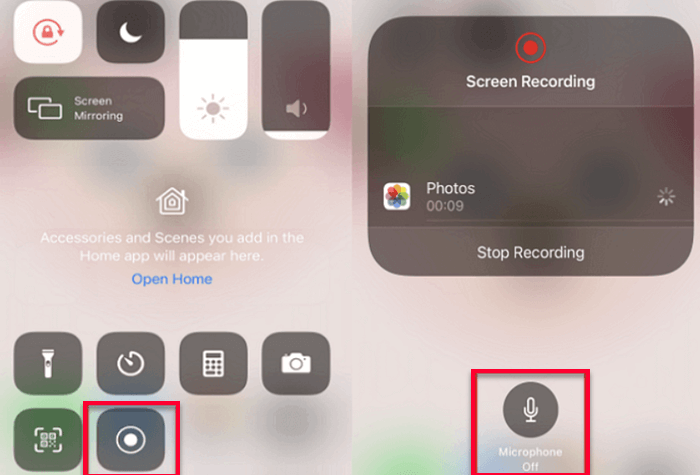 It is worth mentioning that VideoSolo Screen Recorder has newly introduced the function of recording videos on mobile phones. However, it currently only supports recording on the iPhone, and the Android version will be launched later, so stay tuned.
First select Phone Recorder on the VideoSolo interface, then all you need to do is connect your iPhone to the computer, and then follow the instructions in the software to start recording your YouTube Live Stream.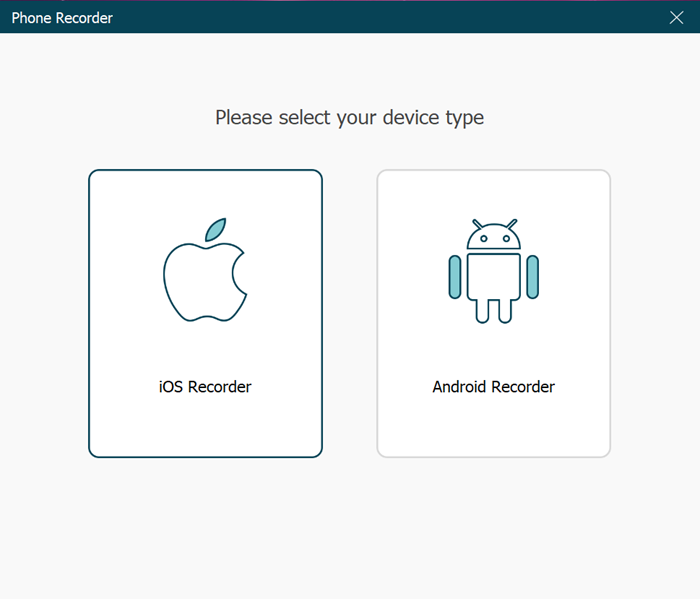 How to Capture YouTube Stream Video on Android
If you use an Android phone to watch YouTube Live Stream, you can also capture your screen easily. If your Android smartphones running Android 11 and up, you are able to record the Live stream directly with the built-in screen recording tool in your phone. If your Android runs other versions, AZ Screen Recorder can be a good choice for you. With this amazing App, you can capture YouTube Live stream with a ton of features like screen capture, screen video recorder, video editor etc..
Step 1. Open the YouTube Live Stream that you want to record.
Step 2. Launch AZ Screen Recorder, click on the "Recording" button and choose "START NOW" on a new window. When you want to stop recording, you can pull down the window on the top of your screen and tap the relevant buttons.
Step 3. The recorded YouTube Live Stream video will be displayed on the top of your screen.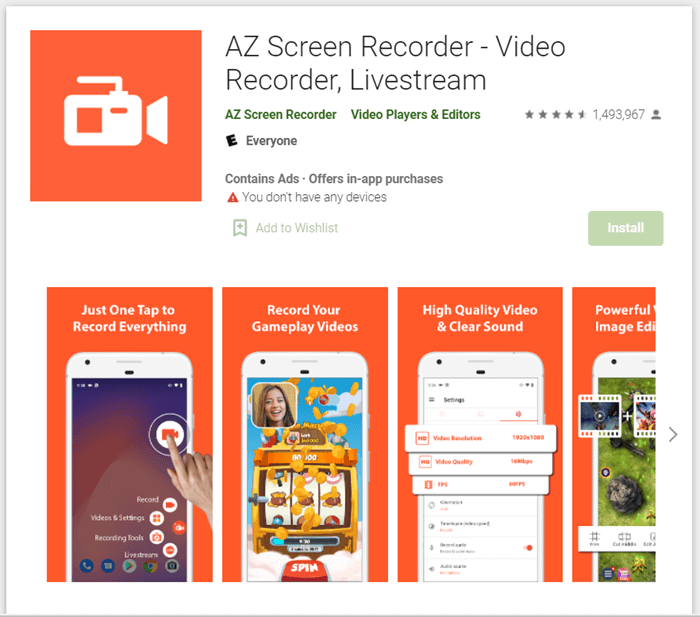 Is It Possible to Download YouTube Live Stream?
Yes. Given the fact that YouTube will automatically generate stream archive videos, it is easy to download live streaming videos on YouTube once you find and get the specific video link. If you are not inclined to search and install an extra video downloader, definitely try out VideoSolo Online Video Downloader. This useful online tool is compatible with different devices including your Windows PC, Mac, Android phones, and iPhone. Simply copy and paste the YouTube Live stream link that you find on the Live channel, and then the online video downloader will analyze the link and generate several download options respectively.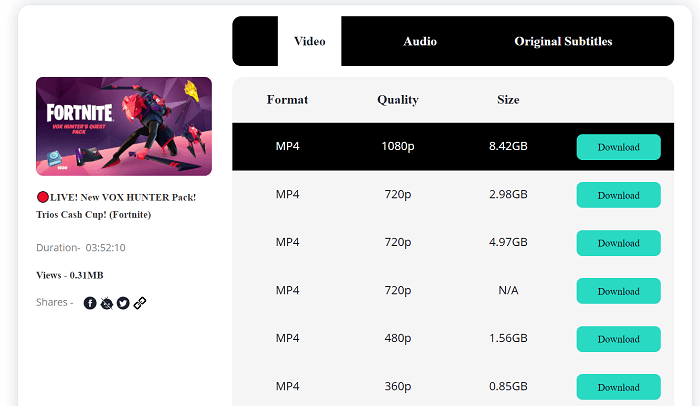 Another wonderful choice for downloading YouTube Live Stream is usingVideoHunter, which is a reliable and high-quality any video downloader for Windows and Mac. The same as VideoSolo Online Video Downloader, simply copy and paste the YouTube Live stream link that you want to download, and then VideoHunter will do the rest for you. With VideoHunter, you can even download online videos/audios from over 1,000 sites to MP3, MP4 formats, including YouTube, Facebook, Twitter, Instagram, SoundCloud, Vlive and so forth.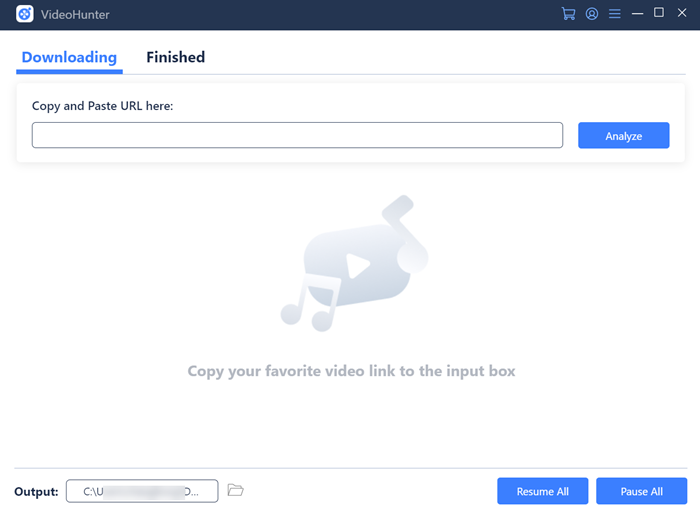 FAQs About YouTube Live Stream
Despite learning how to record YouTube Live stream on your computer, we've also collected some frequently asked questions to clear your doubts. Also, there are some tips for screen recording YouTube Live videos to help you gain better control.
Will YouTube automatically save the live stream videos?
Yes. In fact, YouTube has an archive feature that gives you the chance to find and review the Live streaming that you've missed. Here's how the archive feature works. If the live stream is less than 12 hours, YouTube can automatically archive the file. And video resolutions that are higher than 1080p (such as 1440p and 4K) can be easily saved once you enable the YouTube Archive setting.
Still, the best and guaranteed method to preserve the YouTube Live video is to stream and record at the same time so that you can have a local archive as a backup.
How long can a live stream on YouTube last for?
Generally, there is no duration limit for streaming a Live to YouTube. The only limitation is for the live stream recording on YouTube itself. When you do a live stream, a single public archive will be generated for up to 12 hours.
Can I have a private YouTube Live stream?
Yes. YouTube has three different options for live streaming - Public, Private, and Unlisted. YouTube's private videos will not appear in any of the search results or video recommendations, and the private live streaming allows you to share your video with 50 different people at once.
Final Words
VideoSolo Screen Recorder helps you easily record a YouTube live stream no matter it is a past Live stream or one that hasn't started yet. Now, you can record streaming videos at any time. Also, feel free to enjoy the recorded video on any device even without the Internet.
People Also Read: