How to Record Zoom Meeting with 4 Comprehensive Ways
The COVID-19 global pandemic has greatly changed people's working pattern from offline to online. When we have to work remotely at home, holding online conferences through reliable software like Zoom is quite essential to maintain the daily business communication and collaboration.
Hence, today's blog is going to introduce the top 6 ways to easily record Zoom meeting free to improve the working efficiency at home. With these methods, you are able to capture all details in a Zoom meeting without hassle.
Can You Record a Zoom Meeting?
Zoom recording is a huge demand as many people desire to record the online meetings without leaving any detail behind to improve their working and studying efficiency. Zoom exactly knows what users' needs are, so it provides the built-in recording feature to enable users easily record the online meetings without installing extra software or addon. However, not all users are allowed to record a Zoom meeting.
Here are two basic regulations to use Zoom's official recording feature:
Recording Zoom meetings on desktop is free for everyone, but as you start the recording, the host would receive the notification and he/she has the right to authorize the recording or not;

For mobile Zoom users, the recording feature can only be activated when you have paid for the subscription.
Hence, to record a Zoom meeting within the official software, you would be required to get the permission from the host at first. After you get the permission, VideoSolo Screen Recorder is absolutely what you need for a good recording.
How to Record Zoom Meeting on Mac/Windows with VideoSolo
Verdict:
VideoSolo Screen Recorder allows you to record Zoom meeting on desktop without limitations. You can record Zoom meeting with audio clearly, set scheduled recording & long-time recording for Zoom meeting.
VideoSolo Screen Recorder empowers powerful but easy-to-grasp Zoom meeting recording functionality to enable users overpass the recording authorization, thus directly record the Zoom meetings without notification. There are optional recording modes and flexible recording settings provided by VideoSolo Screen Recorder, enabling users to record Zoom meetings in the way users need.
Here are some highlighted features that VideoSolo Screen Recorder could help to power an efficient and convenient Zoom meetings recording process:
Available to record the Zoom meeting with microphone, system sound, and webcam on simultaneously;

Long-time meeting recording ensured with the data-restore feature to prevent any data loss when the recording is exited accidentally;

Hotkeys provided to control the Zoom meeting recording flexibly;

Instant drawing panel available to add notes to the recorded Zoom meeting directly;

Scheduled recording mode available to auto-process the Zoom meeting without manual control.
Now, let's come to the guide on how to record Zoom meetings via VideoSolo Screen Recorder on desktop. It only takes 3 simple steps.
Watch a tutorial video here:
Step 1. Select "Video Recorder" to Record Zoom Meeting
From the main interface of VideoSolo Screen Recorder, click "Video Recorder" to record both video and audio of the Zoom meeting. If you want to record audio only, you can use audio recorder (Learn more about audio recording in this article: [High Quality] Simple Way to Record Computer Audio.

Step 2. Select Recording Area and Adjust Sound
VideoSolo provides three recording area modes: Full Screen, Fixed Region and Self-customized Area. Select a suitable mode to record your Zoom meeting. Usually, Full Screen is recommended for recording important meetings as all participants' speech will be recorded in the screen.
If you desire to record your own webcam as well, you are able to turn on the webcam option here to enable VideoSolo Screen Recorder to record your own desktop camera. And if you want to open an extra program for work without losing track of recording your zoom meeting, it is advised to enable the Lock and record window feature from Advanced Recorder.

By hitting the gear icon above the microphone setting box, you are able to open "Preferences" to preset more settings about using VideoSolo Screen Recorder to record Zoom meeting. For example, you are able to customize the output settings or pre-test the sound checks here based on your requirements.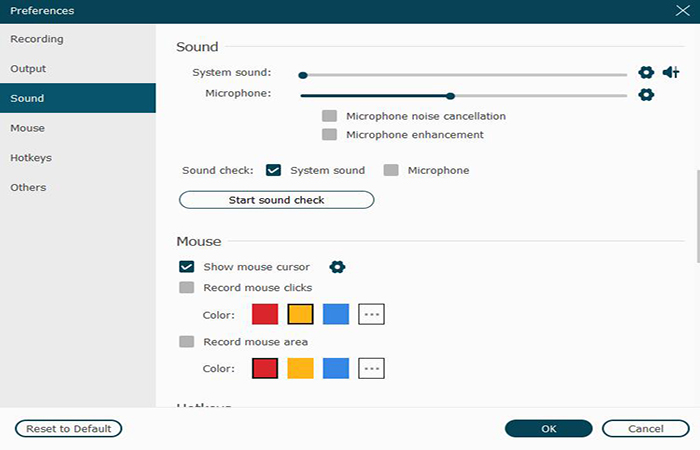 NOTE:
For Mac users, it is required to install an audio driver at first to process the Zoom recording via VideoSolo Screen Recorder.

It is able to enhance the audio quality by checking both the "Microphone noise cancellation" and "Microphone enhancement" options in "Preferences" > "Sound".

Hotkeys are able to be changed in "Preferences" based on your personal computer using habits.
Step 3. Click "REC" to Start Recording Zoom Meeting with Audio
When the settings and sound check are both done, you are available to process recording the Zoom meeting by hitting the "REC" button. Once the recording completes, you can end the recording and directly save it locally by clicking the "Save" icon in the previewing window.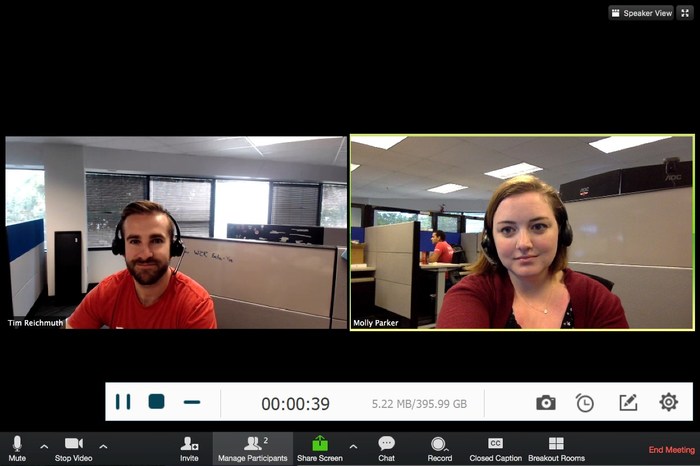 Other Useful Tips to Record Zoom with VideoSolo (Optional)
To ensure the successful preservation of the recorded Zoom meeting, you are required to pre-check whether the storage of your computer is sufficient to save the recording, especially for the long-time recording.

VideoSolo provides various video output formats including MP4, WMV, MOV, F4V, TS, AVI and Gif. Click the gear-shaped icon and go to the "Output" tab, you can set video format/quality, frame rate and location of output files. And to get a Zoom meeting video saved with the best quality but appropriate file size, it would be better to customize the output parameters following the settings below:
Windows/Mac (Vdieo)

Format

Codec

Quaity

Frame rate

MP4

H.264

High

24fps (Recommend), 30fps, 60fps
Before processing the Zoom recording, you are able to turn on the "Task Schedule" mode to automatically start and end the recording without manual controls.
Tips: If you set "Full screen" to record Zoom meeting, you can use hotkeys to control the recording. You can set them in Preferences > Hotkeys to suit your habit. You can also schedule your recording tasks through VideoSolo Screen Recorder to help you automatically start recording a Zoom meeting.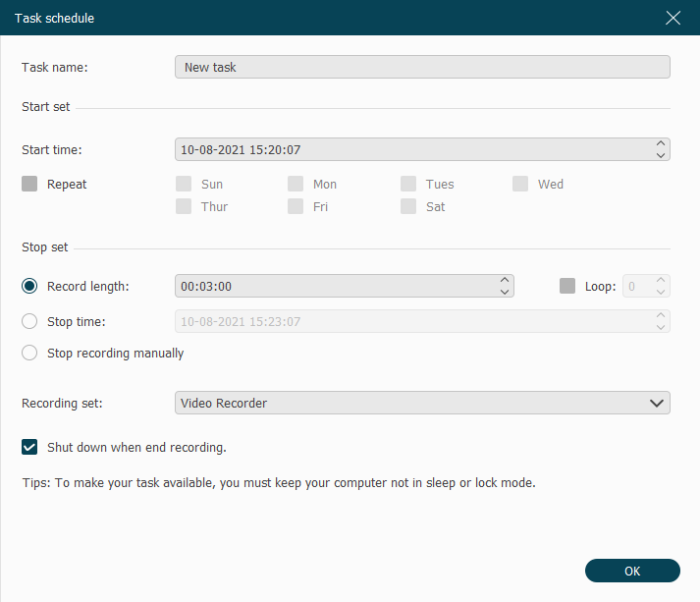 How to Record Zoom Meeting Free with OBS
If you want a totally free tool to record a Zoom meeting, OBS is a good choice. OBS is a freeware available for desktop users to capture the screen. Like VideoSolo Screen Recorder, OBS enables users to directly record the conferences with high quality. Although OBS is a bit complicated and CPU will be highly taken during recording, it's still useful for Zoom meeting recording. Simply follow the process below to record Zoom meetings via OBS:
Step 1. Launch OBS. Then you are required to create a new source by hitting the "+"icon in "Source" panel.
Step 2. Here you get multiple option based on your device requirements. If you have more than one monitor for PC, select "Display Capture" as it would function the Zoom recording better.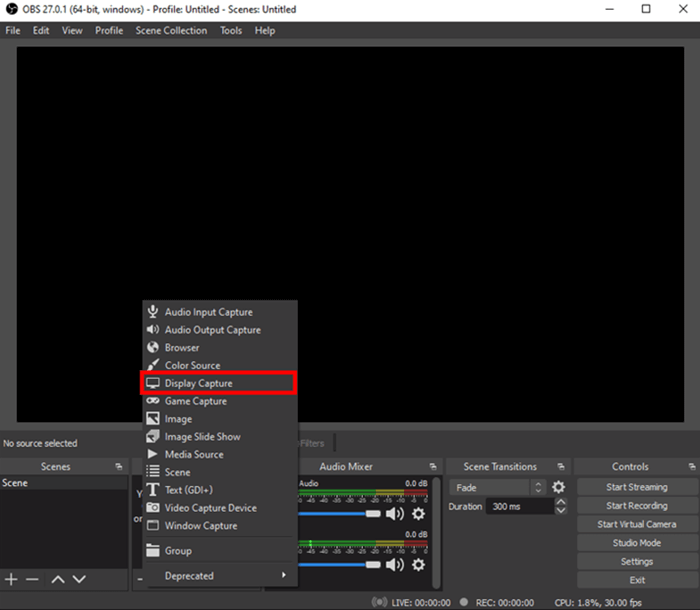 For the single monitor user, select "Windows Capture" and choose "Zoom.exe" as the source to make the recording oriented towards Zoom software. However, this may not always work properly.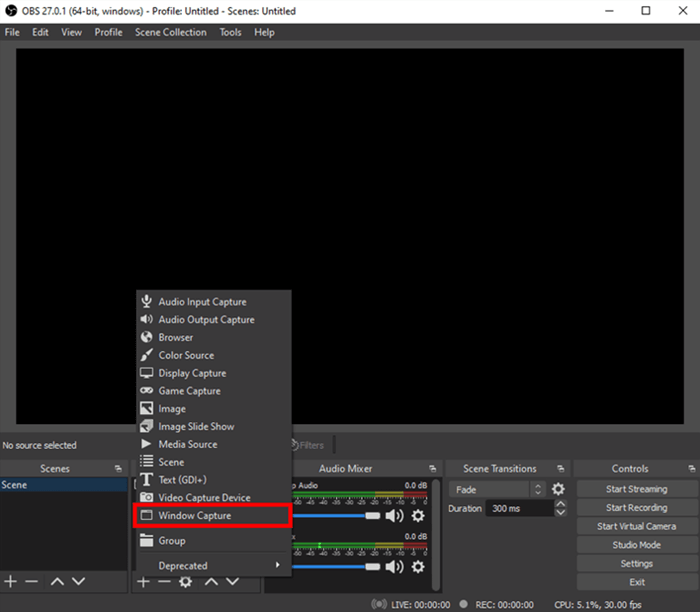 Step 3. When you have preset the recording mode now, simply initiate the recording when the Zoom meeting starts. Then, OBS would perform to record the Zoom meeting with the best quality for you.
How to Screen Record Zoom Meeting on iPhone/iPad/Android
Verdict:
Recording Zoom meetings on phone is easy and convenient. However, it can be prevented by Zoom, or you are possible to receive the recorded file without sound.
On iPhone/iPad/Android, the built-in recording features are absolutely available to record Zoom meetings . Let's see how to use them.
On iOS
Step 1. Open "Settings" and turn to "Control Center". You are required to add "Screen Recording" to the "INCLUDE" column at first.
Step 2. As a Zoom meeting starts, simply swipe down "Control Center" on your screen and tap the "Start Recording" icon.
Step 3. Now your iOS device would process to record the screen for you. When the meeting is over, open "Control Center" and tap the icon again, and the recorded Zoom meeting will be saved in your camera roll for watching back.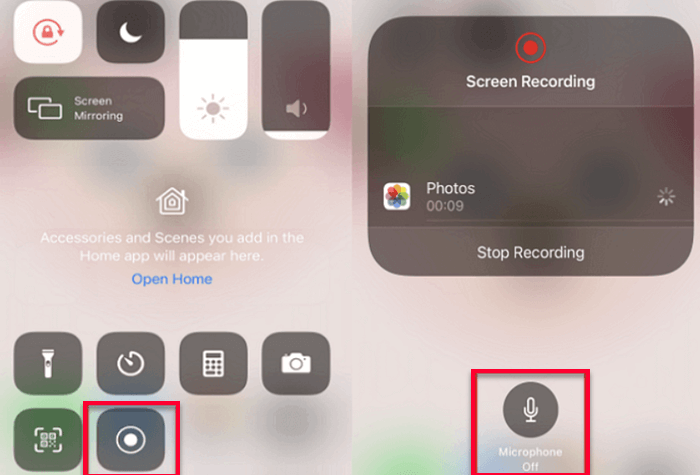 On Android
Step 1. Firstly, you need to install the Mobizen screen recorder at first.
Step 2.When the apk is installed, launch it and directly tap on the circle and also the record icon to preset the recording settings before the Zoom meeting starts.
Step 3. Once the settings are completed, go to Zoom and join the meeting. Then you are able to start the recording to capture the conference right away.
How to Record Zoom Meeting with Chrome Extension
Verdict:
This method just need you to add a Chrome Extension for recording Zoom meetings smoothly. But it may not produce high-quality output files and has few customization settings.
Instead of installing an extra software to process the recording of Zoom meetings, using a Chrome extension can also realize the aim at recording Zoom meetings. Although Zoom itself has a chrome extension, many users report that it is very difficult to use and may not be able to log in. So, the screen recording tool we recommend here is Fluvid.
Once you have installed Fluvid in Chrome, you are able to select it to record Zoom meetings with system sound, microphone, and also webcam enabled. Its free plan is able to support recording 50 free videos for recording each with up to 1 hour long at max. Therefore, Fluvid is the best option you can try. Here shows you how to use it:
Step 1. Navigate to Google Chrome store and search for Fluvid. And then click on Add to Chrome.
Step 2. It is required to authorize an account to enable the recording permission, then click on the Next button to proceed.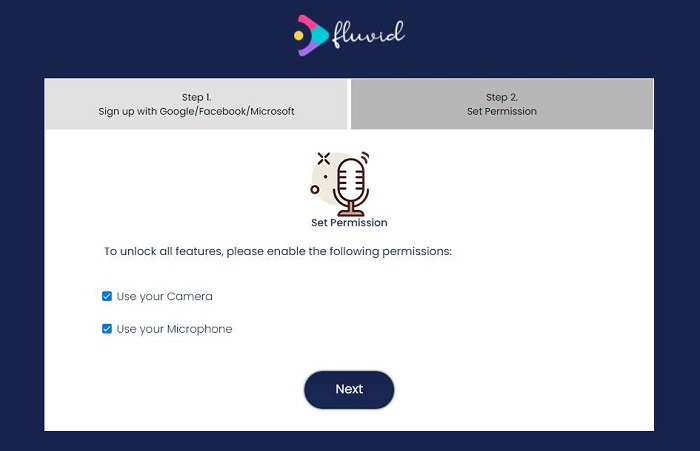 Step 3. Once you've signed up with an account, launch the extension, and you can start recording with Fluvid. To record a zoom meeting, you may first open the zoom meeting tab. It is also suggested to choose the Current Tab mode when it comes to record a Zoom. As all is set up, click the Start Recording button.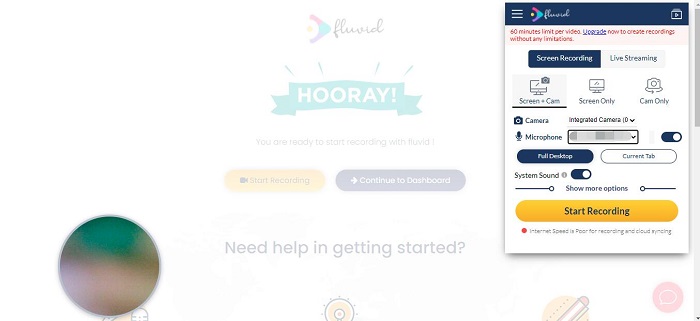 Step 4. When the zoom meeting is recorded, the video will be appeared in the My Video Tab.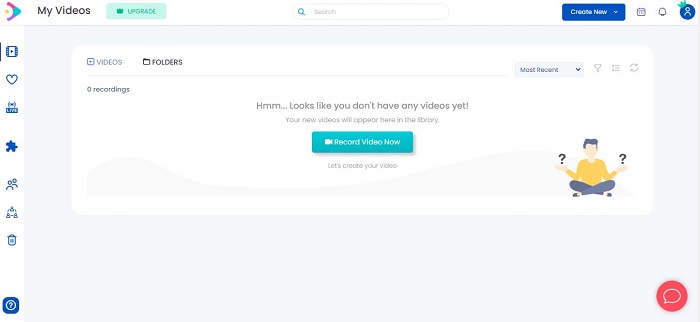 How to Record Zoom Meeting Online
Verdict:
You can use Wondershare DemoAir to record Zoom meeting free without installation. It's easy to use but highly depends on network condition, which can due to unstable recording.
Using an online tool to record Zoom meetings also save your effort in installing an extra software to process the recording. Wondershare DemoAir is able to fulfill your demands in recording Zoom meetings with the online feature, also without software installation required. This powerful extension is able to work with all mainstream browsers, including Google Chrome, Mozilla, Firefox, Safari, Opera, Edge. You are able to simply follow the guide below to process the Zoom recording online.
Step 1. Go to Wondershare DemoAir and hit the "Start Recording Now" icon to start processing the recording.
Step 2. Set up the audio input and also select a recording mode, then hit the "Start Recording" icon to continue.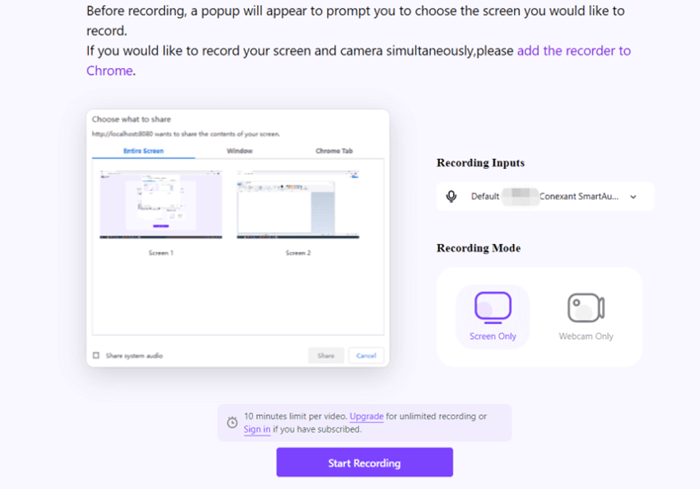 Step 3. You are required to select a path for preserving the recorded video now.
Step 4. Then the recording will be started and wait for the Zoom meeting ends to stop it. The recorded video will then be saved to your desktop for later watching back.
FAQs About Recording Zoom Meeting
Finally, go through some commonly asked FAQs to solve more of your problems to process Zoom recording.
1. Can I record a zoom meeting with a free account?
Zoom offers two options for recording: local recording and Zoom-in-built cloud recording. The local recording will save the file on your local storage drive, which is a useful feature available to both free and paid users. The cloud recording is only available to paid subscribers. It also provides the option to download and stream the recording files. But it is worth mentioned that the cloud recording storage capacity is around 0.5 GB to 1 GB for each plan. Here are the official guides for how to start local recording and cloud recording in Zoom.
How to start local recording in Zoom
How to start cloud recording in Zoom
For mobile users, only the cloud recording is provided, therefore, it is unavailable for mobile users to record a Zoom meeting for free.
2. How to give permission to record Zoom meeting?
If you are the host of the Zoom meeting, it is possible to record your own meeting within Zoom without hassle, and you now get the right to grant permissions for others to record the Zoom meeting. Simply follow the guide below to process the permission authorization to enable others to record the Zoom meetings.
On a Windows Laptop or Mac
Step 1. Navigate to Zoom website and log in to your Zoom account.
Step 2. Head to "My Account" > "Recordings". Based on the meeting you are going to hold, select "Cloud Recordings" or "Local Recordings", and hit the "Settings" option beside.
Step 3. Submit to give hosts and participants permission to record the Zoom meeting locally or to the cloud. For cloud recording, only subscribers have the permission to do it.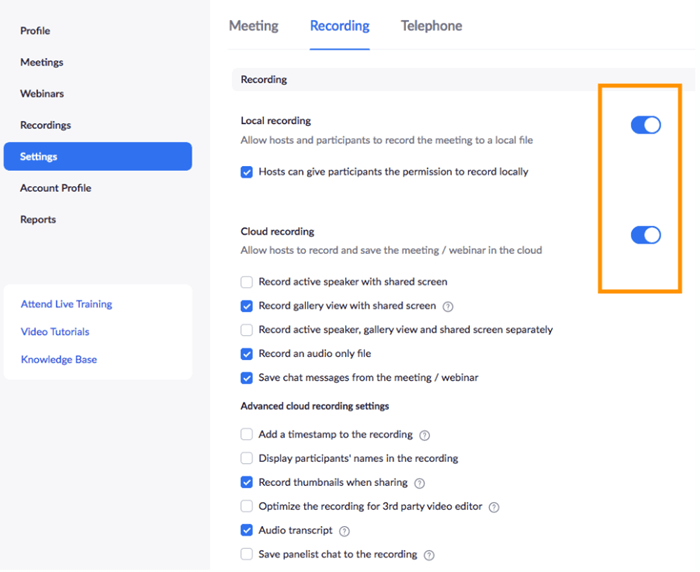 On Phone
In Zoom mobile app, local recording is not available. But as you are a subscriber of Zoom, you are absolutely allowed to start a cloud recording within the app. To give permission to your participants to recording the Zoom meeting on phone, you are only required to turn to your account and select "Settings" to enable option like on desktop.
If you are a participant and you want to record Zoom meeting, you can contact the host and ask for permission. You can check out these brief steps.
Step 1. Sign in to the Zoom web portal.
Step 2. Click the Settings tab and then navigate to the Recording tab. Now verify the Local Recording option is enabled. If you are the host, you may also toggle to enable the Hosts can give meeting participants permission to record locally.
Step 3. If the host has granted you permission to record the ongoing meeting, click the Record icon to start recording Zoom meeting call. If there is a menu, just select Record on this Computer.

Step 4. Click the Stop or Pause icon to control your recording process. After the meeting is ended, Zoom will automatically convert the meeting recording to files you can access.
The local recording files will be saved in the default location:
PC: C:\Users\User Name\Documents\Zoom
Mac: /Users/User Name/Documents/Zoom
3. Is it legal to record a zoom meeting?
It would be better for users to gain permission from the hosts before starting to record a Zoom meeting. Or sometimes it could be considered as an unethical behavior. Worse yet, if you use the recorded videos for commercial purposes, you are absolutely against the copyright law.
4. Does Zoom record my screen or just the meeting?
Zoom will not record your screen as it only records the meetings within the software. Unless you share your screen with other meeting participants during the recording, Zoom will record it as one part of the meeting content.
Besides, to record yourself alongside the desktop, you should submit the "Start with video" while starting to process the Zoom recording. When it is prompted, click the "Join Audio Conference" and Zoom will record both your webcam and microphone simultaneously.
5. How can I record Zoom audio only for podcast?
If you need to record a podcast on Zoom, only the following easy steps are required to be followed. Check it now:
Step 1. Install Zoom on your device and launch the software.
Step 2. Then, set up both of your microphone and headphone to prepare for the podcast recording.
Step 3. Go to "Settings" > "Recording" to tick the "Record a separate audio file for each participant who speaks" option for preserving the audio in an additional folder with a separate M4A audio file for each speaker.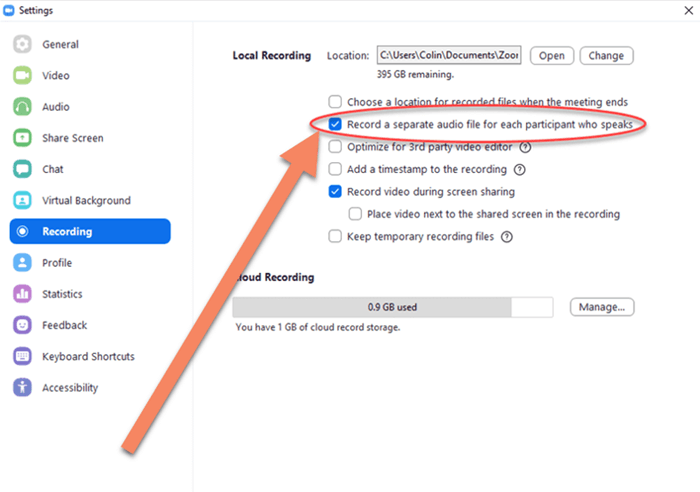 Step 4. Process the recording by starting a "New Meeting" and share the link to all your guest. While the podcast starts, click the "Start recording" option to capture the audio.
Step 5. When the podcast ends, stop the recording and you are able to get an audio file saved in the created Zoom folder you just set before.
6. Why there is no record button on Zoom?
You should notice that Zoom doesn't provide the recording feature for anyone to use. Unless you gain the permission from the host to record the meeting, or you would find no access to start a recording within the online meeting room in Zoom.
Conclusion
Even Zoom has provided an official access to record Zoom meeting with ease, there are more optional choices to help record Zoom meetings and in high quality. The use of Zoom local recorder is really suitable on Zoom App. While on record Zoom meeting from Mac/Windows computer, VideoSolo Screen Recorder can also be an outstanding method. You can now free download and have a try. Take this tutorial and the suitable option to start saving all online Zoom meetings to increase your working or studying efficiency now!
Related Reading: