Quick & Easy | How to Rotate a Video on Windows 10
Sometimes you may find the videos shot with your phone show wrong orientation on your computer. Or you will feel annoyed when you download videos from YouTube but only to find it sideways or upside down. In this situation, you need a useful video rotator to rotate video into right orientation. But it's impossible to rotate a video directly in Windows Media Player. To help you out, I will introduce two quick methods (free ways included) for you to rotate videos.
1. VideoSolo Video Cutter – Helps You Rotate Videos from 90 degree to 270 degree
Of all video rotators, I choose VideoSolo Video Cutter for its easy-to-use functions. It offers four modes to rotate videos: rotate 90 clockwise, rotate 90 counterclockwise, horizontal flip, and vertical flip. With a real-time window, you can preview the video during your editing. Besides, it supports to import and export videos over 150+ video formats. Unlike other video editing tools, VideoSolo is so lightweight that it doesn't take much space of your computer.
# Step 1. Launch Video Rotator
Download and install the video rotator from the above button. After that, enter into its main interface.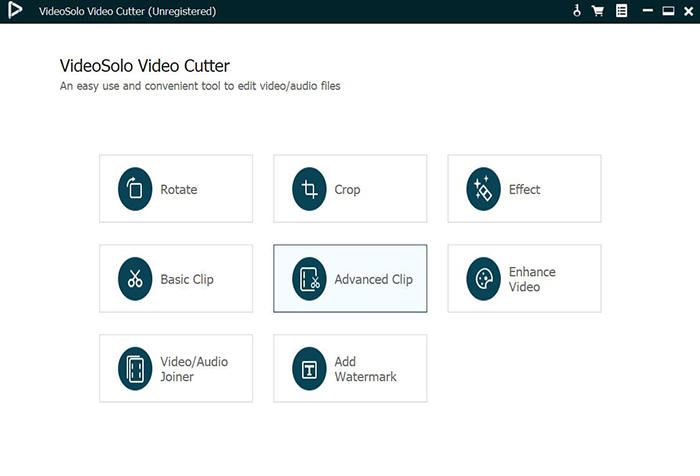 # Step 2. Add Source Video File
Click the first function "Rotate". Then you need to click "Add File" to import the video you want to rotate into right orientation. VideoSolo supports varieties of video formats which includes MKV, MOV,MP4 and so on.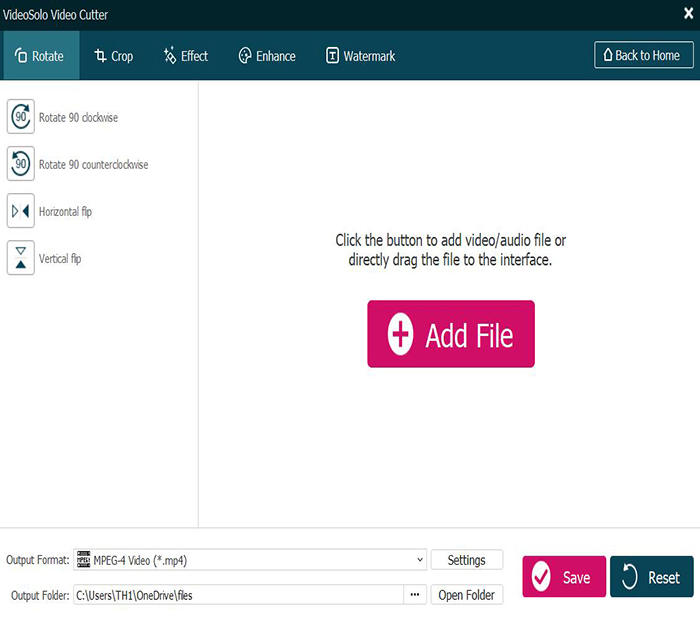 # Step 3. Rotate Video from 90 degree to 270 degree
After you load the video into this rotator, you can preview it in the real-time window. In the left side, there are four modes to choose: "Rotate 90 clockwise", "Rotate 90 counterclockwise", "Horizontal flip" or "Vertical flip". When you click one of the icons, you can preview the output video on the right side.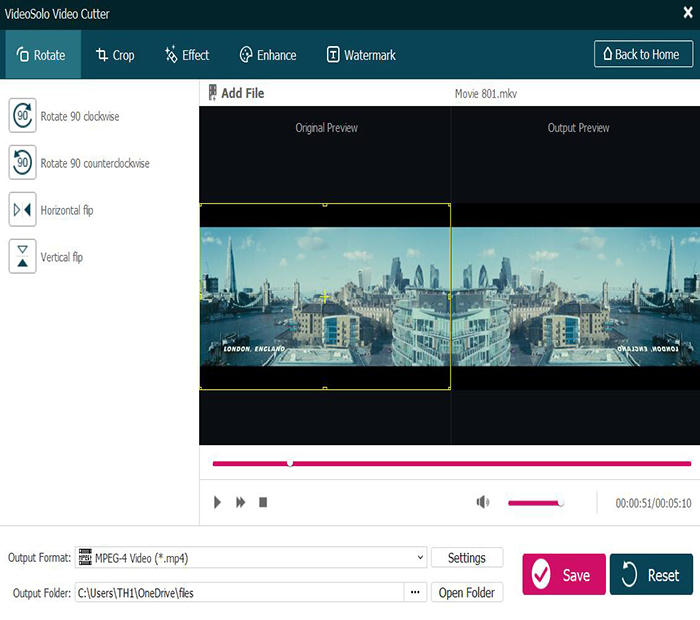 # Step 4. Choose Video Output Format
After rotation, you can select an output format. Go to "Output Format" and you can see different video formats and predefined output file of popular digital devices. Choose one according to your need.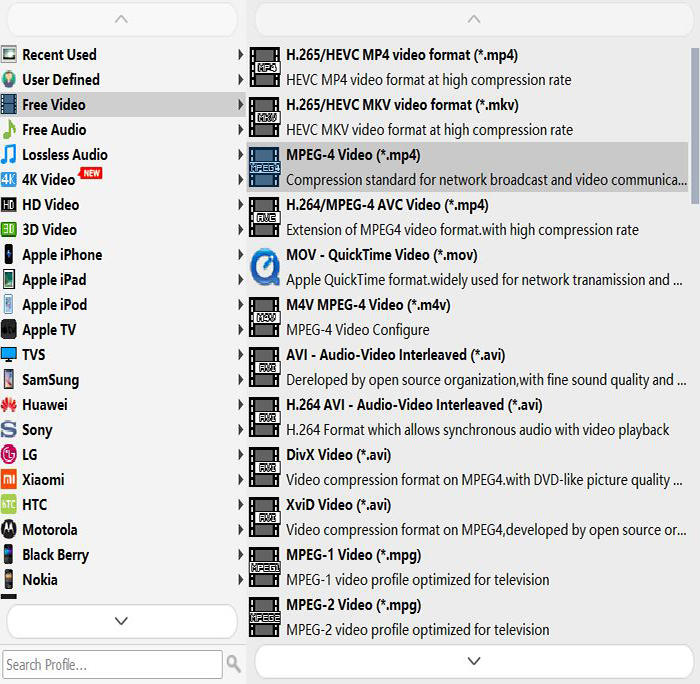 # Step 5. Start to Output the Rotated Video
Click on "Save" to output the rotated video. Just wait for a few seconds and then you can enjoy the video in right orientation.
As a video rotator, VideoSolo Video Cutter shows its superiority on easy operation. It also avails you in video crop, clip, enhancement, video/audio joiner, watermark and conversion.
2. Bonus Tip – How to Rotate Video in VLC Media Player
VLC Media Player, an open-source cross-platform multimedia player, can also rotate video. In the following, I will show you how to rotate video by VLC Media Player step by step.
Step 1. Load source video file on "Media" > "Open File".
Step 2. After loading, open "Tools" menu and select "Effects and Filters".
Step 3. First you need to turn to "Video Effects" tab. Then click the "Geometry" tab and enable "Transform" option.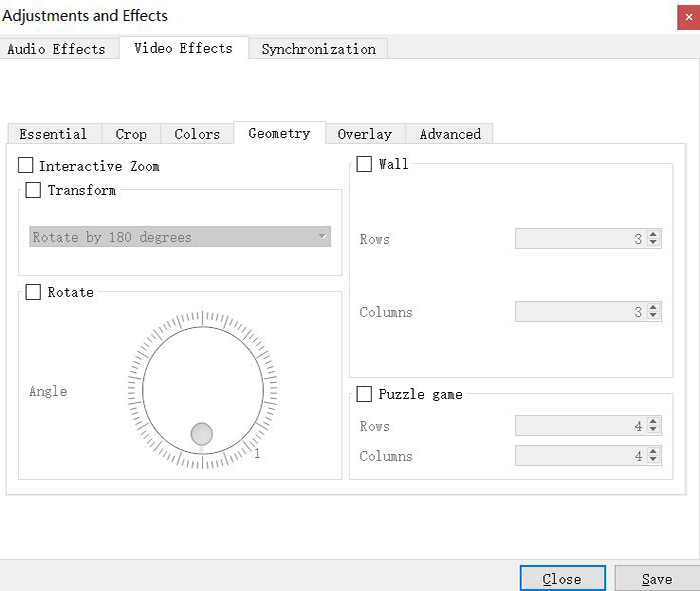 Step 4. Choose a rotation orientation from the dropdown menu according to your need. You can also select the "Rotate" check box to rotate video. To make it simple, you can just select a transform from the drop-down list.
Step 5. Click "Close" to close the operation window. You can watch it on the VLC Media Player in the right orientation now. But it's noted that this change is not a permanent one. You need to save it after change. Here is the way to save the video you change just now.
a. Click "Tools" > "Preferences" to open the preferences window.
b. In bottom left, enable "All" option. Then, you need to scroll down you mouse to find "Stream output" > "Sout Stream" > "Transcode". On the right side, select "Video transformation filter". Then, click "Save" at bottom right.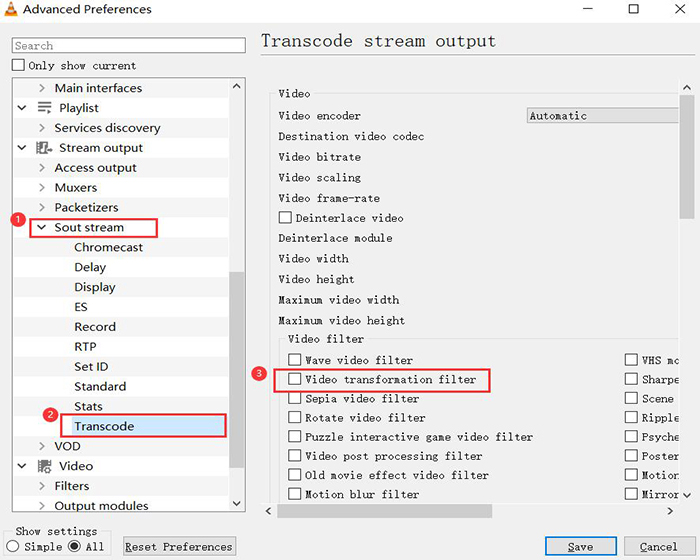 Step 6. After that, click "Media" > "Convert/Save" on the menu. In the pop-up window, click "Add" to add the file you rotated just now. Next, select "Convert" in the dropdown menu of "Convert/Save" at bottom right. Now you can save this rotated video on your computer.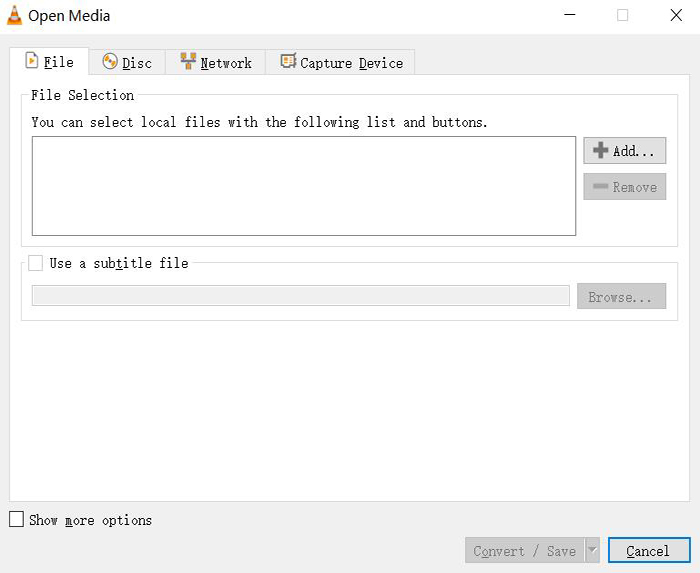 Through VideoSolo Video Cutter or VLC Media Player, you can rotate video to correct orientation. You can choose one of them. If you have other problem in video rotation, feel free to leave your comments below.