Top 7 Free Blu-ray Player Software for Windows & Mac 2021
When it comes to playing Blu-ray movies on the computer, there are two effective methods: one is using a Blu-ray ripper to convert your Blu-ray disc to the regular format (opens new window). Another is getting help from a Blu-ray player. The problem is that neither Windows nor Mac includes any default software capable of playing Blu-ray discs. So in this post, we'll share the 7 best free Blu-ray players for Windows 10/8/7 and Mac to let you playback and enjoy Blu-ray disc/iso image/BDMV file on your PC.
Tips: Here's the most professional Blu-ray player of all we tested. Download directly to have a try!
Before We Start - A Professional Blu-ray Player (Best Option)
If you are looking for a professional while easy-to-use Blu-ray player for your PC, VideoSolo Blu-ray Player (opens new window) may suit your needs. Compatible with Windows 10/8/7 and Mac, VideoSolo is a region-free Blu-ray player that can play Blu-ray discs, ISO images, and BDMV files/folders easily like playing common videos. Once you connect the Blu-ray disc with your computer, VideoSolo can detect and open it automatically. It's popular among users not only for its perfect 4K Blu-ray movie quality and cinematic audio decoding systems but for its stable and sleek performance.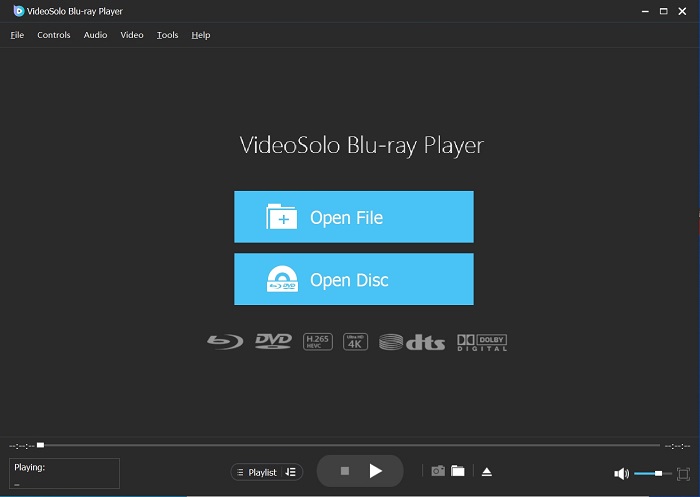 Pros:
Unlock protection and restrictions armed on the disc easily;

Provide up to 4K video quality to give you a cinema-like experience;

Support cinematic audio decoding systems like DTS and Dolby Digital;

Provide a Blu-ray menu for users to have better control of playback.

Support to play DVD Disc/Folder/ISO in the Windows version.

Unique Hardware acceleration technology to save 40% of the CPU resource.

User-friendly main interface and easy-to-use.

Free Lifetime technical updates and in-prompt technical support.
Cons:
Has Limited free time to play back Blu-ray disc/BDMV file/ISO images.
Go to the step-by-step guide: [Solutions] How to Play Blu-ray on Windows 10 (opens new window).
Best 6 Free Blu-ray Media Player for PC
# No 1. VLC media player (Windows/Mac)
VLC media player is the most common and popular media player. You can also count it as one of the best free Blu-ray player software. With VLC, you can directly play an unprotected Blu-ray disc or steam Blu-ray ISO files on the computer.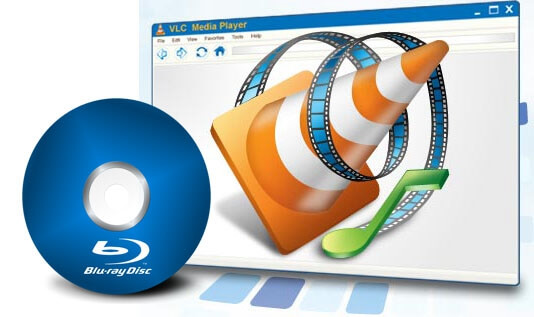 How to Play Blu-ray Disc with VLC
You just need to open the VLC media player on your Windows or Mac and go to "Media"> "Open Disc" > "Blu-ray" > "Play". It will automatically detect the Blu-ray disc that has connected with the computer.
Additional Tip: To play some of the encrypted Blu-ray discs, you will be required to add the KEYS DATABASE(KEYDB.cfg) and AACS DYNAMIC LIBRARY (libaacs.dll for Windows or libaacs.dylib for Mac).
Go to the full guide: How to Play Blu-ray Movie with VLC on Windows & Mac
Cons:
It is quite tricky to add the KEYS DATABASE and AACS DYNAMIC LIBRARY file.

Commercial Blu-ray discs that released in recent years may not be supported.
Leawo Blu-ray Player is an outstanding PC Blu-ray player software, which can play Blu-ray disc, Blu-ray folder, Blu-ray ISO file as well as DVD, normal video and audio. It's an all-in-one solution for your video playing needs. With its extraordinary Blu-ray menu control support, it is very convenient to adjust subtitles, audio tracks, and Blu-ray chapters during playback.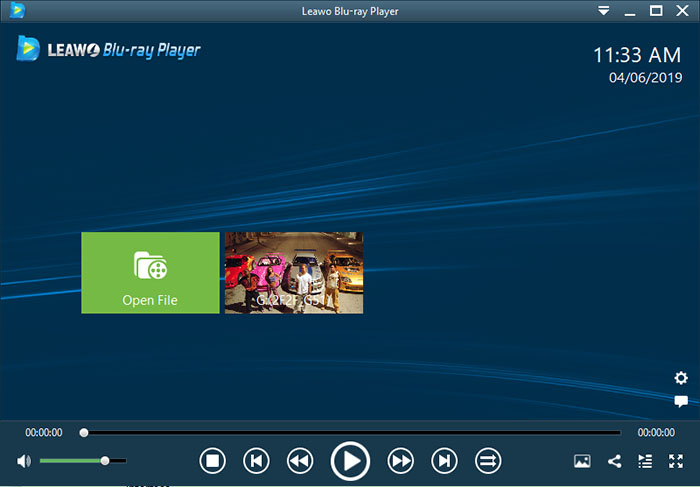 How to Play Blu-ray Disc with Leawo Blu-ray Player
After the Blu-ray disc is detected by the program, you can directly click on the movie to start playing.
Cons:
The Blu-ray menu is not smooth to control.

It always crashes like crazy and uses almost 100% CPU resource when playback.
More Information: Leawo Blu-ray Player VS VideoSolo Blu-ray Player: Which is Better? (opens new window)
# No 3. Aun Player (Windows)
Aun Player can play unprotected Blu-ray/DVD and some of the commercial Blu-ray discs from Rom without any charge. This program also offers options to choose subtitles, audio tracks, chapters, and titles for watching. It supports one click to ejecting Blu-ray or DVD discs from the optical drive.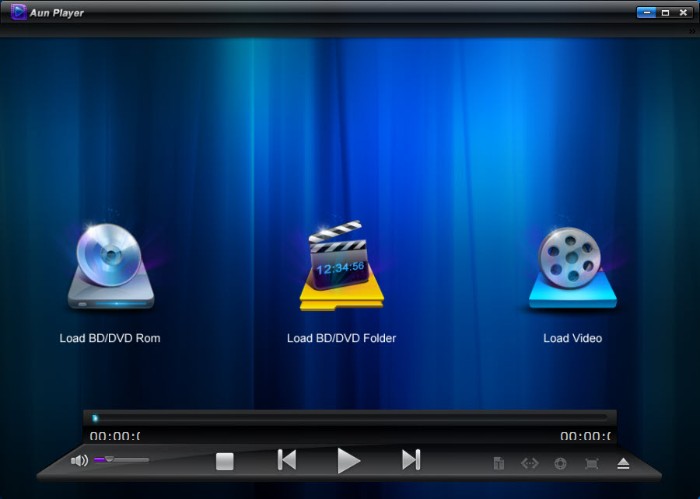 How to Play Blu-ray Disc with Aun Player
There are three options on the main interface and in the File Menu: "Load BD/DVD Rom", "Load BD/DVD Folder" and "Load Video". To play Blu-ray discs, you need to select the "Load BD/DVD Rom" option. Then this program will detect any Blu-ray Rom attached to your PC.
Cons:
Can't support the latest Blu-ray disc.

Sometimes, the Blu-ray video freezes/skips every few seconds.

Even if the disc itself has multiple tracks and multiple subtitle tracks, the software may not recognize it.
# No 4. PotPlayer (Windows)
PotPlayer is developed by the same developer of KMPlayer. It's a totally free Blu-ray player for Mac/Windows which can play unprotected Blu-ray disc, Blu-ray ISO, DVD, CD, and audio & video files on PC. It doesn't have too many functions in playing Blu-ray. But if you're looking for a simple, lightweight media player with Blu-ray playback function, it can't be beaten.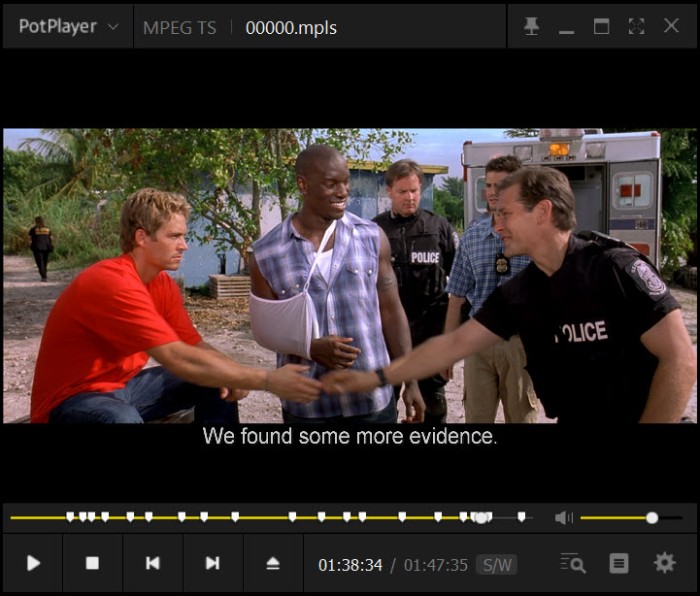 How to Play Blu-ray Disc with PotPlayer
You just have to right click, then go to "Open" > "Open Blu-ray" option to play Blu-ray disc movie automatically.
Cons:
It can't play commercial Blu-ray disc.

Easily get stuck when loading the Blu-ray.
# No 5. Free Blu-ray player (Windows)
Free Blu-ray Player is only available on Windows 10/8/7/Vista/XP(SP2 or later). As the name suggested, it's a totally free Blu-ray Player. It enables users to play Blu-ray discs/folders/ISO image files with good quality. But you need to notice that it can just play some of the latest but not all Blu-ray movies and 1080p HD videos with high image/video quality. After upgrading to the paid version, you can play all Blu-ray, DVD, and other audio and video files.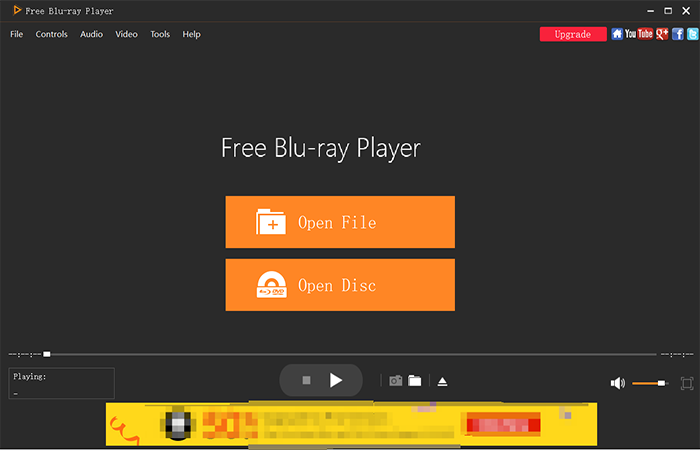 Pros:
User-friendly interface and convenient keyboard shortcuts.

Enjoy your favorite Blu-ray/DVD movies on widescreen freely.

Capture snapshots while you watch the video.

No attached software during installation.
Cons:
Cannot play some of the latest Blu-ray discs.

Cannot play 1080pHD video.

Annoying ads on the main interface if you don't upgrade to the pro version.

Only supports some of the video/audio formats.

No support for Dolby 5.1 or DTS for audio.
# No 6. GOM Player (Windows & Mac)
GOM Player is also a useful free Blu-ray player. It also has a paid version - GOM Player Plus. In the free version, users can play unprotected Blu-ray discs/folders/ISO images. When you play protected video, it will pop up a window that reminds you to find an additional codec to unlock the file. It's not convenient for those who just want to enjoy a brilliant Blu-ray movie in their leisure time. Its star feature is the added option to set custom hotkeys and even sync their remote iOS and Android devices like tablets and phones to control the media player over Wi-Fi. And though this feature works, for the most part, buggy playback and less-than-stellar navigation do not make this prime time-ready.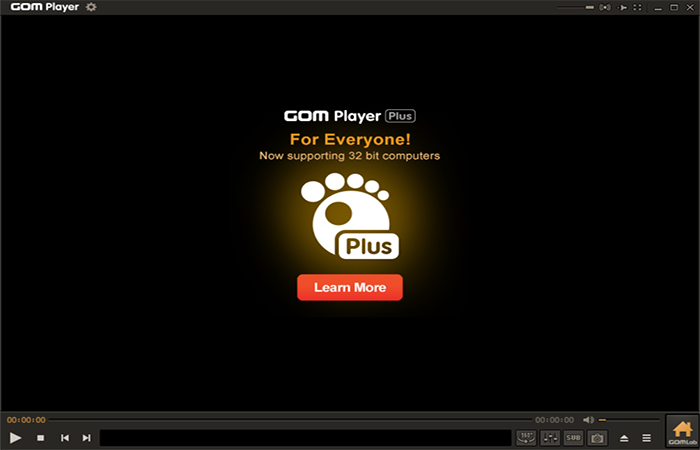 Pros:
Supports multiple languages which include English, French, Chinese, Portuguese, etc.

Play unprotected Blu-ray movies freely.

Remote control function to make playback easier.
Cons:
Installed with attached software.

The buttons are too small in the interface.

Cannot pop up the Blu-ray discs and play back it automatically.
More Information about Blu-ray Disc/BDMV File/ISO Image
In this part, we will list some "Answers & Questions" about playing Blu-ray discs, ISO images or BDMV files.
# 1. What is BDMV File?
Files that contain the .bdmv file extension are most commonly associated with Blu-ray movie information files. These files describe the contents of an associated Blu-ray movie disc and can include information about the names of the movie files and the directory location of the movie, the movie objects, and the movie file's audio data. (Source: file.org)
Various BDMV files store different information:
index.bdmv: describes the file contents in the BDMV directory; found in the BDMV and BDMV/BACKUP directories.
MovieObject.bdmv: describes one or more movie objects; located in the BDMV and BDMV/BACKUP directories.
sound.bdmv: optional file that relates one or more sounds associated with HDMV; Interactive Graphic streams applications; located in the BDMV/AUXDATA directory.
# 2. Where can I Find BDMV files to Enjoy a Movie Night?
HD Camcorders' AVCHD folders (BDMV and CERTIFICATE) with M2TS extension files. For Sony HDR-SR11 camcorder, the AVCHD files will bear the MTS extension.
Blu-ray disc with BDMV folder and files with BDMV extension.
Ripped Blu-ray DVD movies, the folder structure of which is all contained in a BDMV folder structure with M2TS extension files.
Blu-ray movie with BDMV & CERTIFICATE folder, one subfolder of the BDMV folder is the stream folder and in this folder, there is an MTS extension file.
Related Resources: If you want to play and watch BDMV files on your mobile devices without Internet, you can choose to convert BDMV to MKV/MP4 (opens new window).
# 3. My Blu-ray disc is not working on my computer. What can I do?
First of all, you need to check whether there are scratches or dirt on the disc. If so, try to clean it up carefully. Then, check your optical drive. Blu-ray discs can be played on the Blu-ray optical drive, not the DVD optical drive.
Our Verdict
After you tried the free Blu-ray player software in 2021, you may find that almost all of them have their own issues on Blu-ray playback. Although free is a big advantage, our advice is to choose VideoSolo Blu-ray Player (opens new window). It works perfectly on playing encrypted Blu-ray and DVD discs, as well as common video/audio files on the computer. At present, no obvious shortcomings have been found. It is stable and easy to control. Just take a try with it and you'll love it.