How to Improve Video Quality with VideoSolo Video Enhancer
No one wants to watch a video that is in low-resolution, blurry, dark or full of background noises. If you are looking for video enhancer to improve quality of videos, then VideoSolo Video Enhancer would be a smart choice. It's a built-in enhancer integrated with the VideoSolo Video Converter Ultimate. So when you launch VideoSolo Video Converter Ultimate on your computer, you will see "Video Enhance" option display in the main interface. Now let's take an in-depth look on how to enhance videos with its advanced video editing features.
Note:
Recently, the Windows version of VideoSolo Video Converter Ultimate had a update which removed the "Video Enhancer" and "3D" feature. So if you want to enhance your video quality, please choose the Mac version.
1. Upscale Video Resolution
This program has the ability to let you get superb video quality by upscaling the low resolution into higher resolution. For example, you can convert 1080p to 4K movies with excellent image quality.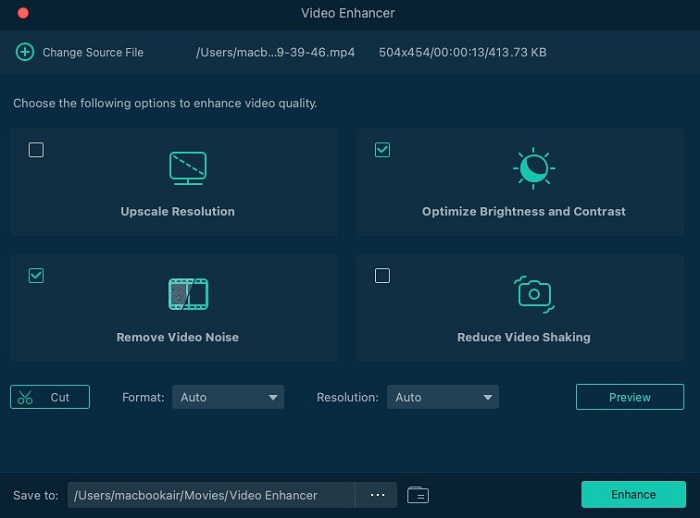 2. Adjust Brightness and Contrast
You don't have to tune the brightness and contrast of your video manually because this function will automatically optimize the brightness and contrast to the best level. Only one simply click, you will get a greatly enhanced video.
3. Remove Background Noise from Video
There may be situations that the video you recorded with your camera or mobile phone ends up with annoying background noise. Fortunately, it can be easy to remove the unwanted noise from your videos. Simply click on the "Remove video noise" option, then all noise will disappear.
4. Fix Shaky Videos
If you don't use video stabilizers while filming a video, you will probably be unpleasantly surprised by the shaky, blurry images you end up with. Don't worry. The "Video Deshaking" feature can reduce shaking motion in videos and you will get the perfect videos with no shaky images.
5. Rotate, Flip & Crop Video
If you record or save your video in wrong orientation, you can now rotate/flip it to the right position with this software. It's simple to rotate, flip, save, play and share!
# Rotate:
It lets you rotate video in 90 clockwise and 90 counter-clockwise.
# Flip:
It supports horizontal flip and vertical flip.
# Crop:
You can delete unnecessary information and draw your viewer's attention to the most important elements by cropping your video. You can use this function to remove black bars from the sides.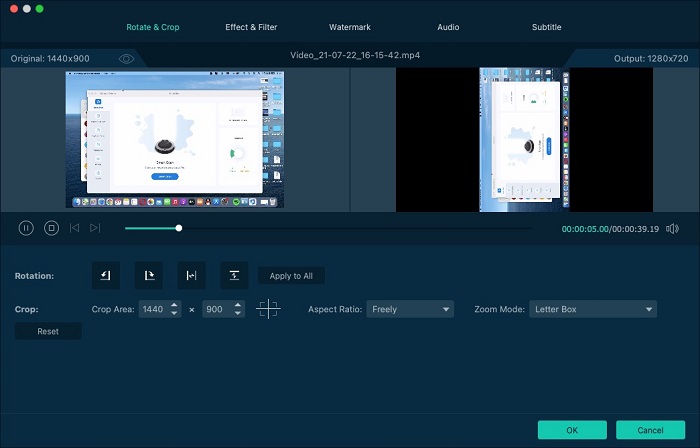 6. Adjust Video & Audio Parameters
# Adjust volume:
You can use this function to adjust the original volume of the video if it is too high or too low.
# Brightness:
If the video is captured in poor-lightning situation, you can improve the brightness and make your video much clearer.
# Contrast:
By adjusting the contrast, you can make the video-viewing more comfortable on screen.
# Saturation:
The saturation degree decides to what degree the image color is similar to the real color.
# Hue:
Hue refers to the color tendency of the image. By adjusting hue, you can see the change from cool tone to warm tone.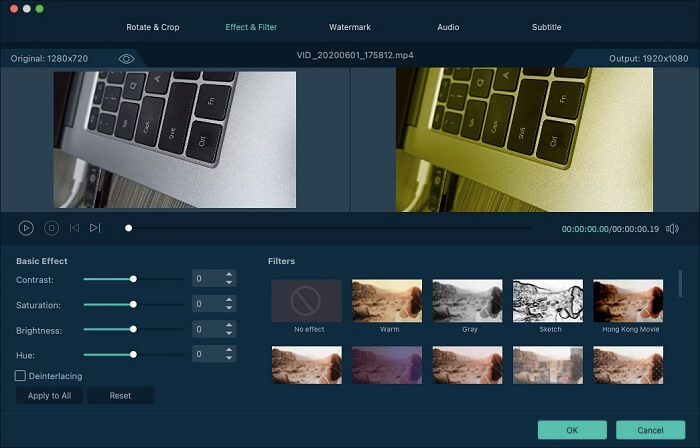 7. Add Text or Image Watermark
Adding watermark is the quick and easy way to protect your videos from theft. You can add text or image watermark into your videos so that they cannot be used by anyone who has access to them.
8. Convert 2D to 3D
Once the 3D settings is enabled, you can convert 2D video to 3D video easily with two different mode: Anaglyph and Split Screen.