How to Stream Media Files from VLC to Chromecast (on Mac, Windows, Android & iOS)
The feature of Chromecast to VLC had finally added to the stable version 3.0 of VLC media player. Better still, VLC 3.0 not only supports casting video to Chromecast with VLC from Windows, but also from Mac and Android. So, you can directly stream your videos to TV from VLC via Chromecast, instead of cast the computer screen to TV. Now follow the steps to see how to stream from VLC to Chromecast that connect to your TV.
Note:
Chromecast is a digital media player that allows you to stream MP4, WebM, MPEG-DASH, Smooth Streaming, and HTTP Live Streaming (HLS) video formats on your High-Definition Television (HDTV). If you have some media files that can't be streamed to Chromecast with VLC, VideoSolo Video Converter Ultimate is a good choice to help you convert any incompatible video and audio.
VLC Chromecast Mac - Stream Video to Chromecast on Mac
To cast, you need to get the version 3.0 or later of VLC. If you don't have it on your Mac, just download the latest version of VLC from its official website.
Unlike other Chromecast supported apps, you can't see a "cast" icon on the VLC media player on Mac. Instead of that, you have to find the "option" from the settings. The steps is as below:
Step1. Open VLC on your Mac
Step2. Click "Playback "button in the upper menu bar
Step3. Select "Renderer" option and you will find your Chromecast device name.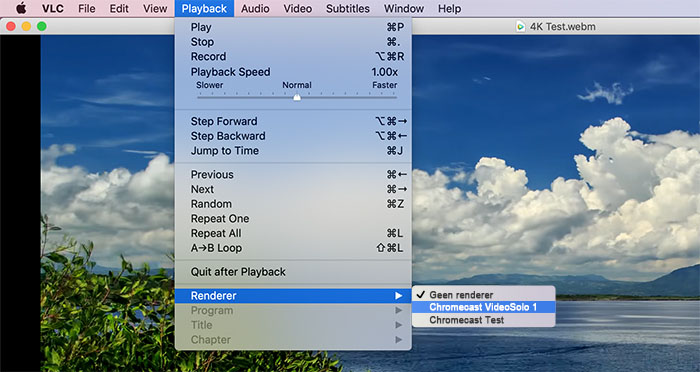 Note: If you do not see Chromecast in your list of available devices, check that your computer and your Chromecast are on the same Wi-Fi network. Stay as close as possible to the Wi-Fi router for no interruptions during the cast session.
Use VLC to Cast Video from Windows to Chromecast
After downloading VLC Media Player 3.0 on your computer, follow the steps below to cast videos from VLC to Chromecast on Windows.
Step 1. Connect the Chromecast device to your TV properly.
Step 2. Now in the VLC player, go to the top bar menu items and click on the "Video>Renderer> Scan" option. It will start scanning the available devices.

Step 3. When you find the Chromecast option on the submenu items of the Render option, just click it. VLC will connect to your Chromecast.

Step 4. Now open the video you want to stream to Chromecast on VLC player. When you try to play the video, there will be an "Insecure site" prompt. You need to select the "Accept permanently" Option.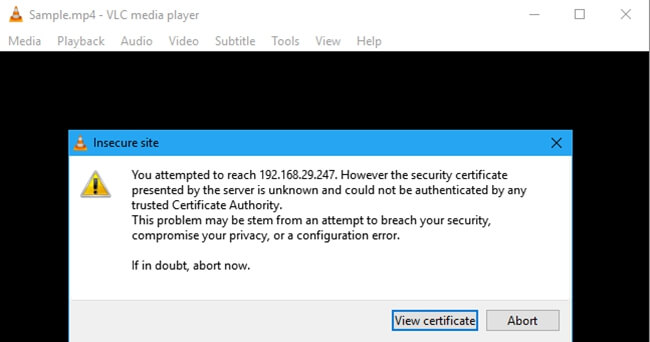 Step 5. The video file should play in your Chromecast connected TV. You can use the controls in the VLC window to control the playback.
Stream VLC to Chromecast on Android
Here, we are going tell you how to stream from VLC player to Chromecast on your Android phone. You can easily stream any video from VLC to Chromecast from Android device. Below is the complete procedure for doing this.
Step 1. Install the latest Chromecast app on your Android device.
Step 2. Now connect the Chromecast dongle to your TV and pair it with Chromecast app.
Step 3. Open VLC Player and start the file you want to cast.
Step 4. Open the Chromecast app you downloaded and tap on the menu button. From there just select the "CAST SCREEN" option. Follow the on-screen instructions to cast your device's screen to your Chromecast.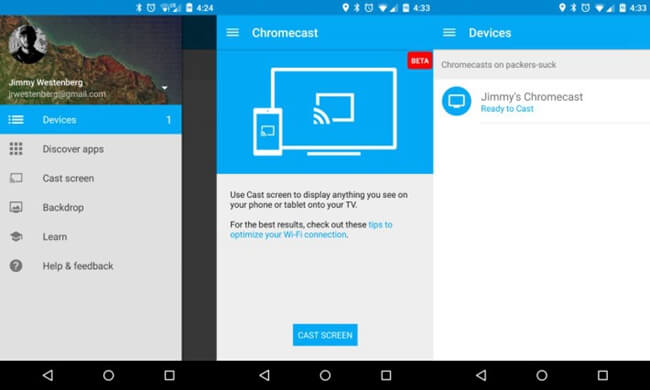 Step 5. Go back to VLC Player and full screen the video that you are playing. You are done!
FAQS about Streaming VLC to Chromecast
# Dose VLC Support iOS to Stream on Chromecast?
The VLC player finally gives the iOS users the ability to stream content to their Chromecast. The VLC Chromecast Support for iOS was first added in the version 3.1.0. The Version 3.1.0 of VLC for iOS also came with a few of new features including the Chromecast support.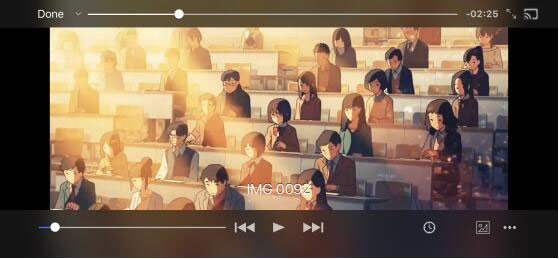 # why is VLC not casting to Chromecast on Mac?
On Reddit, some users discuss the problem they meet when cast local video to Chromecast via VLC. Maybe you can get more information from there. Or you can turn to The VideoLan Forums to find more answers.
As for me, I like Airflow which is an app on Mac that can help you stream videos to Chromecast. This app is really easy to use. Just drag-and-drop or add your videos, choose the right Chromecast, and click play. But now it's not free, you need to pay $19 to get it.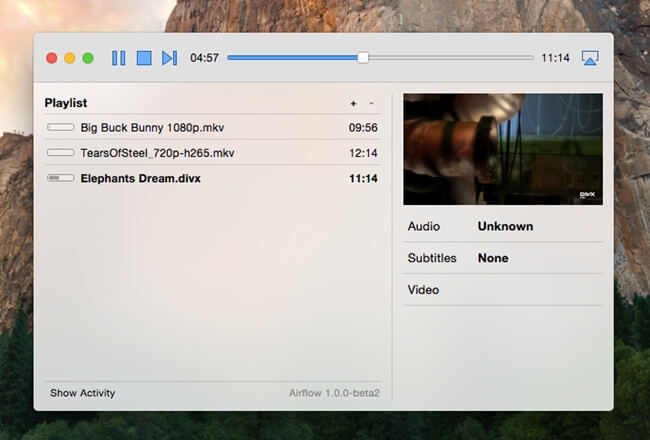 # Any Alternative Ways for VLC Cast to Chromecast?
Yes. If you have followed every step mentioned above but still face some problems and couldn't cast your content on the screen. In this case, you can use Google Chrome as an alternative way to cast your PC screen to your TV directly instead of VLC.
On your computer, open Chrome
At the top right, click "More"and choose "Cast".
Choose the Chromecast device where you want to watch the content. if you are already using the Chromecast, your content will replace what's on your TV.
Conclusion
As the development of VLC Media Player, users can now, directly cast their video files from VLC rather than screening the whole view of PC or Mac. All the methods mentioned above can help you continue your important work and simultaneously cast the files without trouble.
If you have some media files that can't be streamed to Chromecast with VLC, try to convert the format to Chromecast supported format. VideoSolo Video Converter Ultimate can provide you an all-around solution of converting any videos that are incompatible with VLC. The supported formats up to 300+ and with the powerful built-in editor, you can edit and enhance your video for better visual experience when casting the video to Chromecast. Take a try now!