Top 5 Blu-ray Ripper for Mac
Blu-ray discs should have witnessed the second prime of DVD history if it was born much earlier for its best cinematic video enjoying experiences. Yet the way of playing Blu-ray is bound to hold back its growth in the modern age when people seek to ultra convenience and simplicity. If you are carrying a Mac, you aren't able to play Blu-ray without carrying an extra Blu-ray player, which can be very inconvenient sometimes.
To enjoy Blu-ray high-definition movies on the go or watch it on your Mac whenever you like, the best way is to rip Blu-ray and make some simple conversions. Here come five best Blu-ray rippers for Mac that we rate after taking every aspect of their features into consideration.
VideoSolo BD-DVD Ripper - An All-in-one Solution to Blu-ray Conversion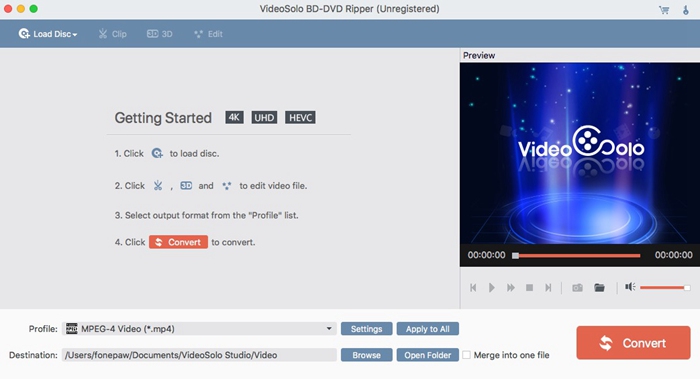 VideoSolo BD-DVD Ripper earns a spot of the best Blu-ray ripping software on Mac due to its incredibly professional functionality in outputting high-quality or quality-lossless videos. It can automatically remove the encrypted Blu-ray of any type of proprietary protections and makes Blu-ray conversion a matter of minutes.
It is able to deal with all kinds of inputs --- Blu-ray/DVD disc, Blu-ray/DVD folder, DVD IFO files while resulting in various outputs that are playable on any Apple/Android devices, game console, TVs and editing software.
What's more, it allows you to go extra miles on editing features, such as trimming, picture polishing, crop & expand, 3D effects, external subtitles/audio tracks adding, etc. The cost of VideoSolo Blu-ray Ripper definitely pays off for all the useful and versatile functions in ripping Blu-ray on Mac and is highly competitive when compared with other paid professional rippers.
# The good:
• Able to remove any encryption of commercial Blu-ray without resorting to the third party
• Rip Blu-ray on Mac at a high speed
• Convert into a raft of video formats which is compatible with any popular devices
• Extra video editing features to satisfy your customizing demands
• Support inserting extra subtitles and audio tracks or using the original ones
# The bad:
• With the limitation of output length and no acceleration feature for the trial version
• Unable to convert Blu-ray into ISO image
MakeMKV - Easily Get MKV File From Blu-ray (free)
The way of MakeMKV working is to rip Blu-ray disc into a MKV file as it exists in the disc. It just works to place the Blu-ray file into a MKV container without changing the source content. So the resulting content will occupy the same amount of space as the Blu-ray disc does. However, you can opt to rip only a few chapters inside a disc on Mac as you desire. But it does not include many advanced editing features. So anyone who is not so well versed in Blu-ray ripping lingo can also quickly operate on its interface. The copy speed on Mac varies from disc to disc, but overall it is efficient compared with its ripping counterparts.
# The good:
• Able to rip some of the chapters inside a Blu-ray or make a full backup without tweaking the source content
• Able to read Blu-ray/DVD with protected with the latest versions of AACS and BD+
• Convert as fast your drive can read data
• Free in ripping DVD and Blu-ray decryption and processing during BETA
# The bad:
• it won't feature with many video or audio options for tweaking the quality of the resulting MKV file.
Handbrake - The Best Free Solution to Video Conversion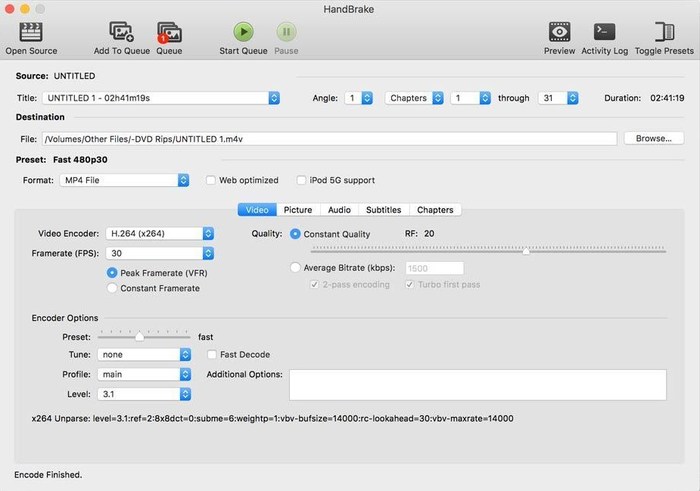 As a powerful open source video transcoding software, Handbrake tries to help both computer novice and experts to handle video converting needs, in this passage, Blu-ray ripping needs. It may not be the simplest ripping tool nor the most versatile solution. Yet, it remains an enticing cross-platform video transcoder providing all the basic features to rip unprotected DVD/Blu-ray into videos of H.264, MPEG-4 and other codes. Its existence poses threat to many paid alternatives by offering to convert high-quality video from Blu-ray for free. However, it may not be so novice-friendly with all the confusing advanced settings.
# The good:
• Support batch conversions by setting a queuing tray
• With an advanced configuration that gives you fine-tuned control over video quality during conversion>
• Give you the ability to add audio tracks and subtitles to the resulting video
• Allow you to create new chapters
# The bad:
• With the intimidating interface and too sophisticated advanced settings for newbies to tinker with
• Time- and energy-consuming in trial and error when exploring the Blu-ray conversion process
• Require the third party to remove the protection of DVD/Blu-ray
• Only support the live preview of the first four minutes of video
DVDFab Blu-ray Ripper for Mac - Fast Ripper and Protected Blu-ray Cracker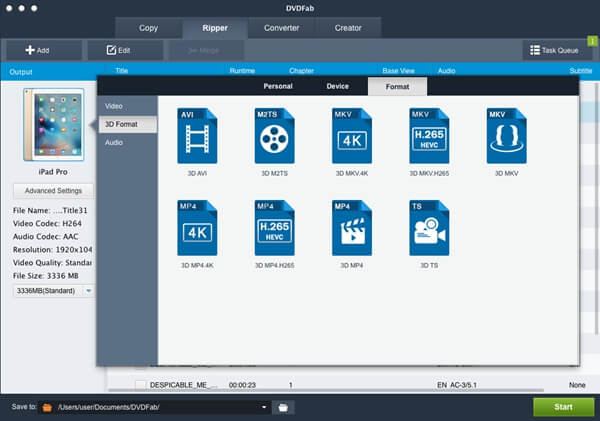 DVDFab Blu-ray Ripper is the only Mac ripping tool that some people really love it while others truly hate it. It boasts many extremely powerful features significant for a Blu-ray ripper. On the one hand, it takes the pride in its encryption capability, easily circumventing all known AACS copy protections, including the newest MKB v26 and bus encryption, Region Code, BD-Live, and UOPs.
On the other hand, it is fully qualified to brag about its conversion speed propelled by multi-core CUPs. It is a piece of cake for DVDFab Blu-ray Ripper for Mac to rip multiple files simultaneously of different as well as of one title with different profiles.
Plus, to your delight, its output quality is near-flawless. However, it also has some fatal downsides, such as limited input and output support as well as being too costly.
# The good:
• Fast conversion speed and high-definition output
• Powerful decryption ability
• Able to only use the forced subpicture streams in Blu-ray conversion
• Enable to rip any title or clips to users' need by selecting starting and ending chapters.
# The bad:
• User-unfriendly interface
• Poor input and output support: unable to rip DVD
• Do not support AMD APP encoding
• Cost more than its paid alternatives.
Leawo Blu-ray Ripper for Mac - A Moderate Ripping Software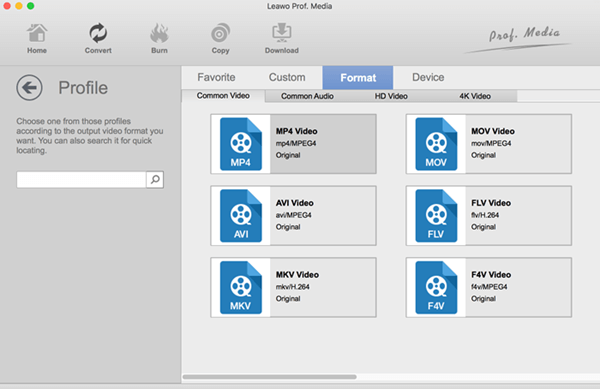 Leawo Blu-ray Ripper comes with popular features to convert 2D/3D Blu-ray/DVD to so-called 180+ video formats playable on common digital devices. It is equally powerful in removing region code and copy protection for Mac users, such as AACS encryption, BD+, and the latest MKB technology, as well as CSS-encrypted DVD discs. However, it is unable to convert Blu-ray into MKV file without compromising quality. To add your disappointment, its conversion speed is not as high as it officially claims to be while many bonus features in customizing the output profile are limited.
# The good:
• Get an upper hand in circumventing many types of copy protection and region codes
• Support batch conversions for Blu-ray at a time
• Abundant preset profiles
# The bad:
• Slower conversion speed than its competitors
• Loss of video quality after Blu-ray conversion
• Limited bonus features to give you full control over the output file
To sum up, after taking into consideration the ease of use, conversion speed, output quality, bonus features as well as costs, then VideoSolo Blu-ray Ripper should be your priority choice. It provides a free trial version for you to attempt a short clip of conversion with all the other features other than acceleration. However, you might as well try the freeware to rip your Blu-ray on Mac if you are determined to invest time and efforts on ripping procedures.